Class of 2024 celebrates White Coat Ceremony
Wednesday, May 10, 2023 - 10:17am
On May 6, 2023, the Cornell University College of Veterinary Medicine held its annual White Coat Ceremony, in which third-year veterinary students receive the white coats that signify their transition from classroom and lecture hall learning into their clinical training.
Welcoming students, faculty, family and friends attending the event, Lorin D. Warnick, D.V.M., Ph.D. '94, the Austin O. Hooey Dean of the College of Veterinary Medicine, shared his own memories of his time on clinics, noting how it was a time for him to get to know the other students on his rotations. "I found them to be wonderful, always pitching in, taking their share of the work and giving a nudge to wake me up if I dozed off during morning rounds," Warnick said. "And I also learned how deeply they could sleep curled up on a fleece blanket in one of the ICU cages."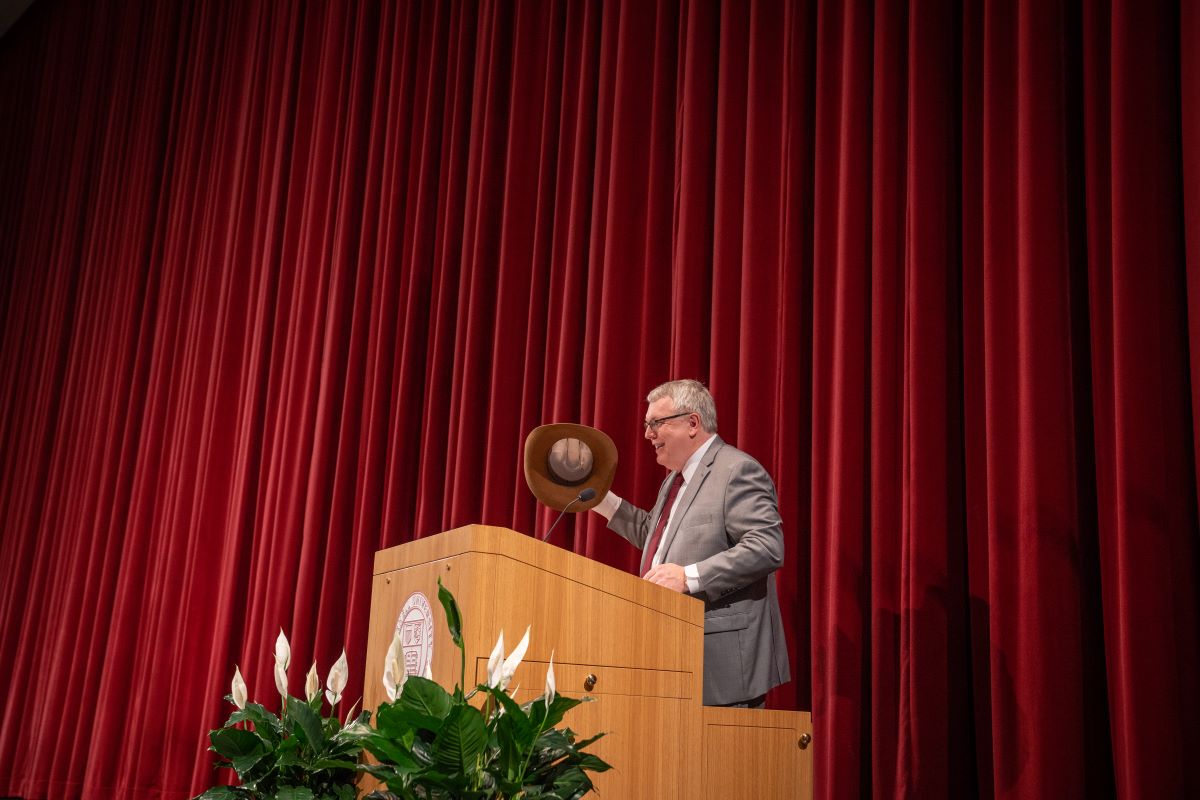 Warnick went on to talk about the importance of communication and listening in veterinary practice.
"While the animals we work with don't speak, they still communicate. You will hone your skills in recognizing clues in gait, stance and reaction that will tell you volumes about the animal's condition. ... The other side of the communication coin is that in almost every situation the animal will have a person attached, either as a pet owner, a livestock producer or a wildlife advocate. In addition to your cross-species communication skills, you will also need highly developed interpersonal communication skills. Of all the components of interpersonal communication, I feel listening ranks highest."
Warnick also honored the memory of Yiannis Stathopoulos, a member of the Class of 2024 who died last year. Warnick invited Stathopoulos' mother to come forward to receive a white coat, and then asked the audience to hold a moment of silence.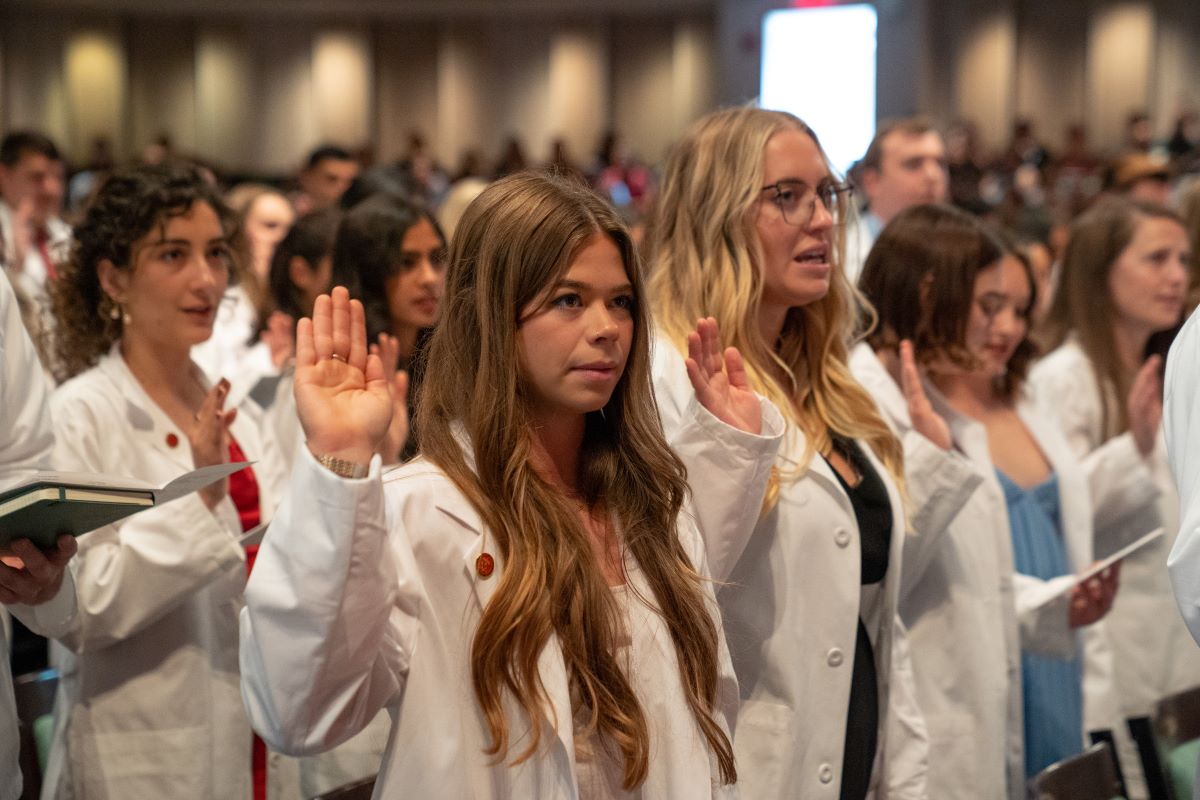 Warnick's comments were followed by the coating ceremony, conducted by Jai Sweet, Ph.D. '96, assistant dean of veterinary student services and admissions, who announced each student and their chosen mentor who coated them. Mara DiGrazia '92, D.V.M. '96, president of the Alumni Association Executive Board, led the group in giving the Veterinarian's Oath, and was followed by keynote speaker Dr. A'ndrea Van Schoick '96, a member of Cornell's Board of Trustees and a veterinary medical officer at the FDA's Center for Veterinary Medicine.
"Truth be told, I'm a little envious of the place you are at in your careers." said Van Schoick. "For me, the clinical year was where I put it all together. … Talking to clients, seeing patients, taking each case and solving it as a puzzle, getting to do things—this was what I had been looking for." She went on to share some lessons learned from her career in veterinary medicine. "We do not need to have all the answers, but we need to know how to find them … Ask for help, there is no shame in that, but remember, you know more than you think."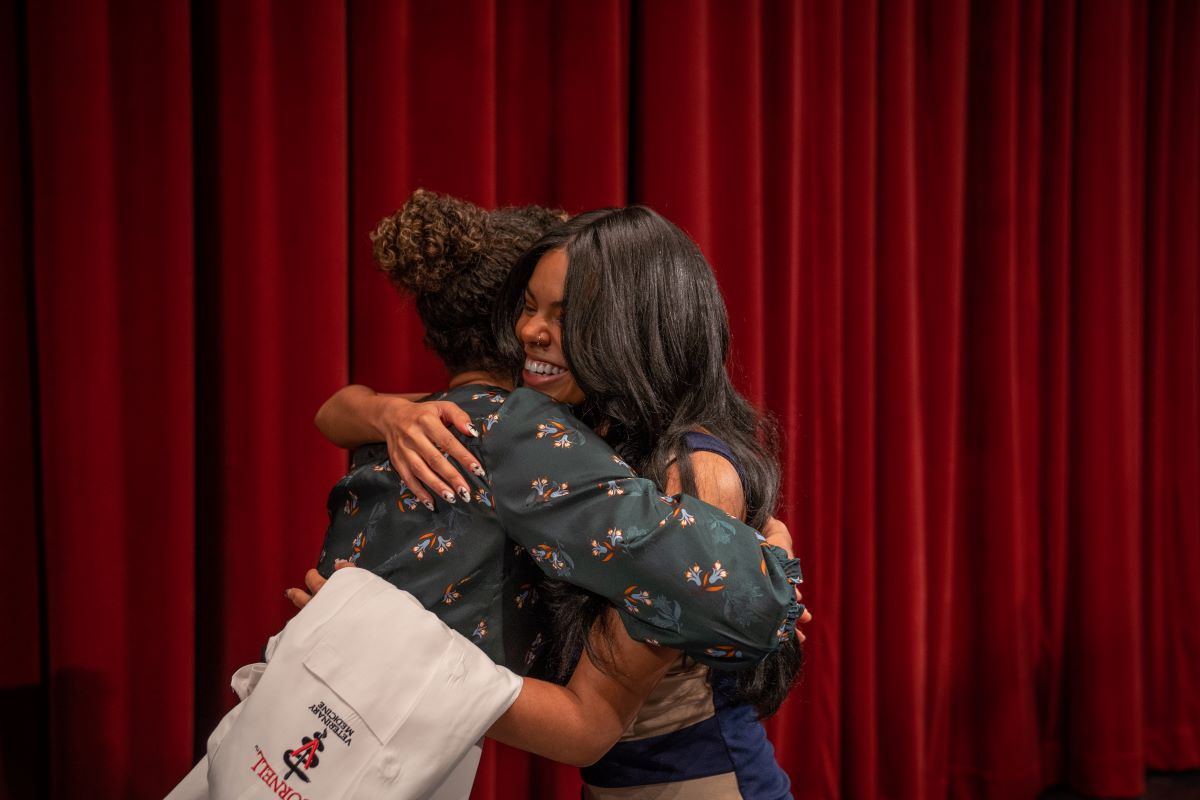 After Van Schoick's remarks, Jorge Colón '92, D.V.M. '95, associate professor of practice with the Center for Veterinary Business and Entrepreneurship, presented the John F. Cummings Memorial Award to Shiv Salwan, D.V.M. '24. The CVM Classes of 1997, 1998, 1999 and 2000 established a fund to provide an annual award to be given to a member of the third-year class who best exemplifies the qualities of the late Cummings — that of enthusiasm, honesty, integrity, humor and caring. Students in any of the four veterinary classes can nominate a member of the third-year class for this award. The recipient of the award is then chosen by the faculty awards committee from among those students nominated. 
Next, Dr. Meg Thompson, associate dean for hospital operations and director of the Cornell University Hospital for Animals, formally welcomed the class to the hospital in their new roles as part of the clinical care team. "The hospital is super excited to have you join us, the faculty and staff have confidence in each of you, and, you have lots and lots and lots of support," Thompson said. "And remember to pause and celebrate along the way."
After posing for a class photo, the newly-coated students were invited to celebrate back at the colleges Takoda's Run Atrium for a reception.
Written by Lauren Cahoon Roberts
Photos by Darcy Rose