A different kind of Cornell Red: Machine cleans blood of pets with kidney, immune diseases
Wednesday, July 26, 2023 - 8:59am
The Cornell University Hospital for Animals has added a cutting-edge service for companion animals in the form of new technology capable of cleansing a patient's blood outside of their body. This opens the door to several new treatment options, including dialysis for animals with kidney failure and immune mediated diseases.
The new technology — an extracorporeal blood purification (EBP) unit — came online this spring for cats and dogs.
"The ability to provide dialysis and other extracorporeal blood purification to the patients in the upstate New York region is a game changer for our veterinary hospital," says Dr. Jethro Forbes, assistant clinical professor in the Section of Emergency and Critical Care. "Among other things, we can be your pet's artificial kidneys for a few weeks while these resilient organs are given a chance heal."
While a standard treatment in people, kidney dialysis is less common in veterinary practices due to the intensive training needed to establish and run the technology — only about 35 other animal hospitals across the country have such capabilities.
"It's a smaller community of high-level practitioners, but it's growing rapidly with advanced training programs being more accessible. The veterinary extracorporeal blood purification community has made huge strides in recent years," Forbes says.
An EBP unit improves the lives of animals in multiple ways. Dialysis for pets in kidney failure is among the most common; the unit essentially cleanses a patient's blood of bodily toxins, much like an actual kidney. For animals who are in kidney failure, or perhaps have an infection or ingested a toxin to the point where their kidneys cannot function normally, being put on dialysis could make a lifesaving difference.
Removing a toxin or drug from the bloodstream is another common use of an EBP unit. "Sometimes our pets get into things they shouldn't, like medications or chemicals. For example, this machine can cleanse the blood of antifreeze or anti-inflammatory drugs in just a few hours of treatment, before the toxins can cause damage to your cat or dog's organs," says Forbes, whose previous work at multiple private specialty practices across the United States also involved applying EBP units.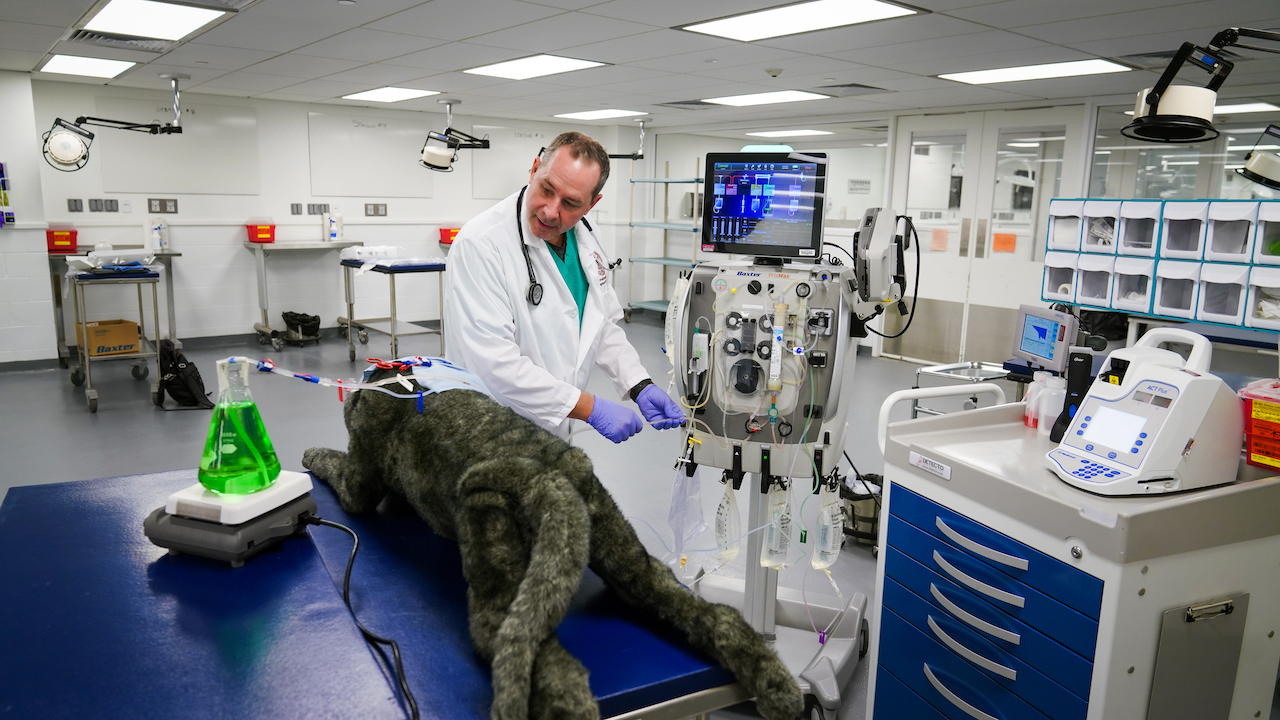 When an animal's immune system isn't functioning properly, this technology can also help manage it through an EBP therapy called therapeutic plasma exchange. One particular disease, immune mediated hemolytic anemia, results in immune system destruction of the body's own red blood cells. Such a severe, life-threatening illness requires extensive hospitalization and specialty-level care, including immune-suppressing medication and blood transfusions. Therapeutic plasma exchange can actually remove dangerous elements of the malfunctioning immune system by exchanging the pet's plasma using an extracorporeal filter, weeding the attackers out. "The animal will still need standard care with medications, but this therapy removes the immune system's weapons to give those medications the best chance at making a difference," Forbes says.
There are a lot of possibilities for expanding the EBP unit's capabilities. These include configuring it for more species, like horses, pigs and goats, or using different components that could clear a patient's blood of bacteria and viruses. With the right materials, this unit could even assist in cutting-edge cancer therapies and bone marrow transplants.
Says Forbes, "It's exciting to see what's on the horizon. Right now, we're thrilled to be able to offer this treatment for dogs and cats at Cornell, while also training the next generation of veterinary specialists to provide this care to even more pets."
Written by Melanie Greaver Cordova