Students in the field: Serving stray dogs in Tbilisi, Georgia
Monday, August 28, 2023 - 11:46am
"Why Georgia?" many people asked me when I told them I was planning to embark on a project in the heart of the Caucasus region in the Republic of Georgia. My short answer was "the dogs, the mountains, and the wonderful people." But the longer answer was, of course, more complex.
Over the course of my studies at Cornell, I developed a particular interest in animal population control as a part of global One Health. As I was looking for a project in this field, I reached out to Cornell CVM International Programs. I was incredibly lucky that, with the help of Cornell's extensive alumni network, Dr. Caroline Yancey, associate dean for international programs connected me with Mayhew International, a U.K.-based animal welfare organization with a branch in Tbilisi that works with stray animals in Georgia. Mayhew provides free spay/neuter and vaccination services for both street and community dogs, facilitates hands-on training to Georgian veterinarians, technicians, and students, and advocates to improve veterinary and animal welfare standards in the country. It was exactly what I was looking for.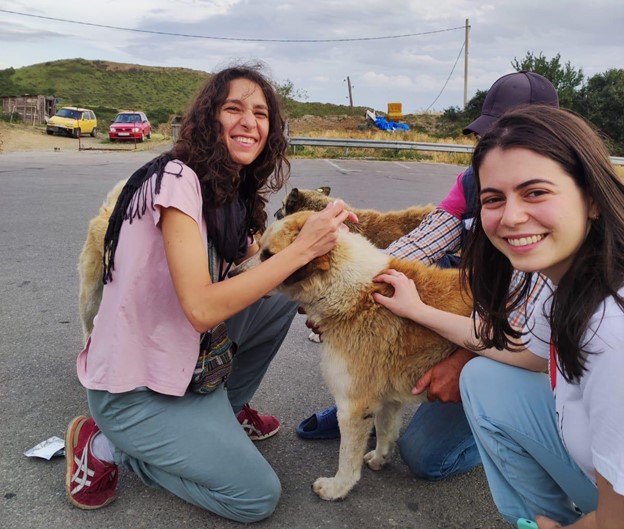 The country of Georgia holds a special place in my heart. Many post-Soviet nations face similar challenges of controlling stray animal populations, implementing and enforcing animal welfare laws, expanding vaccine coverage and combating infectious disease. Growing up in Ukraine, I was always cautious around the stray dogs that roamed the streets of my city yet recognized them as an integral part of my community. I am well aware of how important street animals can be for local residents and, therefore, humane population control measures such as Trap-Neuter-Vaccinate-Return (TNVR) programs are essential to improve animal welfare, protect community health and preserve the human-animal bond. This work is currently very necessary in Georgia where the rabies virus is endemic, dog bite rates are high and the shelter system is unable sustain such a large volume of unhoused animals.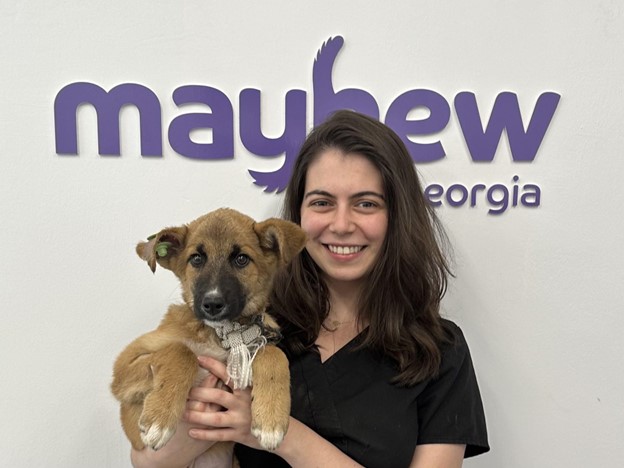 At the end of May, I packed my suitcases with multiple sets of scrubs and took a long flight to Tbilisi, the capital city of Georgia. I was welcomed with open arms by the whole Mayhew team and especially Dr. Ana Metskhvarishvili, the head vet of Mayhew Georgia, who became my incredible mentor and dear friend. On a daily basis, I helped intake the animals, checked their overall health status and inoculated them with core vaccines. I learned all the steps of pre- and post-operative care while Dr. Metskhvarishvili coached me through every part of their sterilizations and castrations: we did spays and neuters for cats and dogs of all ages. With the wonderful training from the Mayhew team, I got to be the primary surgeon on numerous procedures, which was the highlight of my experience.
My favorite part about working on population control was the weekly pop-up clinics that Mayhew organized in the small town of Mtskheta. Every Tuesday, our team drove out to Mtskheta for a whole-day fast-paced sterilization clinic. There, we did 12-13 surgeries a day and worked with very limited resources. But it was absolutely worth it – the local community was immensely grateful for this free service and often treated us with pastries, ice cream and soda. In Mtskheta, I got into a habit of asking people about their pet and how many dogs they have. Many answered with a smile: "I have two dogs at home, but ten more on the street around my house. So, I can say I have twelve." As of July, 2023, Mayhew had already sterilized nearly 70% of the stray dog population in Mtskheta – an immense achievement made possible by the dedicated doctors, volunteers, mobile clinic organizers, and the local community. One day, after long hours of work, the team and I got to walk around the town, visit medieval Jvari Monastery and the Svetitskhoveli Cathedral, and enjoy the most amazing Georgian cuisine.
It is estimated that there are between 35 and 60 thousand stray dogs living on the streets of Tbilisi, but the exact number is unknown. During my eight-week externship, Mayhew was rolling out the first comprehensive Tbilisi dog count. This is a key step toward understanding population dynamics, rate of reproduction, and the impact of the Trap-Neuter-Vaccinate-Release (TNVR) program currently in place. Along with other team members, I got to contribute to this important project. From 6 a.m., I walked the narrow streets of the Georgian capital and counted every stray dog that I encountered using the World Veterinary Service application. These early walks gave me a chance to experience Tbilisi in a different way: I was bewildered by the beauty of the old Georgian architecture, tasted the figs growing on the side of the road, and got to see the walls of the Narikala fortress overlooking the Mtkvari river in the soft morning light. I also noticed the kindness with which the community treated stray animals: I saw dogs resting from the midday heat in the lobbies of five-star hotels, restaurant owners leaving food for the animals outside of their kitchens, and pharmacies sheltering dogs and cats from the heavy rain. For the residents of Tbilisi, the stray animals are a part of their modern city life.
The College of Veterinary Medicine's Expanding Horizons program that funded my project in Georgia gave me a unique chance to learn how a western NGO can establish and operate a TNVR program in a foreign country. As a part of my experience, I was able to sit in on numerous meetings with FAO (Food and Agriculture Organization of the United Nations) representatives, local government officials, lawmakers, municipality and shelter workers.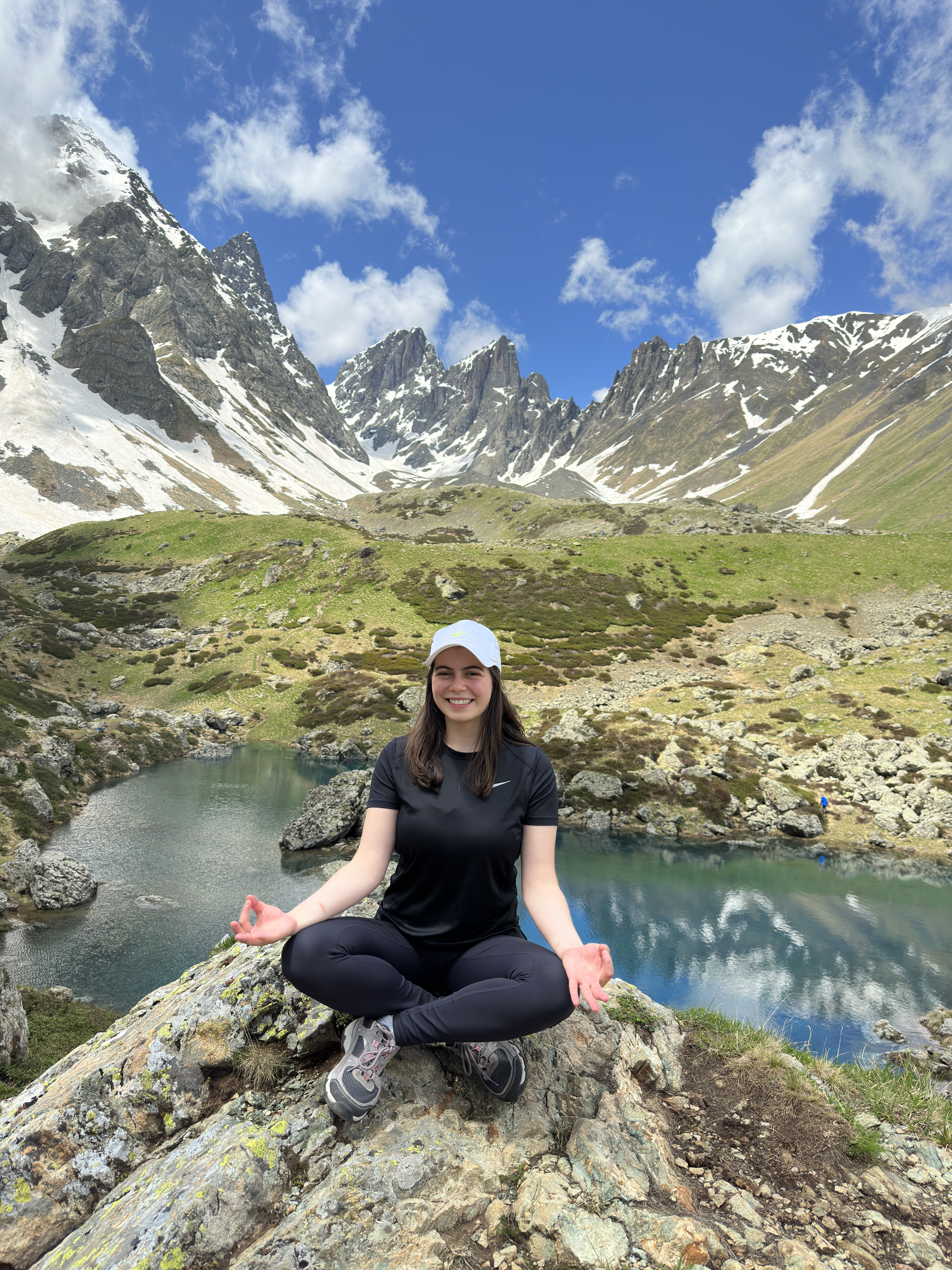 I visited the main municipal shelter of Tbilisi and the veterinary teaching hospital of the Agricultural University of Georgia. This has shown me a different side of veterinary medicine: one where the veterinarian is a mediator, an educator and an activist. I got to appreciate how effective Mayhew is in its advocacy and how hard they work every single day to move the needle in the veterinary profession in Georgia. While I still have a long road ahead of me, I can now see my path in the veterinary profession more clearly. After graduating and getting more experience in the field, I would love to work with the United States Agency for International Development, the National Democratic Institute, the Food and Agriculture Organization, or other international programs that need veterinary expertise. I hope to one day return to Ukraine as a veterinarian to help my country rebuild after the war as well as participate in similar projects in other parts of the world.
Maryna Mullerman, class of 2025, is a D.V.M. candidate at the Cornell University College of Veterinary Medicine. She obtained her undergraduate degree in Biology from Stony Brook University in 2019. She is interested in pursuing a career in small animal medicine, education, and One Health, and hopes to work internationally to improve education standards for veterinarians and bolster global health initiatives for humans and animals alike.