Veterinary cardiology service leads education event on heart diseases
Friday, September 1, 2023 - 10:17am
Cardiologists from the Cornell University Hospital for Animals (CUHA) journeyed to Nassau, Bahamas this spring to lead the Keith Campbell Veterinary Lecture Series, which informed and trained local veterinary professionals about lifesaving treatments for dogs and cats with heart diseases.
This year's event was organized by Karen and Henry Silverman, longtime clients of CUHA and founders of the Karen and Henry Silverman Initiative to Advance the Treatment of Canine Arrhythmias, in partnership with a local veterinary group. Dr. Romain Pariaut, associate professor and cardiology section chief, and Dr. Roberto Santilli, adjunct professor in cardiology, led multiple sessions over the course of the day on heart failure, electrocardiograms, pulmonary hypertension, heartworm disease and auscultation in dogs and cats.
"It was an enlightening experience and the attending veterinarians were incredibly enthusiastic and motivated throughout the day," said Santilli.
One of the conference's highlights was the appearance of Rex, a six-year-old German Shepherd owned by the Silvermans. When Rex was just a puppy, he suffered from a life-threatening arrhythmia. Karen Silverman brought him to the CUHA Cardiology Service, where Pariaut and Santilli successfully treated Rex using radiofrequency catheter ablation. CUHA is one of only two places in the United States that offers routine radiofrequency catheter ablation to treat arrhythmias.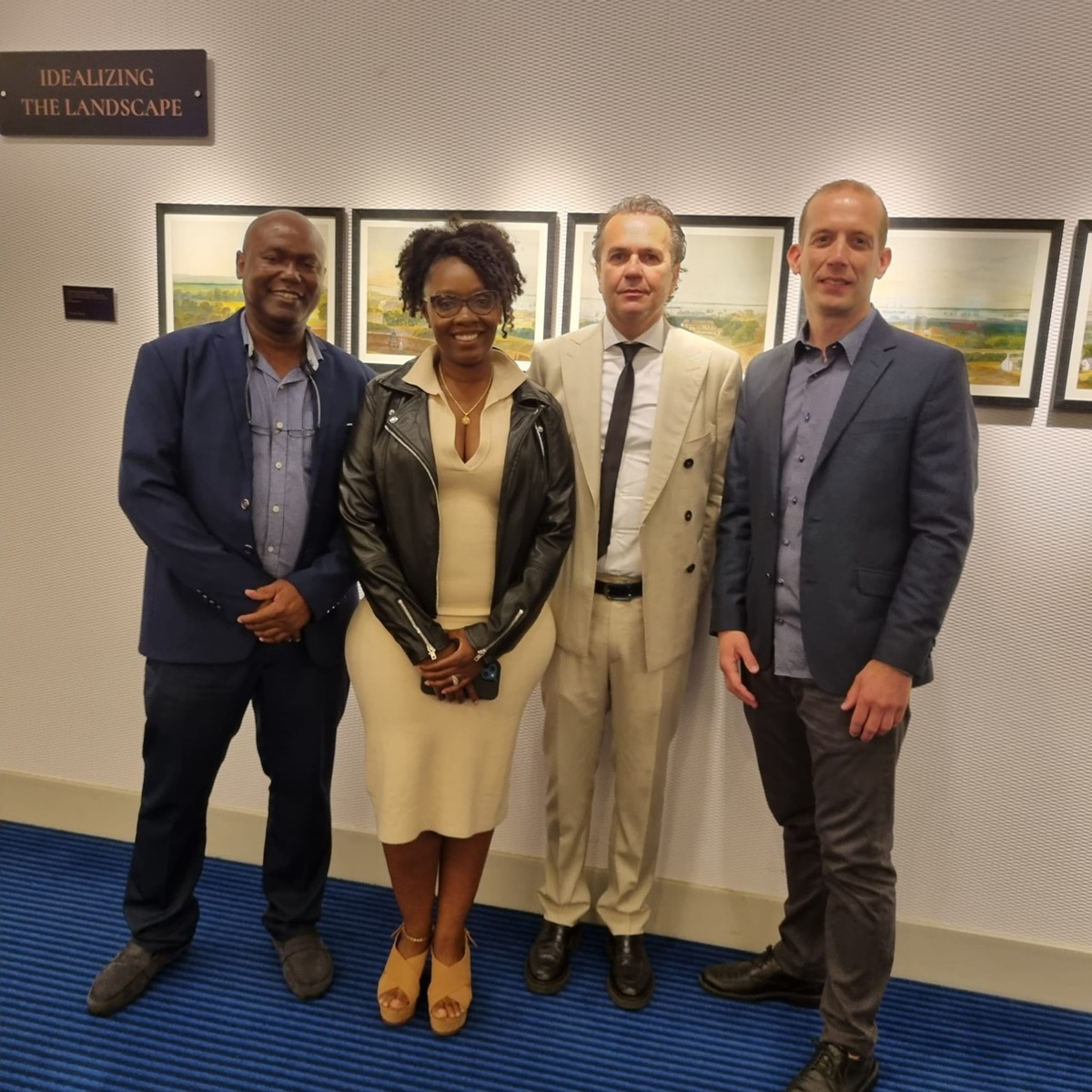 Following this, Rex's owners established the Silverman Initiative. Its intention is to further the study, diagnosis and treatment of arrhythmias in dogs, as well as to educate pet owners and other veterinarians about these additional treatments for heart rhythm disorders. It is through this initiative that they sponsored the day's events.
"This exemplifies how Karen and Henry's initiative is making a positive impact on veterinary medicine worldwide," Pariaut said.
"After the harrowing experience with our dog Rex, my family and I were determined to partner with the best-in-class professionals and doctors at Cornell in order to establish more effective and readily accessible treatments and procedures for these disorders to save the lives of many other animals for generations to come," said Karen Silverman.
"We were so overjoyed that Drs. Santilli and Pariaut were able to come to the Bahamas and give those amazing lectures to our veterinary body," said Dr. Valentino Grant, who helped organized the Keith Campbell Veterinary Lecture Series and is the veterinarian for the Silvermans' dogs in the Bahamas. "The lectures were well received by our practitioners and they all said how detailed and informative they were. We wish by extension to thank Cornell University and we look forward to more lectures in the future and more collaborations with Cornell."
"It gave persons a chance to either brush up on existing techniques or look into new techniques. I am sure there would be much more confidence in dealing with our patients that have heart issues," said Dr. Deandra Delancey-Milford, president of the veterinary society in the Bahamas. "The event also brought about camaraderie. Most meetings are still now virtual although we are perhaps in the clear, so it felt good seeing everyone again."
The Keith Campbell Veterinary Lecture Series is named in honor of a Bahamian veterinarian known for encouraging colleagues and supporting such trainings. All Bahamian veterinarians were invited and participants received continuing education credits.
Said Karen Silverman, "The Silverman family is extremely proud that all of the research and institutional knowledge that has been developed at Cornell is being shared with doctors and professionals internationally, enabling these cutting-edge technologies to reach many families and their animal companions on a truly global scale."
Written by Melanie Greaver Cordova