College celebrates Dionne Henderson Staff Excellence and Staff Service Awards 2023
Monday, November 20, 2023 - 1:52pm
Dionne Henderson Staff Excellence awardees
On October 13, the Cornell University College of Veterinary Medicine (CVM) held their annual award ceremony recognizing the dedication, compassion and excellence of the college's staff through the Dionne Henderson Staff Excellence Award Ceremony. Established in 2018, this award recognizes individuals who consistently demonstrate the same kindness, collaborative and compassionate nature, dedication to community and professional excellence as its namesake Dionne Henderson. The award is a joint endeavor between the CVM Office of Human Resources and the CVM Staff Council.
Lorin Warnick, D.V.M., Ph.D. '94, the Austin O. Hooey Dean of Veterinary Medicine, recognized and congratulated the three recipients:
Kelly Sams, lab manager in the Baker Institute for Animal Health.
Carol Merkur, director of business operations in the Department of Clinical Sciences.
Cristina Carter, assistant to the chair and executive director of the Department of Population Medicine and Diagnostic Sciences.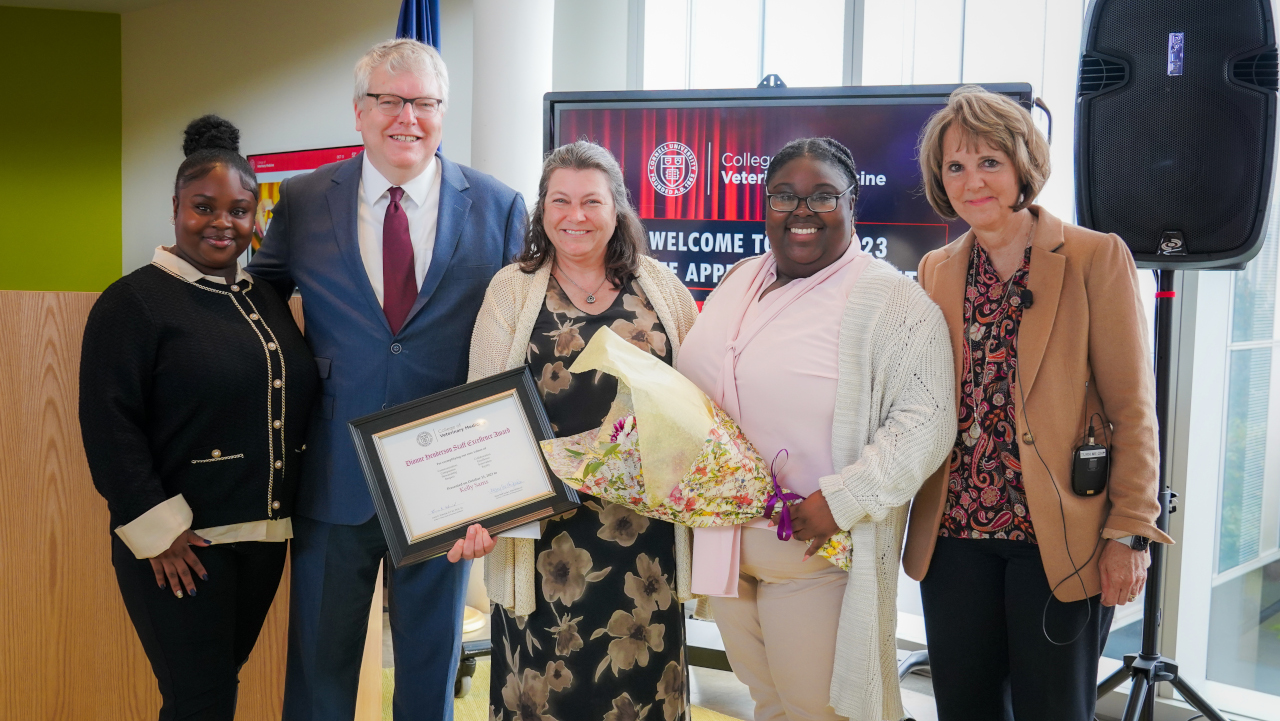 Dr. Ximena Olarte-Castillo, a postdoctoral researcher who works alongside Sams in the laboratory of Laura Goodman, Ph.D. '07, assistant professor at the Baker Institute for Animal Health and in the department of Public and Ecosystem Health, praised Sams for supporting her colleagues, both at work and in personal matters, thus creating an uplifting environment in the lab and reducing stressors for the graduate students and employees.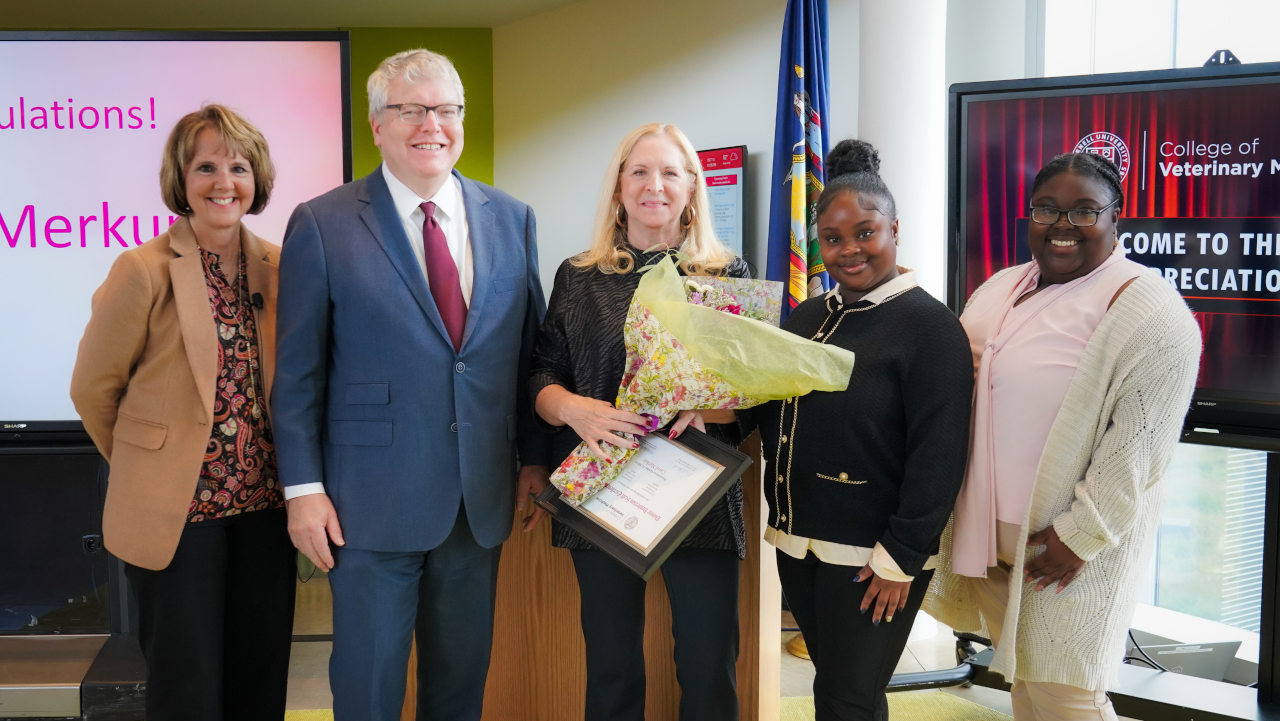 Carol Merkur was nominated by several members of her team, including Ashley Payne who described Merkur as supportive of her team in "more ways that I can count." Payne also shared that "Carol is an incredible mentor to anyone she supervises. She is kind, compassionate and a true role model."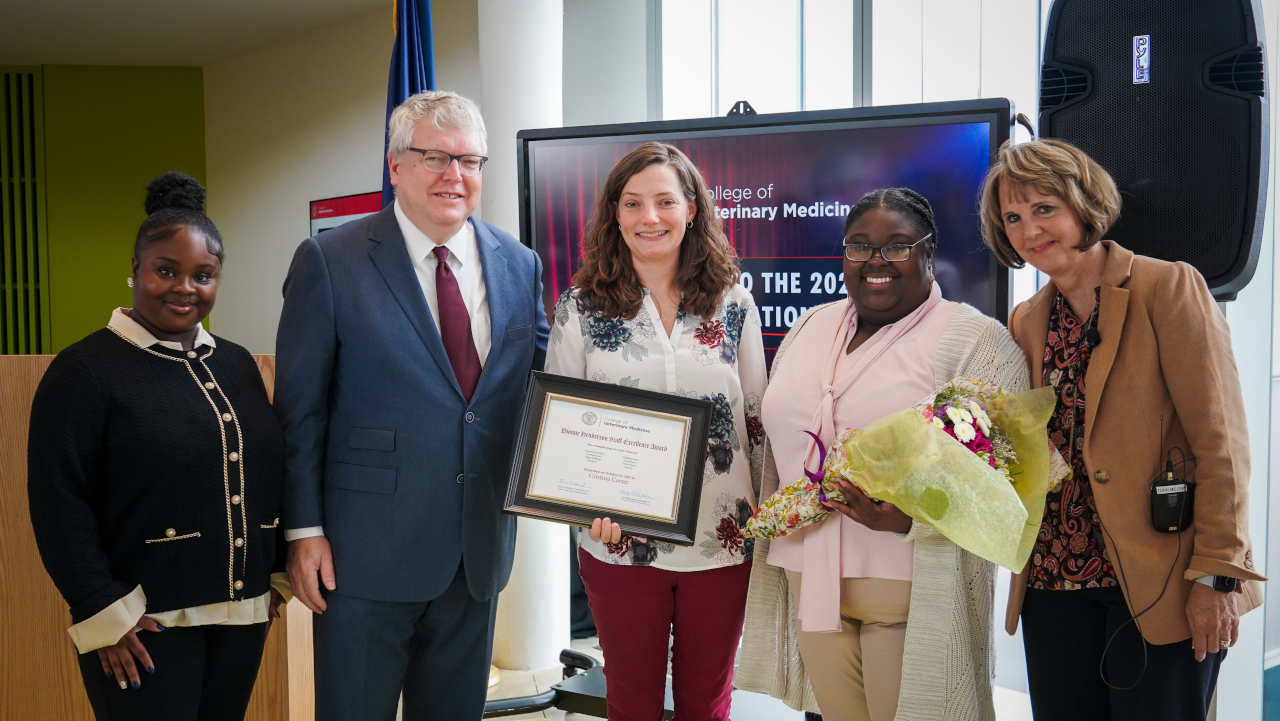 Steve Osofsky, D.V.M. '89, Jay Hyman Professor of Wildlife Health & Health Policy and director of the Cornell Wildlife Health Center, read part of the nomination he submitted for Carter. Osofsky described Carter as "a treasure and an unsung hero with a fantastic attitude, someone who make us more productive day in and day out." Osofsky shared a "little secret" with faculty members in the audience: "Department chairs kind of matter, but the administrators really matter."
Staff Service Award recipients
In the same event, 39 staff members were recognized for their service at Cornell.
20 years of service:
Mesa Ackley-Munson

Renee Anderson

Nicole Belcher
Patrick Brennan
Paul Ebner
Matthew Freer
Lee Ann Goodridge
Tina Hlywa
Laura Kappler
Samantha Koba
Heather Marsh
Tara Mercure-McKenzie
Teresa Steigerwalt
Clarence Thompson
Jackie Wright
25 years of service:
Michelle Armstrong
Lynette Degouff
Esref Dogan
Jamie Gardner
Shannon Kellogg
Melissa Laverack
Leslie Planck
Alicia Rollins
Christie Sayre
Edward Thompson
30 years of service:
Laura Barlow
Kerry Case
Rebecca Harman
Julia Hertl
Greg Mitchell
Leslie Phelps
Valerie Salerno
David Schaffner
Kathleen Strickland
Gerald Welch
35 years of service:
Wilhelm Elmore
Angela Struble
Sue Williams
 40 years of service:
In reason of her notably long-standing years of service, Mitchell received a special thank you from Jonathan Cheetham, Ph.D. '08, associate professor in the large animal surgery section. His message, read by Mary Beth Jordan, assistant dean and director of human resources at the college, acknowledged Mitchell for "her attentiveness to others, her courage to try new things, learn new skills, speak truth to power and stand up for what's right, and her wonderful care and compassion for the horses and dogs you've trained."
In a message that echoed these words, Jordan said that "our world, now more than ever, needs kindness, caring and compassion," and thanked those who remember to make the CVM community one "that I'm so proud to support."
Written by Elodie Smith