Amelia Greiner Safi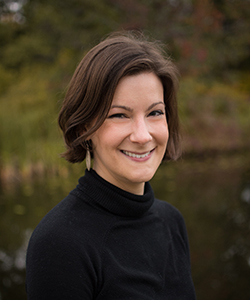 Department of Public & Ecosystem Health
Associate Professor of Practice
---
---
---
Department of Public & Ecosystem Health
Cornell University College of Veterinary Medicine
Ithaca, NY 14853

Email: alg52@cornell.edu
Research Interest
Dr. Amelia Greiner Safi is an applied social scientist with an interest in the intersection of public health, environmental/ecological health, policy and communication.  A common thread in her work is translational work – linking research to practice and policy. She has often served as a bridge across disciplines, professions to find common interests in order to advance health and environmental outcomes. Recently, she has been involved with providing insight from the social and behavioral sciences to a convening of the Rockefeller/Lancet partnership to advance the field of Planetary Health. At the UN Ocean Conference in June of 2017, she served on a panel with journalists to blend science and practice to improve ocean literacy, with the ultimate goal of advancing progress on Sustainable Development Goal #14: Conserve and sustainably use the oceans, seas and marine resources for sustainable development. She is partnering with researchers from across Cornell to understand how dairy farmers understand and make decisions about antibiotic use in their livestock. With a colleague from Landscape Architecture, she is helping to evaluate the FEMA buyout process and vulnerability is assessed in communities along the Susquehanna, with the aim to best assist individuals and municipalities negotiate changing flood risk.
With the MPH program, Amelia will play a core role in helping to develop the curriculum and teach modules on communication, behavior and behavior change, monitoring and evaluation, and qualitative methods, analysis and study design. She will continue to serve as a research collaborator and partner with internal and external audiences to advance human, environmental and ecologic health.
She currently holds a joint appointment as a senior research associate in the Department of Communication in the College of Agriculture and Life Sciences and is a member of Cornell's Graduate Field of Communication Faculty. She directs a $3 million award from the National Institutes of Health and Food and Drug Administration to understand the impact of the FDA's proposed graphic warning labels for cigarette packages and ads on emotional reactions, recall, health beliefs and smoking intentions. The team - via a mobile research lab outfitted with eye tracking computers - will involve nearly 4000 mid- to low income adult smokers and middle school students from urban and rural areas across the Northeast, and is dependent on the gracious support of and partnership from many local social service organizations, municipalities and schools.
Prior to Cornell, Amelia has been involve in a wide range of research and practice using qualitative and quantitative methods. She received an NSF dissertation award for her work on the first zoning rewrite in Baltimore City in over 40 years, with a focus of identifying how a zoning rewrite could be as health promoting as possible and evaluating the e process for opportunities and challenges of linking urban planning and public health. Her doctoral work informed a Health Impact Assessment of the zoning rewrite funded by the Robert Wood Johnson Foundation. This HIA along with extensive collaboration with and independent efforts from fellow researchers, NGOs, community organizations, local government and residents helped lead to the inclusion of current health considerations in the zoning rewrite. Other work includes conducting and evaluating a campaign to improve HIV screening practices among primary care providers in Baltimore and assessing how various news media outlets present risk and benefits of seafood consumption in response to seafood advisories and after disasters such as the BP Deepwater Horizon Oil Spill.
Education
Ph.D. – 2011 – Social and Behavioral Sciences, Johns Hopkins Bloomberg School of Public Health, Baltimore, MD
M.S. - 2006- Communication, Cornell University, Ithaca, NY
B.A. - English, Minor: Biology, Gustavus Adolphus College, St. Peter, MN
Biography/Professional Experience
2017 - Lecturer - Master of Public Health Program, Department of Population Medicine and Diagnostic Sciences, Cornell University
2015 - Senior Research Associate – Department of Communication, Cornell University
2013-2015 - Research Associate Faculty – Department of Pediatrics Johns Hopkins School of Medicine
2012-2013 - Assistant Professor – Edward J. Bloustein School of Planning and Public Policy;  Rutgers the State University of New Jersey, New Brunswick, NJ
2011-2012 - Lead Consultant – "Reducing crime through transform Baltimore's comprehensive rezoning: the public health case for addressing nonconforming liquor stores" Johns Hopkins Center for Child and Community Health Research
2007-2012 - Public Health Liaison and Technical Editor – Biohabitats, Baltimore, MD
Publications
Jennings JM, Reilly ML, Perrin J, Schumacher C, Sharma M, Greiner Safi A, Fields E, Perin J, Muvva R, Nganga- Good C, Chaulk P. (2015) Sex partner meeting places over time among HIV-infected Men-who-have-sex-with-Men (MSM) in Baltimore City. Sexually Transmitted Diseases. 42(10): 549-553 PMID: 26372926 PMCID: PMC4571287
Jennings, J, Miliam, A; Greiner A, Furr Holden, D. Curriero, F, Thornton, R. (2014) Neighborhood Alcohol Outlets and the Association with Violent Crime in one Mid-Atlantic City: The Implications for Zoning Policy. Journal of Urban Health. 91(1):62-71. PMCID: PMC3907623
Thornton, RJ, Greiner, AL, Fichtenberg, CM, Feingold, B, Ellen, JM, Jennings, JM. (2013). Achieving Healthy Zoning Policy in Baltimore: The Results of a Health Impact Assessment of the TransForm Baltimore Comprehensive Zoning Code Rewrite. Public Health Reports: Supplement on Applying Social Determinants of Health to Public Health Practice 128: (3).
Greiner, A; Lagasse, L; Neff, RA; Love, DC; Chase, R; Sokol, N; and Smith, KC (June 2013) Reassuring or risky? The presentation of seafood safety in the aftermath of the British Petroleum Deepwater Horizon oil spill. American Journal of Public Health.
Pierce, J; Martin, D; Scherr, A and Greiner, A (Sept 2012) The Spatial Justice of Mental Health: How Local Development Politics Shape Public Health Outcomes. Annals of the Association of American Geographers. 102 (5): 1084-1092
Ransom M, Greiner A, Kotchitzky C, Major K (2011) Pursuing Health Equity: Zoning Codes and Public Health. The Journal of Law, Medicine & Ethics 39(1-S): 94-97.
Greiner, A; Smith, K and Guallar E. (2010) Something Fishy? News media presentation of complex health issues related to fish consumption guidelines. Public Health Nutrition. 13(11):1786-1794.
Thornton RLJ, Fichtenberg CM, Greiner A, Feingold B, Ellen JM, Jennings JM, Shea MA, Schilling J, Taylor RB, Bishai D, Black M. Zoning for a Healthy Baltimore: A Health Impact Assessment of the TransForm Baltimore Comprehensive Zoning Code Rewrite. Baltimore, MD: Johns Hopkins University Center for Child and Community Health Research. August 2010.
Awards and Honors
2013 Zoning for a Healthy Baltimore HIA included in SOPHIAs list of outstanding HIAs
2012 First Decade Award Finalist, Gustavus Adolphus College
Society of American City and Regional Planning Historians Conference
2006 –2011 Sommer Scholar, Johns Hopkins Bloomberg School of Public Health
2005 Outstanding Graduate Teaching Assistant Award ("Golden Apple Award")
2002 Phi Beta Kappa
2002 Gerhard Alexis Prize for Excellent Writing Recipient
Professional/Academic Affiliations
HIV/HCV Steering Committee, Johns Hopkins Bayview Medical Center 2014 - 2015
Technical Advisory Group member, Star Community index 2013 - 2014
Coordinating Committee Member, Health in all policies training for Alan M. Vorhees Transportation Center's $5m HUD regional sustainability planning grant 2012
Co-chair, Technical Advisory Committee for Education, Arts and Community. Iclei's Star Community Index 2009 - 2012
Co-Founder, Public health working group –volunteer advisory group for Baltimore's zoning rewrite 2008- 2010
Planning Committee Member, "Health and the City" Urban planning and public health conference, Johns Hopkins School of Public Health 2007
Co-chair, Department of Health, Behavior and Society student organization Johns Hopkins School of Public Health 2007 – 2008