Andrew Miller, DVM, DACVP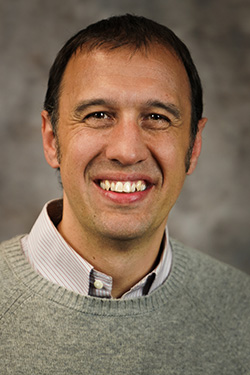 Department of Population Medicine and Diagnostic Sciences
Associate Professor
Section Chief, Anatomic Pathology
---
---
Department of Population Medicine and Diagnostic Sciences
Cornell University College of Veterinary Medicine
T5 006A Veterinary Research Tower, Box 18
Ithaca, NY 14853-6401

Office: 607-253-3559
Fax: 607-253-3541
Email: adm10@cornell.edu
Research Interest
My laboratory is focused primarily on studying the mechanisms underlying neurologic disease in animals utilizing both spontaneously arising disease and experimental models in a variety of laboratory animal species. One current focus of my lab is in utilizing the dog as a model for human brain cancer, primarily meningeal and glial tumors. This is being done through a variety of histologic, immunohistochemical, and molecular studies in both the dog and cat. We are especially interested in determining the roles that novel gene mutations have in the genesis of canine and feline meningioma and are utilizing RNAseq to better understand the transcriptome of this tumor. We are also actively involved in studying the immune cell microenvironment in canine brain tumors in order to determine if a relationship exists between immune cell infiltration and postsurgical outcome. Other active areas of research in my laboratory include analyzing the RNA transcriptome of canine soft tissue sarcomas, a common, but understudied tumor, in the dog. Due to my expertise in nonhuman primate pathology, I maintain numerous collaborations with researchers throughout the country aiding in various research studies.
Education
Residency, Veterinary Anatomic Pathology, Cornell University, 2008
DVM, Cornell University, 2005
BS in Animal Science, Cum Laude with Distinction in Research, Cornell University, 2001
Biography/Professional Experience
I am an Associate Professor in the College of Veterinary Medicine and Section Chief for Anatomic Pathology. I am a diplomate of the American College of Veterinary Pathologists (ACVP). I received my doctorate in veterinary medicine from Cornell University in 2005 and entered a residency in veterinary anatomic pathology at Cornell University, completed in 2008. I joined the faculty at the New England Primate Research Center, a division of Harvard Medical School as a research associate in 2008. I had achieved assistant professor by 2013 and held an appointment in the Pathology Department of the Massachusetts General Hospital during my tenure at the primate center. I joined the faculty in the Section of Anatomic Pathology as an Assistant Professor at Cornell University in fall of 2013. I have a strong interest in training veterinary students and pathology residents and preparing them for a career in comparative veterinary pathology. I believe that this is best done through hands on exposure to clinical cases and basic research techniques. I am involved nationally in the ACVP and other pathology groups including the Canine Brain Tumor Consortium, a multidisciplinary group organized through the National Cancer Institute. I strongly believe in the integration of teaching and collaborative research as a way to foster continued growth in the field of comparative veterinary pathology. 
Publications
Reyes VAA, Donovan TA, Miller AD, Porter BF, Frank CB, Rissi DR. Doublecortin immunolabeling in canine gliomas with distinct degrees of tumor infiltration. J Vet Diagn Invest. 2022, epub Dec. 15

Nelissen S, Miller AD. Comparison of anti-Mullerian hormone and inhibin immunolabeling in canine and equine granulosa cell tumors. J Vet Diagn Invest. 2022 34(6):1027-1031.

Riker J, Clarke LL, Demeter EA, Miller AD, Howerth EW, Miller DM, Rissi DR. Histiocytic sarcoma with central nervous system involvement in 6 cats. J Vet Diagn Invest. 2023 35(1):87-91. (pathology and data interpretation)

Buote NJ, Loftus JP, Miller AD. Laparoscopic twist technique has the best overall artifact profile when comparing three laparoscopic hepatic cup biopsy techniques for dogs. Am J Vet Res. 2022, epub Nov. 4

Latifkar A, Wang F, Mullman JJ, Panizza E, Fernandez IR, Ling L, Miller AD, Fischbach C, Weiss RS, Lin H, Cerione RA, Antonyak MA. IGF2BP2 promotes cancer progression by degrading the RNA transcript encoding a v-ATPase subunit. Proc Natl Acad Sci USA. 2022, 119(45):e2200477119. (pathology and data interpretation)

Martins M, do Nascimento GM, Nooruzzaman M, Yuan F, Chen C, Caserta LC, Miller AD, Whittaker GR, Fang Y, Diel DG. The omicon variant BA.1.1 presents a lower pathogenicity than B.1 D614G and delta variants in a feline model of SARS-CoV-2 infection. J Virol. 2022, 96(17): e0096122.

Holdsworth JP, Marino DJ, Loughin, Miller AD, Sackman JJ, Lesser ML, O'Donnell M. Biopsy and histologic findings of the dura mater at the level of the foramen magnum in 121 CKCS with Chiari-like malformation. Front Vet Sci 2022, 9:954092. (pathology and data interpretation; manuscript editing)

Cruz Otero JD, Jager M, Armien AG, Miller A, Stokol T. Granular variant of a histiocytic tumor on the toe of a cat: Case rep[ort and literature review. Vet Clin Pathol 2022, epub Jun 24. (pathology and data interpretation; manuscript editing)

Herberger A, Hammond J, Miller A, Olsen B. MRI of a middle ear cholesteatoma in a cat. Vet Radiol Ultrasound. 2022, 63(5):E16-E20. (pathology and data interpretation; manuscript editing)

Tanaka Y, Watanabe K, Miller AD, Matsumoto K, Kobayashi Y. Cholesterol granuloma associated with degenerative neuropathy in the cauda equina of a dog. J Vet Diagn Invest. 2022, epub Aug. 22. (pathology and data interpretation; manuscript editing)

Faust AE, Soletti L, Cwalina NA, Miller AD, Wood MD, Mahan MA, Cheetham J, Brown BN. Development of an acellular nerve cap xenograft for neuroma prevention. J Biomed Mater Res A. 2022 110(11):1738-1748. (pathology and data interpretation; manuscript editing)

Krane GA, Shockley KR, Malarkey DE, Miller AD, Miller CR, Tokarz DA, Jensen HL, Janardhan KS, Breen M, Mariani CL. Inter-pathologist agreement on diagnosis, classification, and grading of canine glioma. Vet Comp Oncol. 2022, 20(4):881-889. (pathology and data interpretation; manuscript editing)

Demeter E, Kent M, Glass E, Rissi D, Edwards J, Miller AD. OLIG2 immunolabeling in feline ependymoma. J Vet Diagn Invest. 2022, 34(5):898-901.

Lin M, Kent M, Glass EN, Jones AM, Miller AD, Demeter EA. Pathology in practice. J Am Vet Med Assoc. 2022, May 15;259(S2):1-5. (pathology and data interpretation; manuscript editing)

Johnson PJ, Rivard BC, Wood JH, DiRubio ML, Henry JG, Miller AD. Relationship between histological tumor margins and magnetic resonance imaging signal intensities in brain neoplasia in dogs. J Vet Inter Med. 2022, 36(3):1039-1048. (pathology and data interpretation; manuscript editing)

Tanaka Y, Watanabe K, Nakagun S, Miller AD, Sasaki M, Kobayashi Y. Bilateral plaque-like white matter degeneration in cerebral septal regions of a Chapman's zebra (Equus quagga chapmani). J Comp Path. 2022, 194:54-57. (pathology and data interpretation; manuscript editing)

Johnson PJ, Todd-Donato AB, Miller AD, Wang Y, Holm C, Panisello-Manterelo Cl, Colon Acevedo CS, Wood JH. Association of hydromyelia and acute compressive myelopathy caused by intervertebral disk extrusion in dogs. J Vet Intern Med. 2022, 36(3):1049-1056. (pathology and data interpretation; manuscript editing)

Rissi DR, McHale BJ, Miller AD. Primary nervous system lymphoma in cats. J Vet Diagn Invest. 2022, 34(4):712-717.

Whitty JA, Miller AV, Miller AD, Carney PC, Scrivani PV. Associations between styloid process sheath CT sizes and age, body weight, and breed in horses.  Vet Radiol Ultrasound. 2022, 63(4):436-449. (pathology and data interpretation; manuscript editing)

Healey EA, Andre NM, Miller AD, Whitaker GR, Berliner EA. Outbreak of feline infectious peritonitis (FIP) in shelter housed cats: molecular analysis of the feline coronavirus S1/S2 cleavage site consistent with a  "circulating virulent-avirulent theory" of FIP pathogenesis. JFMS Open Rep. 2022, Feb 11;8(1):20551169221074226. (pathology and data interpretation; manuscript editing)

Seibert LM, Center SA, Randolph JF, Miller ML, Miller AD, Choi E, Flanders JA, Harvey HJ. Relationships between congenital peritoneopericardial diaphragmatic hernia or congenital central diaphragmatic hernia and ductal plate malformations in dogs and cats. J Am Vet Med Assoc. 2021, 259(9):1009-1024. (pathology and data interpretation; manuscript editing)

Colman K, Andrews RN, Atkins H, Boulineau T, Bradley A, Braendli-Baiocco A, Capobianco R, Caudell D, Cline M, Doi T, Ernst R, van Esch E, Everitt J, Fant P, Gruebbel MM, Mecklenburg L, Miller AD, Nikula KJ, Satake S, Schwartz J, Sharma A, Shimoi A, Sobry C, Taylor I, Vemireddi V, Vidal J, Wood C, Vahle JL. International harmonization of nomenclature and diagnostic criteria (INHAND): Non-proliferative and proliferative lesions of the non-human primate (M. fascicularis). J Toxicol Pathol. 2021, 34(3 Suppl):1S-182S. (pathology and data interpretation; manuscript editing)

Peralta S, Duhamel GE, Katt WP, Heikinheimo K, Miller AD, Ahmed F, McCleary-Wheeler A, Grenier JK. Comparative transcriptional profiling of canine acanthomatous ameloblastoma and homology with human ameloblastoma. Sci Rep. 2021, 11:17792. (pathology and data interpretation; manuscript editing)

Cercone M, Chevalier J, Kennedy JG, Miller AD, Fortier LA. Early failure of a polyvinyl alcohol hydrogel implant with osteolysis and foreign body reactions in an ovine model of cartilage repair. Am J Sports Med. 2021, 49(12):3395-3403. (pathology and data interpretation; manuscript editing)

Tse MY, Porter IR, Demeter E, Behling-Kelly E, Wakshlag JJ, Miller AD. Osteogenesis imperfecta in two Finnish Lapphund puppies. Vet Med (Auck). 2021, 12:177-185.

Burns E, Habib H, Favro G, Katzman S, Sakai RR, Marquardt S, Bordbari M, Ming-Whitfield B, Peterson J, Dahlgren A, Rivas V, Ramirez Alanis C, Peng S, Donnelly C, Dizmang B-S, Kallenberg A, Grahn R, Miller A, Woolard K, Moeller B, Puschner B, Finno C. Increased α-tocopherol metabolism in horses with equine neuroaxonal dystrophy. J Vet Intern Med. 2021, 35(5):2473-2485. (pathology and data interpretation; manuscript editing)

Hales EN, Aleman M, Marquardt SA, Katzman SA, Woolard KD, Miller AD, Finno CJ. Postmortem diagnose of spinal ataxia in 316 horses in California. J Am Vet Med Assoc. 2021, 258(12):1386-1393. (pathology and data interpretation; manuscript editing) 

Crouch EEV, McAloose D, McEntire MS, Morrisey JK, Miller AD. Pathology of the bearded dragon (Pogona vitticeps): a retrospective analysis of 36 cases. J Comp Path. 2021, 186:51-61.

Krane GA, Malarkey DE, Miller AD, Miller CR, Tokarz DA, O'Dea CA, Jensen H, Janardhan KS, Flagler N, Shockley KR, Rainess BA, Mariani CL. Immunohistochemical evaluation of immune cell infiltration in canine glioma. Vet Pathol, 2021, 58(5):952-963. (pathology and data interpretation; manuscript editing)

Loehr AR, Pierpoint TM, Gelsleichter E, Galang AMD, Fernandez IR, Moore ES, Guo MZ, Miller AD, Weiss RS. Targeting cancer stem cells with differentiation agents as an alternative to genotoxic chemotherapy for the treatment of malignant testicular germ cell tumors. Cancers (Basel). 2021, 13(9):2045. (pathology and data interpretation; manuscript editing)

Meuten D, Moore F, Donovan T, Bertram C, Klopfleisch R, Foster R, Smedley R, Dark M, Milovancev M, Stromberg P, Williams B, Aubreville M, Avallone G, Bolfa P, Cullen J, Dennis M, Goldschmidt M, Luong R, Miller A, Miller M, Munday J, Roccabianca P, Salas E, Schulman F, Laufer-Amorin R, Asakawa M, Craig L, Dervisis N, Esplin DG, Hauck M, Kagawa Y, Kiupel M, Linder K, Meichner C, Marconato L, Oblak M, Santos R, Simpson M, Whitley D, Tvedten H. International Guidelines for Veterinary Tumor Pathology: A Call to Action. Vet Pathol. 2021, 58(5):766-794. (pathology and data interpretation; manuscript editing)

O'Sullivan LE, Kent M, Glass EN, Song RB, Warren JD, de Lahunta A, Miller AD. Pathology in practice. J Am Vet Med Assoc. 2021 258(8):857-860.

Avallone G, Rasotto R, Chambers JK, Miller AD, Behling-Kelly E, Monti P, Berlato D, Valenti P, Roccabianca P. Review of Histological Grading Systems in Veterinary Medicine. Vet Pathol. 2021; 58(5):809-828. (pathology and data interpretation; manuscript editing)

Miller AJ, Center SA, Randolph JF, Friesen CH, Miller AD, Warner KW. Disparities in hepatic copper concentrations determined by atomic absorption spectroscopy, inductively coupled plasma mass spectroscopy, and digital image analysis of rhodanine-stained sections in dogs. J Am Vet Med Assoc. 2021, 258(4): 395-406. (pathology and data interpretation; manuscript editing)
Access Dr. Miller's complete bibliography
Awards and Honors
C.L. Davis Foundation Samuel W. Thompson Lecture Award, 2018
Brittonkill Education Foundation Alumni Achievement Award, 2012
Professional/Academic Affiliations
American Society for Investigative Pathology
American College of Veterinary Pathologists
American Association of Veterinary Laboratory Diagnosticians
American Association of Neuropathologists