Andrew Yen, PhD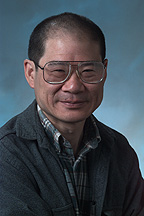 Department of Biomedical Sciences
Professor of Biomedical Sciences
---
---
Department of Biomedical Sciences
Cornell University College of Veterinary Medicine
T4 008A Veterinary Research Tower, Box 11
Ithaca, NY 14853-6401

Office: 607-253-3354
Email: ay13@cornell.edu
Research Interest
Research in Dr. Yen's laboratory is in the area of cell cycle regulation and cell differentiation. They study in particular a myeloblastic hematological tumor cell line, HL-60, which retains the capability to undergo GO arrest and differentiation along either the myeloid or the monocytic lineages. For example, retinoic acid causes GO arrest and myeloid differentiation, whereas 1,25-dihydroxy vitamin D3, a ligand for another member of the same steriod thyroid hormone receptor superfamily, causes arrest and monocytic differentiation. This established cell line has been one of the archtypical models for studies of myelo-monopoiesis and hematopoietic differentiation. Because it is derived from a patient with acute promyelocytic leukemia, a disease where retinoic acid has now been found to induce temporary remissions while conventional chemotherapy has not been effective, there is significant motivation for understanding its mechanism of action. The current work focuses on what retinoid receptors are implicated in initiating the metabolic cascade culminating in GO arrest and cell differentiation, how that process is modulated by cell surface receptors such as c-FMS (the CSF-1 receptor) that use MAPK signaling, and how the RB (retinoblastoma tumor suppressor) protein may function as a downstream effector of these signals to regulate cell cycle and cell differentiation. One of the central scientific questions addressed in the laboratory is the cellular molecular mechanisms of myeloid and monocytic cell differentiation.
The application of basic principles elucidated in these in vitro studies is directed toward understanding the mechanism of teratogenic agents and also toward the rational design of differentiation induction therapy of cancer. Whereas conventional chemotherapy seeks to expunge the tumor stem cell population, this alternative seeks to nullify the proliferative activity and differetiatively immature hallmarks of the tumor by inducing terminal differentiation. The host can thus be relieved of the tumor burden. The hope is that this potential form of therapy will spare the host of the severely toxicity inherent in conventional chemotherapy. Significantly certain dietary factors and environmental pollutants can induce terminal differentiation of neoplastic cells. The molecular mechanism by which they act is being studied by the above.
Education
PhD, Biophysics, Cornell University, 1976
MS, Physics, University of Washington, 1970
BA, Physics/Mathematics, Haverford College, 1969
Biography/Professional Experience
Dr. Andrew Yen, a professor in the Department of Biomedical Sciences, is a member of several graduate fields. His undergraduate and graduate training at Haverford College (BA, physics/mathematics 1969), University of Washington (MS, physics 1970) and Cornell University (PhD, biophysics 1976) led to postdoctoral work at Harvard with A.B. Pardee and subsequent faculty appointments at the Sloan-Kettering Institute for Cancer Research, the University of Iowa, and now Cornell University. Dr. Yen's research has focused on the cellular/molecular control mechanisms regulating cell growth and differentiation which may be pathologically aberrant in cancer. His work has been supported by the National Institutes of Health, The American Institute for Cancer Research, The Council for Tobacco Research, The Children's Leukemia Research Foundation, The United States Department of Agriculture, and the March of Dimes Foundation. Dr. Yen is Director of Graduate Studies in Environmental Toxicology, Director of the Biomedical Sciences Flow Cytometry Core Laboratory, and Associate Director of the Institute for Comparative Environmental Toxicology.
Publications
 Browse PubMed for a complete listing of Dr. Yen's publications
Awards and Honors
National Woodrow Wilson Fellow
Leukemia Scoiety of America Fellow
Professional/Academic Affiliations
American Society for Cell Biology
American Association for Cancer Research
Cell Kinetics Society
Biophysical Society
Sigma Xi
American Physiological Society
Society for Analytical Cytology
Honorary Phi Zeta
Society for Experimental Biology and Medicine