Blake Nguyen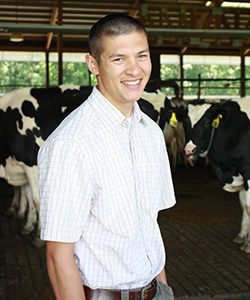 Department of Public & Ecosystem Health
Lecturer, Animal Science
---
---
Department of Public & Ecosystem Health
Cornell University College of Veterinary Medicine
Ithaca, NY 14853

Office: 607.253.4356
Email: btn26@cornell.edu
Research Interest
I enjoy working with dairy cattle, students, and dairy producers on herd health management and achieving excellence in dairy production. My goals include contributing to progress at levels from the individual animal to the industry as a whole. I have spent time visiting and working on operations in many parts of the US, Canada, and Ecuador in order to gain knowledge and experience that can be applied to helping serve the needs of the dairy industry.
I attended Middlebury College, where I earned a degree in physics in 2008, and went on to study dairy production medicine at Cornell University graduating as a D.V.M. in 2012. I am interested in data-based decision-making and dairy management strategies for achieving animal health, productivity, and profitability goals.
In my new position at Cornell, I intend to help continue the trajectory of the dairy programs in both the College of Veterinary Medicine and the Department of Animal Science to be centers for discipline-leading dairy education and innovation.
My other hobbies include fishing and skiing. I enjoy most other outdoor activities, good food, and good conversations.
Education
2008-2012 Cornell University, Doctor of Veterinary Medicine
2004-2008 Middlebury College, Bachelor of Arts; Major: Physics
Biography/Professional Experience
2016-Present Cornell University College of Veterinary Medicine Director of the Teaching Dairy/Lecturer Department of Animal Science
2012-2016 Northwest Veterinary Associates Inc. Saint Albans, VT – Dairy Veterinarian
Awards and Honors
2012-2014 Vermont Food Animal Veterinary Educational Loan Repayment Program Award
May 2012 Francis H. Fox Scholarship
2010-2012 AVMF Pfizer Animal Health Veterinary Scholarship
May 2011 John F. Cummings Memorial Award
2008-2012 Dutchess County Dairy Committee's Dairy Scholarship
2009-2010 NYSVMS Auxiliary Scholarship
Professional/Academic Affiliations
American Association of Bovine Practitioners
Northeast Dairy Production Medicine Symposium