Brian Collins, DVM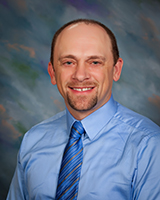 Senior Lecturer, Section of Community Practice Service
Section Chief
---
Department of Clinical Sciences
Cornell University College of Veterinary Medicine
930 Campus Road, Box 32
Ithaca, NY 14853

Office: 607.253.3706
Fax: 607.253.3289
Email: bgc2@cornell.edu 
Research/Clinical Interest
One of the most important roles a veterinarian can play is to promote and support the human-animal bond.  Preventative care and a commitment to wellness are critical components of success in this area. My role with Community Practice Service gives me the perfect forum to share ways that our clients can protect their pets and add time, quality, and meaning to the relationship they have with their companions.
Education and Training
1994     Cornell University College of Veterinary Medicine, DVM
1987     Clarkson University, B.S.
Biography
Publications
Peralta S, Collins BG, Caserto BG. Diagnostic Imaging in Veterinary Dental Practice. J Am Vet Med Assoc. 2013 Jan 1;242(1):39-41.
Schnabel LV, Maza PS, Irby NL, McDaniel CM, Collins BG. Use of a Likert-type Scale Assessment Instrument for the Evaluation of Veterinary Student Surgical Skills. Vet Surg. 2013 May;42(4):488-96.
Awards and Honors
2015     CUCVM SCAMVA Community Outreach Excellence Award Cornell University, Ithaca, NY
2014     Diplomate, American Board of Veterinary Practitioners (Canine and Feline Practice)
2014     Zoetis Distinguished Veterinary Teacher Award, College of Veterinary Medicine, Cornell University, Ithaca, NY
2013     CUCVM SCAVMA Community Outreach Excellence Award, Cornell University, Ithaca, NY
2003     Award for Exemplary Service to the Sick and Injured Homeless Animals of Tompkins County, Tompkins County SPCA, Ithaca, NY
Professional/Academic Affiliations
American Society of Veterinary Dentistry
American Veterinary Medical Association
Association of Shelter Veterinarians