David Gludish, PhD, DVM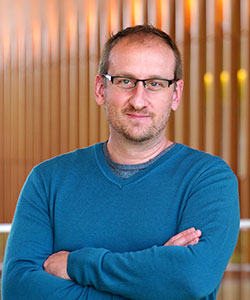 Department of Microbiology and Immunology
Senior Research Associate
---
Department of Microbiology and Immunology
Cornell University College of Veterinary Medicine
Ithaca, NY 14853

Office: 607.253.4277
Email: gludish@cornell.edu
Research Interest
Our research focuses on the heterogeneity of tissue macrophages, and the mechanisms in myeloid cells that govern their roles as targets, reservoirs or drivers of viral infection and pathology. Our studies employ novel live cell reporter tools, single-cell and next generation sequencing, mouse genetics and human hematopoietic stem/progenitor cells to study replication of HIV and SARS-CoV2 in live cells and tissues of humans and humanized mice.  Combining comparative histopathology with more sophisticated cellular and molecular analyses, our aim is to robustly model human viral infections with a focus on macrophage ontogeny and lung alveolar pathology.
Education
B.Sc. (Hons) McMaster University 2004 
M.Sc. Mcmaster University 2007 
PhD. Cornell University 2017 
DVM Cornell University 2020
Biography/Professional Experience
Postdoctoral Associate, Cornell University (Russell Lab) 2020.
Publications

Click here for a complete listing of Dr. Gludish's publications
Awards and Honors
Professional/Academic Affiliations