Dwight Bowman, PhD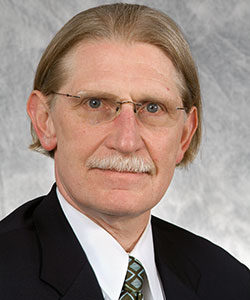 Department of Microbiology and Immunology
Professor of Parasitology
---
Department of Microbiology and Immunology
Cornell University College of Veterinary Medicine
C4 119 Veterinary Medical Center
Ithaca, NY 14853

Office: 607.253.3406
Email: ddb3@cornell.edu
Research Interest
Soil transmitted parasites, parasites of wildlife, visceral larva migrans, host response to soil transmitted pathogens, detection of soil transmitted parasites.
Education
Biography/Professional Experience
Dr. Bowman is a Professor in the Department of Microbiology and Immunology and has been associated with the department since 1987 (previously an assistant professor,1987-1993). He received the MS degree in Parasitology from Tulane University in 1976. He then received his PhD from Tulane University in 1983 studying Parasitology. He has held successive positions at Cornell University since 1987. He has obtained continuous funding (corporate and federal) throughout his career to study animal parasitology.
Publications
Jenkins MB, Walker MJ, Bowman DD, Anthony LC, Ghiorse WC. (1999). Use of a sentinel system for field measurements of Cryptosporidium parvum oocyst inactivation in soil and animal waste. Appl. Env. Microbiol. 65:1998-2005.
Werre SR, Bowman DD, Mohammed HO, Jenkins MB, Quimby FW, Horton KM, Dubey JP. (1999). Transmission to guinea pigs of very low doses of oocysts of Toxoplasma gondii in drinking water. J. Parasitol 46: 71s-72s.
Bowman DD, Reimers RS, Little MD, Jenkins MB, Bankston WS, Atique MM. (2000). Assessment and comparison of Ascaris egg and Cryptosporidium oocyst inactivation with respect to biosolids processing. Residuals & Biosolids 2000 pp. 334-346.
Bowman DD, Griffiths JK. (2000). Treatment of larval toxocariasis. Current Treatment Options in Infectious Disease 2:70-77.
Kato S, Bowman DD, Brown DL. Efficacy of Chenopodium ambrosioides as an antihelmintic for treatment of gastrointestinal nematodes in lambs. J. Herbs, Spices, Med. Plants 7:11-25.
Dubey JP, Speer CA, Bowman DD, Horton K, Venturini C, Venturini L. (2000) Experimental transmission of Sarcocystis speeri Duby and Lindsay, 1999 from the South American opossum (Didelphis lbiventris) to the North American opossum (Didelphis virginianus). J. parasitol. 86:624-627.
Awards and Honors
Professional/Academic Affiliations