Elizabeth Buckles, DVM, PhD, DACVP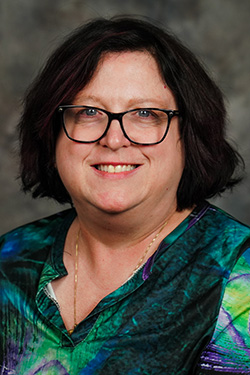 Department of Population Medicine and Diagnostic Sciences
Associate Clinical Professor
---
---
Department of Population Medicine and Diagnostic Sciences
Cornell University College of Veterinary Medicine
Ithaca, NY 14853-6401

Office: 607-253-3319
Fax: 607-253-3357
Email: elb36@cornell.edu
Research, Diagnostic & Teaching Interests
Research and Diagnostic Interests
My major research and diagnostic interests involve diseases of avian and non-domestic animals, particularly those of free-ranging wildlife. Emergence of disease in these species is often the first indication of larger environmental problems and may foreshadow more serious events in wildlife populations, ecosystems, human health and the health of domestic animals. Additionally, studies of naturally occurring diseases in wild species can provide insight into the factors that predispose domestic animal and human populations to disease emergence. My recent research has centered on investigations of White Nose Syndrome, a devastating disease that has resulted in the death of approximately 80% hibernating bats in parts of the United States. I have ongoing collaborative research projects with investigators at the Cornell Laboratory of Ornithology and Binghamton University that focus on the interaction of age and genetics on the prevalence of disease in common crows and on characterizing winter mortality events in this species. Additionally I am working with members of the Department of Clinical Sciences to better understand the distribution of pain receptors the avian brain in order to enhance our ability to provide analgesia in these patients.
As a diagnostician I enjoy working with all species and am particularly interested in the comparative aspects of disease pathogenesis and diagnosis. In addition to the work I do with wildlife I have a special interest in the diagnosis of diseases in domestic poultry. As the popularity of backyard flocks has increased, so has the need to provide high quality poultry diagnostics. Thus, along with the other members of the Section of Anatomic Pathology, I work closely with colleagues at the New York State Animal Health and Diagnostic Center to provide pathology expertise and to support our joint mission to improve the health of all animals.
Teaching
My major teaching focus in the veterinary curriculum is the General Pathology portion of Foundation Course 2. I also participate in the training of Anatomic Pathology Residents. I am the Cornell contact for individuals interested in applying for the residency in Zoo and Wildlife Pathology which is jointly administered through the College of Veterinary Medicine and the Wildlife Conservation Society. I am the Faculty Advisor to The Psychopaths, our local Student Chapter of the American College of Veterinary Pathologists.
Education
PhD, University of California, Davis, 2004
ACVP, 2000
DVM, The Ohio State University, 1996
MS, The Ohio State University, 1996
Biography/Professional Experience
Dr. Buckles has been a member of the Department of Biomedical Sciences since 2004. She received her DVM and MS from The Ohio State University in 1996 where her Master's thesis dealt with a spirochete associated disease in juvenile common rheas. She completed her residency training in anatomic pathology at the University of Tennessee and the University of California Davis and achieved diplomate status in the American College of Veterinary Pathologists (ACVP) in 2000. Her PhD was awarded by the University of California, Davis in 2004 for her dissertation describing the association between a herpesvirus and endemic neoplasms in California sea lions.
Publications
Buckles E.L., Ballmann, A. 2011. White Nose Syndrome: an emerging disease of hibernating bats in Zoo and wildlife medicine, 7th Edition, Eric Miller and Murrey Fowler, Editors.
Bezuidenhout, A., Mondal, S.P., Buckles, E.L. 2010. Histopathological and immunohistochemical study of air sac lesions induced by two strains of infectious bronchitis virus. Comparative Pathology 145 (4): 319-326.
Cushing, T.L., Schat, K.A., States, S.L., Grodio, J.L., O'Connell, P.H., Buckles, E.L. 2010. Morphologic and immunohistochemical characterization of systemic Isosporosis (Atoxoplasmosis in a colony of captive American golfinches (Spinus tristis) and House sparrows (Passer domesticus). Veterinary Pathology 48(5):985-82.
Townsend, Andrea K., Clarke, Anne B., McGowan, Kevin J., Miller, Andrew D., Buckles, E. L. 2010. Condition, innate immunity and disease mortality of inbred crows. Proceedings of the Royal Society B 277 (1695): 2875-83. PMID: 20444716.
Chen, D.J., Osterrieder, N., Metzger, S.M., Buckles, E.L., Doody, A.M., Delisa, M.P., Putnam, D. 2010 Delivery of foreign antigens by engineered outer membrane vesicle vaccines. Proceedings of the National Academy of Sciences of the United States of America 107(7):3099-3104.
Miller, A.D., McGowan, K.J., Clark, A.B., Glaser, A.L., Townsend, A.K., Patrican, L.A., Dobson, E., Buckles, E.L. 2009. Non-West Nile Virus associated mortality in a population of American crows (Corvus brachyrhynchos): a gross and histopathologic study. Journal of Wildlife Diseases 22 (2): 289-95. PMID: 20224095
Meteyer, C.U., Buckles, E.L., Blehert, D.S., Hicks, A.C., Green, D.E., Shearn-Bochsier, V., Thomas, N.J., Gargas, A., Behr, M.J. 2009. Histopathologic criteria to confirm white-nose syndrome in bats. Journal of Veterinary Diagnostic Investigation 21(4):411-414. PMID19564488.
Townsend, A.K., Clark, A.B., McGowan, K.J., Buckles, E.L., Miller, A.D., Lovette, I.J. 2009. Disease-mediated inbreeding depression in a large, open population of cooperative crows. Proceedings. Biological Sciences 276(1664):2057-2064. PMC2677249.
Blehert, D.S., Hicks, A.C., Behr, M., Meteyer, C.U., Berlowski-Zier, B.M., Buckles, E.L., Coleman, J.T.H., Darling, S.R., Gargas, A., Niver, R., Okoniewski, J.C., Rudd, R.J., Stone, W.B. 2009. Bat White-Nose Syndrome: an emerging fungal pathogen? Science 323(5911):227. PMID18974316
Mondal, S.P., Lucio-Martínez, B., Buckles, E.L. 2008. Molecular characterization of a poxvirus isolated from an American Flamingo (Phoeniconais ruber rubber). Avian Diseases 52(3):520-525. PMID18939646
Goodman, L., Loregian, A., Perkins, G., Nugent, J., Buckles, E.L., Mercorelli. M., Kydd, J., Palu, G., Smith, K., Davis-Poynter, N., Osterreider, N. 2007. A point mutation in a herpesvirus polymerase determines neuropathogenicity. PLoS Pathogens 3(11):1583-1592. PMID17997600
Starkey, S.R., Morrisey, J., Stewart, J.E., Buckles, E.L. 2008. Pituitary-dependant hyperadrenocorticism in a cockatoo. JAVMA 232(3):394-398.PMID18242205
 Browse PubMed for a complete listing of Dr. Buckle's publications