Ellis Loew, PhD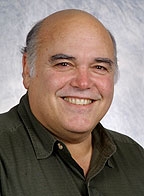 Department of Biomedical Sciences
Professor of Physiology
---
---
Department of Biomedical Sciences
Cornell University College of Veterinary Medicine
Baker, Box 53
Ithaca, NY 14853

Office: 607.253.3840
Fax: 607.253.3846
Email: erl1@cornell.edu
Research Interest
Ecology and Evolution of Vision
Predator/Prey Interactions in Planktivorous Fish
Physical Optics of Natural Waters
Biochemistry and Ecology of Visual Pigments
Computer Modeling of Visual Processes Using Remote Sensing Techniques
Electro-Optical Instrumentation
Clinical Electroretinography
Education
Los Angeles City College, Los Angeles    A.A.      1966     Chemistry
University of California, Los Angeles      B.A.      1968     Zoology
University of California, Los Angeles      M.A.      1971     Zoology
University of California, Los Angeles      Ph.D.     1973     Biology
Biography/Professional Experience
2002 -Director of Undergraduate Studies
    1998-Professor of Physiology & Biomedical Sciences, Cornell University, Ithaca, NY
    1983-1998 Associate Professor of Physiology, Cornell University, Ithaca, NY
    1979-Director, Electro-ophthalmology Diagnostic Service, NYSCVM, Cornell University, Ithaca, NY
    1977-1983- Assistant Professor of Physiology, Cornell University, Ithaca, NY
    1975-1977- NIH Postdoctoral Fellow and Research Associate, Section of Ecology and Systematics, Cornell University, Ithaca, NY
    1974-1975- MRC Visiting Fellow, MRC Vision Research Unit, University of Sussex, Brighton, England.  H.J.A. Dartnall, Director
    1973-1974- Fight for Sight, Inc. Postdoctoral Fellow, MRC Vision Unit, University of Sussex, Brighton, England. H.J.A. Dartnall, Director
Publications
Loew, E.R. (2002) Color Vision in Animals.  In: Small Animal Ophthalmology Secrets" (R.C. Riis, ed). Hanley & Belfus, Philadelphia.  Pp7-11.
Diau-Guan, Y., E.R. Loew, V. Wijendran, E. Sarkadi-Nagy, P.W. Nathanielsz and J.T. Brenna. (2003). Docosahexanoic and arachadonic acid influence on preterm baboon retinal composition and function.  Invest. Ophthalmol. Vis. Sci. 44:4559-4566
Loew, E.R. and H. Zhang. (2005). The Propagation of visual signals in the aquatic environment: An Interactive Windows®-Based Model. In: F. Ladich, S.P. Collin, P. Moller, & B.G. Kapoor (Eds.), Communication in Fishes, 2 (pp. 281-302). Enfield, NH, USA: Science Publishers.
Loew, E.R. and C.M. Wahl. (2008). Photoreception.  In: R.N. Finn & B.G. Kapoor (ed.) Fish Larval Physiology. Science Publishers, Enfield, NH. PP. 395-424.
Martin, M., J-F Le Galliard, S. Meylan, E.R. Loew (2015). The importance of ultraviolet and near-infrared sensitivity for visual discrimination in two species of lacertid lizards.  J. Exp. Biol. 218:458-465.

Browse PubMed for a complete listing of Dr. Loew's publications
Awards and Honors
Professional/Academic Affiliations
Department of Biomedical Sciences
Field of Physiology
Field of Neurobiology and Behavior