Gillian A. Perkins, DVM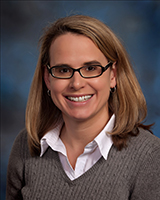 Diplomate - American College of Veterinary Internal Medicine
Clinical Professor, Section of Large Animal Medicine
Associate Director of the Cornell University Hospital for Animals
Medical Director, Specialties IV
Director of Biosecurity, Cornell University Hospital for Animals
---
Department of Clinical Sciences
Cornell University College of Veterinary Medicine
930 Campus Rd., Box 25
Ithaca, NY 14853

Email: gap7@cornell.edu
Research/Clinical Interest
Dr. Perkins research and clinical interests include equine infectious diseases in particular Equine Herpes Virus-1 and Salmonellosis, along with an interest in veterinary public health (with an emphasis on infection control in the Cornell University Hospital for Animals).
Other Interests
Leader of the Infection Control Committee of the Cornell University Equine and Nemo Farm Animal Hospital.
Education and Training
1996 - 1998     Cornell University, Residency in Large Animal Medicine
1995 - 1996     University of Minnesota, Internship in Large Animal Medicine
1995     University of Prince Edward Island, DVM
Biography
Publications

    Please select the PubMed link for a list of Dr. Perkins' publications.
Awards and Honors
2004     Phi Zeta Alpha National Honor Society of Veterinary Medicine
2002 - 2004     Exceptional Merit Award, Cornell University Department of Clinical Sciences
2000     Diplomate, American College of Veterinary Internal Medicine
1991     Veronica Aloyse Corbett Memorial Scholarship
Professional/Academic Affiliations
AAEP Biosecurity Subject Matter Resource Team
American Association of Equine Practitioners (AAEP)
American College of Veterinary Internal Medicine

American Veterinary Medical Association

Genesee Valley Breeders Association, Inc.

Veterinary Management Group - 20