Hélène Marquis, DVM, PhD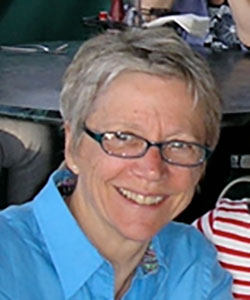 Research Interest
The Marquis lab is interested in the pathogenesis of bacterial diseases affecting mammalian and aquatic animals. We are presently working on the following research projects:
Development of a Phage-Based Diagnostic Test for the Rapid Detection of Pathogenic Vibrio species in Bivalves
The prevalence of gastrointestinal illnesses associated with the consumption of raw oysters contaminated with Vibrio parahaemolyticus and V. vulnificus has increased over the years, having a negative impact on the industry due to recalls and loss of consumer confidence in the product. We are developing a bacteriophage-based diagnostic test for early detection of shellfish contamination by virulent strains of these two bacterial pathogens.
This project, which is funded by the Northeastern Regional Aquaculture Center, is a collaboration between Dr. Hélène Marquis, Dr. Martin Wiedmann, and Dr. Rod Getchell from Cornell University, Mr. Greg Rivara from Cornell University Cooperative Extension Suffolk County, and Dr. Cheryl Whistler and Dr. Stephen Jones from the University of New Hampshire.
Insect Larvae As A Substitute For Fishmeal In Aquaculture Feed
The goal of this project is to develop a sustainable diet that decreases the need for fish-based ingredients in the aquaculture industry. For this purpose, we are assessing the value of fly larvae as a substitute for fishmeal used in fish diets.
This project is a collaboration between Dr. Hélène Marquis, and Dr. Vimal Selvaraj from Cornell University.
Effects of Water Contamination with Trace Levels of Antibiotics on the Aquatic Life
Natural waters are contaminated worldwide with trace levels of antibiotics. In test tubes, these low levels of antibiotics do not inhibit bacterial growth, but they still have the potential to induce changes in bacterial gene expression and promote the emergence of resistant clones. The Marquis Lab is assessing the effects of low levels of antibiotics in water on the fish gut microbiota, the susceptibility of fish to colonization by bacterial pathogens, and the potential consequences for public health.
This project is a collaboration between Dr. Hélène Marquis, Dr. Renata Ivanek, and Dr. Damian Helbling from Cornell University.
Role of Microbiota in the Control of Bacterial Infections in Aquaculture
The skin of fish and its mucus layer play an important role in maintaining homeostasis. This tissue is populated with communities of bacteria identified as the microbiota. The Marquis Lab is interested in the composition of the skin mucus microbiota, and the impact of infection on the make-up of the microbiota. Our long-term goal is to develop approaches for preventing and controlling outbreaks of bacterial infections in aquaculture.
Education
DVM (University of Montreal)
PhD (Texas A&M University)
Biography/Professional Experience
Dr. Marquis is a professor of Microbiology and Immunology. She received a doctorate degree in Veterinary Medicine from the University of Montréal in Canada and was awarded a Ph.D. in Veterinary Microbiology from Texas A&M University for her studies on the outer membrane proteins of Brucella spp. with Dr. Thomas Ficht. She was a postdoctoral fellow in the laboratory of Dr. Daniel Portnoy at the University of Pennsylvania, working on the pathogenesis of Listeria monocytogenes. In 1997, she assumed a position of assistant professor in the Department of Microbiology at the University of Colorado School of Medicine. She moved to Cornell University in July 2001.
Publications
Professional/Academic Affiliations