Jeongmin Song, PhD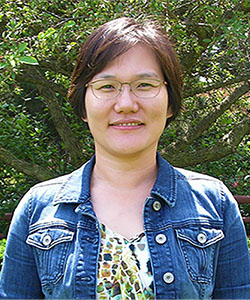 Department of Microbiology and Immunology
Assistant Professor of Microbiology & Immunology
---
Department of Microbiology and Immunology
Cornell University College of Veterinary Medicine
C5 183 VMC
Ithaca, NY 14853

Office: 607.253.4059
Email: jeongmin.song@cornell.edu
Research Interest
Typhoid fever – caused by Salmonella enterica serovar Typhi (S. Typhi) adapted solely to humans – is one of the most successful infectious diseases in human history, and remains a major global health threat with continuing outbreaks occurring in some developing countries.
 
Using this exemplary bacterial pathogen that causes a serious real-world problem that kills 0.2 million and sickens 21 million people every year, we seek answers to fundamental biological questions as follows:
 
1. What makes S. Typhi so dangerous?
2. Despite the seemingly unfavorable narrow host adaptation, what makes S. Typhi so successful?
3. What are the roles of typhoid toxin and its homologs?
 
We use a multidisciplinary approach to define in molecular (when possible atomic terms), cellular, and organismal level the functional interface between this important bacterial pathogen, typhoid toxin, and the host.
Current Lab Members:
Yi-An (Amy) Yang, Postdoc
SoHyoung Lee, Postdoc
Eun-Jin Choi, Graduate student
Geyong Shik (Ray) Yoo, Undergraduate student
Alexander Chong, Undergraduate student
Jeffrey Kim, DVM student at Ohio State University
Lab Alumni:
Bokai Zhu (Graduate student at Stanford University)
Lucy Mackintosh (DVM student at University of Cambridge, UK)
Opportunities:
We are recruiting strongly motivated personnel with research interests in bacterial pathogens and host interplay. Please contact Jeongmin with your CV, if you are highly motivated and interested in understanding molecular mechanisms of infectious diseases. Of note, prospective graduate students need to consult the graduate admission program at Cornell University for the current application procedures (e.g. Graduate Programs in Biological and Biomedical Sciences, Microbiology, or Biochemistry, Molecular and Cell Biology).
Education
PhD (Duke University)
Postdoctoral training (Yale University)
Biography/Professional Experience
Dr. Song received her BS and MS in Microbiology in South Korea and her PhD from Duke University.  During her postdoctoral training at Yale University, she investigated the underlying mechanism behind Salmonella Typhi's distinct pathogenicity.
Publications
Yang Y-A, Lee S, Zhao J, Thompson AJ, McBride R, Tsogtbaatar B, Paulson JC, Nussinov R, Deng L, Song J. (2017). In vivo tropism of Salmonella Typhi typhoid toxin to cells expressing multiantennal glycan receptors. Nature Microbiology. (Accepted). 
Chong A, Lee S, Yang Y-N, Song J. (2017).  The role of typhoid toxin in Salmonella Typhi virulence.  Yale Journal of Biology & Medicine.  90(2):283-290.
Liu Y, Liu Q, Qi L, Ding T, Zhen W, Fu J, Hu M, Li M, Song J**, Lui X**.  (2017).  Temporal regulation of a Salmonella Typhimurium virulence factor by the transcriptional regulator YdcR.  Molecular & Cellular Proteomics. M117:068296. (** co-senior author).
Chang S-J, Song J, Galán JE. (2016). Receptor-mediated sorting of typhoid toxin during its export from Salmonella Typhi-infected cells. Cell Host Microbe. 20(5):682-689.
Song J*, Wilhelm CL*, Wangdi T, Maira-Litran T, Lee S-J, Raetz M, Sturge CR, Mirpuri J, Pei J, Grishin NV, McSorley SJ, Gewirtz AT, Baumler AJ, Pier GB, Galán JE, Yarovinsky F.  (2016). Absence of TLR11 in mice does not confer susceptibility to Salmonella Typhi.  Cell. 164(5):827-8 (* co-first authors)
Deng L*, Song J*, Gao X*, Wang J, Yu H, Chen X, Varki N, Naito-Matsui Y, Galán JE, and Varki A.  (2014). Host adaptation of a bacterial toxin from the human pathogen Salmonella Typhi.  Cell.  159(6):1290-9.  (* co-first authors).  
Song J*, Gao X*, and Galán JE.  (2013). Structure and function of the Salmonella Typhi chimaeric A2B5 typhoid toxin.  Nature.  499(7458):350-354 (* co-first authors; Highlighted by News and Views in the same issue of the journal; Highlighted by F1000). 
Song J*, Willinger T*, Rongvaux A, Eynon EE, Stevens S, Manz MG, Flavell RA, and Galán JE.  (2010). A mouse model for the human pathogen Salmonella Typhi.  Cell Host Microbe.  8(4):369-76. (* co-first authors). 
Song J*, Bishop BL*, Li G, Grady R, Stapleton A, and Abraham SN.  (2009). TLR4-mediated expulsion of bacteria from infected bladder epithelial cells.  Proc Natl Acad Sci USA.  106(35):14966-71.  (*co-first authors).
Awards and Honors
Bacteriology Meritorious Research Travel Award (Duke University, 2008)
Life Science Research Foundation Postdoctoral Fellowship Award Finalist (2010)
Northeast Biodefense Center Postdoctoral Career Development Fellowship Award (NIH, 2012-2014)
KASBP-Yuhan Young Scholar Fellowship Award (2014)
Nanoempire Meeting Travel Award (Cornell University, 2014)
President's Council of Cornell Women Affinito-Stewart Grant Award (2016)
The Schwartz Travel Fund for Women in Life Sciences (Cornell University, 2017)
Professional/Academic Affiliations
Dr. Song is a member of the following Graduate Fields:
Biochemistry, Molecular and Cell Biology