John Schimenti, PhD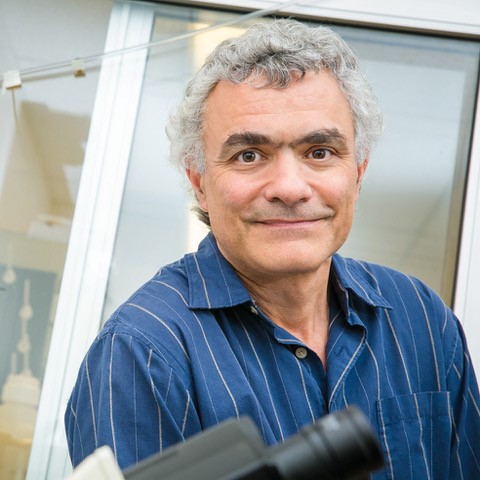 Department of Biomedical Sciences
James Law Professor of Genetics
---
---
Department of Biomedical Sciences
Cornell University College of Veterinary Medicine
T9 014A Veterinary Research Tower, Box 17
Ithaca, NY 14853-6401

Office: 607-253-3636
Email: jcs92@cornell.edu
Research Interest
Our lab investigates the genetics and mechanisms of reproduction, meiosis, and genome maintenance.  A major focus concerns checkpoint mechanisms that detect errors in germ cell development so as to protect against chromosome aberrations and birth defects in offspring. We also study how defects in DNA replication lead to genetic aberrations, developmental abnormalities, and cancer. Finally, we have undertaken a project to identify human infertility alleles in human populations using CRISPR-mediated modeling in mice.
Education
BA, Rutgers University
PhD, University of Cincinnati Childrens Hospital
Post Doc, Princeton University
Biography/Professional Experience
1987 - 1992 Assistant Professor, Department of Genetics, Case Western Reserve University
1992 - 2004 Staff Scientist, The Jackson Laboratory
2004 - 2019 Director, Cornell Center for Vertebrate Genomics
2004 - Present Professor of Genetics, Cornell University
Publications
Singh, P., Patel, R., Palmer, N., Grenier, J., Paduch, D., Kaldis, P., Grimson, A. and Schimenti, J. (2019) CDK2 kinase activity regulates male germ cell fate.  Development 146: dev180273.

McNairn, A., Chuang, C., Bloom, J., Wallace, M. and Schimenti, J. (2019) Female-biased embryonic death from inflammation induced by genomic instability. Nature, 567: 105-108.

Rinaldi, V., Bolcun-Filas, E., Kogo, H., Kurahashi, H. and Schimenti, J. (2017) The DNA damage checkpoint eliminates mouse oocytes with chromosome synapsis failure.  Molecular Cell 67:1026-1036.

Rinaldi, V., Hsieh, K., Munroe, R., Bolcun-Filas, E. and Schimenti, J. (2017) Pharmacological inhibition of the DNA damage checkpoint prevents radiation-induced oocyte death. Genetics 206: 1823-28.

McNairn, A., Rinaldi, V. and Schimenti, J. (2017) Repair of meiotic DNA breaks and homolog pairing in mouse meiosis requires a minichromosome maintenance (MCM) paralog. Genetics 205:529-537. PMID: 27986806 DOI: 10.1534/genetics.116.196808
Kartha, N., Shen, L., Maskin, C., Wallace, M. and Schimenti, J. (2016) The chromatin remodeling component Arid1a is a suppressor of spontaneous mammary tumors in mice. Genetics 203:1601-11.
Bai, G., Smolka, M. and Schimenti, J. (2016) Chronic DNA replication stress induces senescence by TRP53-dependent downregulation of the Minichromosome Maintenance 2-7 factors.  PLoS Genetics 12:e1005787.
Singh, P. and Schimenti, J.  (2015) The genetics of human infertility by functional interrogation of SNPs. PNAS, 112:10431-36. PMC4547237.
Singh, P., Schimenti, J. and Bolcun-Filas, E.  A mouse geneticist's practical guide to CRISPR applications.  (2015) Genetics. 199:1-15.
Luo, Y., Hartford, S., Zheng, R., Southard, T., Shima, N., and Schimenti, J. Hypersensitivity of primordial germ cells to compromised replication-associated DNA repair involves ATM-p53-p21 signaling.  (2014) PLoS Genetics 10:e1004471.
Bolcun-Filas, E., White, M., Rinaldi, V. and Schimenti, J. Reversal of female infertility by Chk2 ablation reveals the oocyte DNA damage checkpoint. (2014) Science, 343:533-536.
Wallace, M., Southard, T. Schimenti, K. and Schimenti, J. (2014) Role of DNA damage response pathways in preventing carcinogenesis caused by intrinsic replication stress. Oncogene 33:3688-95.
 Browse PubMed for a complete listing of Dr. Schimenti's publications
Awards and Honors
March of Dimes Basil O'Connor Starter Scholar Research Award
Searle Scholars Award
Presidential Young Investigator Award, National Science Foundation
Fellow, American Association for the Advancement of Science
James Law Professor of Genetics, Cornell College of Veterinary Medicine
SUNY Chancellor's Award for Excellence in Scholarship and Creative Activities
Professional/Academic Affiliations
(Primary) Department of Biomedical Sciences, College of Veterinary Medicine
(Joint) Department of Molecular Biology and Genetics