Karyn Havas, DVM, PhD, MS, DACVPM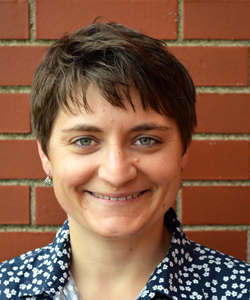 Department of Public & Ecosystem Health
Senior Research Associate
Lecturer
---
---
Department of Public & Ecosystem Health
Cornell University College of Veterinary Medicine
Ithaca, NY 14853

Office: 607.253.3573
Email: kah47@cornell.edu
Research Interest
Neglected and transboundary disease control, surveillance and monitoring.
Sustainable and economically productive livestock development
Education
University of Mary Washington (Mary Washington College) - BS -2001
Cornell University College of Veterinary Medicine - DVM - 2005
Colorado State University - PhD (epidemiology) -2011
Purdue University - MS Economics - 2018
Biography/Professional Experience
Served in the U.S. Army Veterinary Corps from 2005-2014. Activities included:
A deployment in support of force health protection for Operation Iraqi Freedom in 2007,
Lead for veterinary planning in support of the U.S. Navy humanitarian Continuing Promise mission, 2013
Section Lead for the U.S. Army reportable medical event surveillance in the Disease Epidemiology Program of the Army Public Health Command
Deputy Director of the Division of Integrated Biosurveillance, Armed Forces Health Surveillance Center
Faculty for the development and implementation of the Veterinary Support to Stability Operations courses
Worked for the U.S. Department of Agriculture from 2014-2017 as the Diagnostic Services Section Head at the Foreign Animal Disease Diagnostic Laboratory, Plum Island Animal Disease Center
Managed the diagnostic component of the USDA's foreign animal disease investigations
Collaborated with international partners in the Caribbean, South and Central America, Horn of Africa, and sub-Saharan Africa
Lectured and taught on transboundary animal diseases to domestic and international colleagues and students
Advised on surveillance and diagnostic policy
Assisted in the study design and evaluation of diagnostic assay validation projects
Developed and diagnostic algorithms for efficient and appropriate support to field services
Publications
1.      Rapp-Santos K, Havas KA, Vest KJ. Evaluation of the U.S. Army Institute of Public Health Destination Monitoring Program, A Food Safety Surveillance Program. Army Medical Department Journal. 2015 Jan-Mar; 16-24.
2.      Dees J and Havas KA. A Systematic Analysis of the Department of Defense Reportable Medical Event Process.  Department of Preventive Medicine and Biometrics of the Uniformed Services University of the Health Sciences. 2014 Jun.  Unpublished
3.      McCormic ZD, Balihe MN, Havas KA, Baty SA. Puumala Hantavirus Outbreak Among U.S. Military Health Care Beneficiaries, Stuttgart, Germany – 2012. Medical Surveillance Monthly Reports. 2013 Dec; 20(12); 12-15.
4.      Havas KA, Chevalier N, gul Safi S, Whitten R, Woodford J, Cooper E. Working Paper: Animals and Rabies Control in Joint Operation Areas. Epidemiology and Disease Surveillance of the U.S. Army Public Health Command. Defense Technical Information Center. August 2013. http://www.dtic.mil/dtic/tr/fulltext/u2/a564176.pdf
5.      Havas KA, Boone RB, Hill AE, Salman MD. A Brucellosis Disease Control Strategy for the Kakheti Region of the Country of Georgia: An Agent-Based Model. Zoonoses and Public Health. 2013; Epub ahead of print: doi 10.1111/zph.12066
6.      Baker JL, Havas KA, Miller LA, Lacy WA, Schlanser J. Gunshot Wounds in Military Working Dogs in Operation Enduring Freedom and Operation Iraqi Freedom: 29 cases (2003-2009). Journal of Veterinary Emergency Medicine and Critical Care. 2013 Jan-Feb; 23(1): 47-52.
7.      Havas KA, Ramishvili M, Navdarashvili A, Hill AE, Tsanava S, Imnadze P, Salman MD. Risk Factors Associated with Human Brucellosis in the Country of Georgia: a Case-Control Study. Epidemiology and Infection. 2013 Jan; 141(1): 45-53. Epub 2012 Mar 12.
8.      Havas KA, Ramishvili M, Navdarashvili A, Imnadze P, Salman M. The Human-Animal Interface of Domestic Livestock Management and Production and its Relationship to Brucellosis in the Country of Georgia 2010: A Rapid Assessment Analysis. Preventive Veterinary Medicine. 2012 Jun 1; 105(1-2): 10-16. Epub 2012 Mar 8.
9.      Havas KA, Burkman K. A Comparison of the Serological Evidence of Coxiella burnetii Exposure between Military Working Dogs and Feral Canines in Iraq. Military Medicine. 2011 Oct; 176(10): 1101-1103.
10.  Havas KA and Salman M. Food Security: Its Components and Challenges.  International Journal of Food Safety, Nutrition, and Public Health. 2011; 4(1): 4-11.
11.  Taggart R, Wardlaw J, Horstmann CL, Mason DR, Sidaway B, Havas KA.  An Analysis of the Quality of Canine Cranial Cruciate Ligament Disease Information Available on the Internet. Veterinary Surgery. 2010 39(3): 278-83
Awards and Honors
TBD
Professional/Academic Affiliations
American Veterinary Medical Association -2005
American College of Veterinary Preventive Medicine -- 2011 (Boarded diplomate and epi specialty diplomate)
US Animal Health Association - 2014