Kathleen Kelly, DVM, PhD, DACVP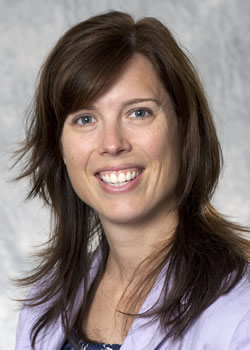 Department of Biomedical Sciences
Assistant Professor, Anatomic Pathology
---
---
Department of Biomedical Sciences
Cornell University College of Veterinary Medicine
T4 008C Veterinary Research Tower, Box 11
Ithaca, NY 14853-6401

Office: 607-253-3383
Fax: 607-253-4447
Email: kkb55@cornell.edu
Research Interest
My laboratory is focused on studying the mechanisms of cardiac dysfunction induced by inflammatory mediators in models of human and companion animal diseases.  
Education
BS, Biology, Towson University, 1999
DVM, North Carolina State University College of Veterinary Medicine, 2003
Postdoctoral fellowship, Viral Pathogenesis, Johns Hopkins University School of Medicine, 2008
Residency, Comparative Pathology, Johns Hopkins University, 2008-2011
Doctor of Philosophy (Pathobiology), Johns Hopkins University, 2012
Postdoctoral fellowship, Viral Pathogenesis, Johns Hopkins University, 2012-2013
Biography/Professional Experience
Research:
I joined the faculty in the Section of Anatomic Pathology as an Assistant Professor at Cornell University in fall of 2013.  My primary research interests are directed at studying the cardiac effects of the inflammatory milieu that accompanies many chronic diseases on cardiac function. Cardiomyocytes have been shown to express a wide variety of cytokine & chemokine receptors; however, the signaling pathways and targets involved have not been defined. We will use a wide variety of tools to understand the changes in cardiac function that occur with both acute and chronic inflammation. The ultimate goal is to develop cardioprotective interventions to preserve cardiac function
Teaching:
I am excited find a home at Cornell to teach and mentor professional and graduate students and pathology residents, and to advance our understanding of diseases via research efforts and diagnostic service. I also hope to contribute to the cardiac and cardiovascular pathology expertise of the Anatomic Pathology Section. I have a strong interest in training veterinary students, pathology residents, and graduate students with an emphasis on comparative pathology.
Publications
Gupta RG, Kelly KM, Helke KL, Queen SE, Karper JM, Dorsey JL, Brice AK, Adams RJ, Tarwater PM, Kolson DL, and Mankowski JL. HIV and SIV Induce Alterations in CNS CaMKII Expression and Activation: A Potential Mechanism for Cognitive Impairment. Am J Pathol. 2010 Jun;176(6):2776-84.
Zink MC, Brice AK, Kelly KM, Queen SE, Gama L, Li M, Adams RJ, Bartizal C, Varrone J, Rabi A, Graham DR, Tarwater PM, Mankowski JL, Clements JE. SIV-infected macaques treated with highly active antiretroviral therapy (HAART) have reduced CNS virus replication and inflammation but persistence of viral DNA. J Infect Dis. 2010 Jul 1;202(1):161-70.
Graham DR, Gama L, Queen SE, Li M, Brice AK, Kelly KM, Mankowski JL, Clements JE, Zink MC. Initiation of HAART during acute simian immunodeficiency virus infection rapidly controls virus replication in the CNS by enhancing immune activity and preserving protective immune responses. J Neurovirol. 2011 Feb;17(1):120-30.
Queen SE, Mears BM, Kelly KM, Dorsey JL, Liao Z, Dinoso JB, Gama L, Adams RJ, Zink MC, Clements JE, Kent SJ, Mankowski JL. Replication-competent simian immunodeficiency virus (SIV) Gag escape mutations archived in latent reservoirs during antiretroviral treatment of SIV-infected macaques. J Virol. 2011 Sep;85(17):9167-75.
Kelly KM, Tarwater PM, Karper JM, Bedja D, Queen SE, Tunin RS, Adams RJ, Kass DA, Mankowski JL. Diastolic dysfunction is associated with myocardial viral load in simian immunodeficiency virus-infected macaques. AIDS. 2012, 26:815-823.
Kelly KM, Beck SE, Pate KA, Queen SE, Dorsey JL, Adams RJ, Avery L, Hubbard W, Tarwater PM, Mankowski JL. Neuroprotective maraviroc monotherapy in SIV-infected macaques: reduced replicating and latent SIV in the brain. AIDS. 2013 Sep 18. [Epub ahead of print].
Kelly KM, Tocchetti GC, Lyashkov A, Tarwater PM, Bedja D, Graham DR, Beck SE, Pate KAM, Queen SE, Robert J. Adams RJ, Paolocci N, and Mankowski JL. CCR5 Inhibition Prevents Cardiac Dysfunction in the SIV/Macaque model of HIV. J Am Heart Assoc. 2014 Apr 2;3(2):e000874.
 Browse PubMed for a complete listing of Dr. Kelly's publications
Awards and Honors
Professional/Academic Affiliations
American College of Veterinary Pathologists, Anatomic Pathology (2012)
Share this: