Kei Hayashi, DVM, PhD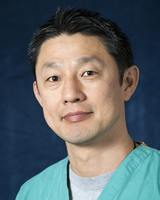 Diplomate - American College of Veterinary Surgeons

Professor, Section of Small Animal Surgery
---
Department of Clinical Sciences
Cornell University College of Veterinary Medicine
Campus Road, Box 32
Ithaca, NY 14853

Email: kh528@cornell.edu
Research/Clinical Interest
Dr. Hayashi's areas of research focus on pathology of ligament/tendon injury and wound healing, evaluation of total joint replacement systems, molecular profiling of osteoarthritis, and comparative orthopedics and sports medicine.
His clinical interests include arthroscopy, total joint arthroplasty, biological approach to joint surgery, minimally invasive fracture treatment, and application of novel research discoveries (such as stem cell and regenerative medicine technologies) to clinical patients.
Education and Training
2000 - 2003     University of Wisconsin - Madison, Residency in Small Animal Surgery
1997     University of Tokyo, PhD, Veterinary Medical Sciences
1997     University of Wisconsin - Madison, PhD, Comparative Biomedical Sciences
1994     University of Wisconsin - Madison, MS, Veterinary Science
1993     University of Tokyo, BVMS, DVM
Biography
Dr. Kei Hayashi is a veterinary surgeon and an orthopedic scientist. He graduated from the University of Tokyo with BVMS/DVM/PhD degrees (1993-1997), and then obtained MS and PhD degrees at the University of Wisconsin (1997).  He completed a small animal surgery residency at the University of Wisconsin (2003) and became a Diplomate of the American College of Veterinary Surgeons (ACVS). He served as an assistant professor of small animal orthopedic surgery at the Michigan State University (2003-2005) then moved to UC Davis and was tenured in 2012. He began his appointment at Cornell in February 2013. He is particularly interested in sports medicine for small animals; advanced arthroscopy; total joint replacement; fracture management; and training the next generation of veterinarians.
Publications

    Please select the PubMed link for a list of Dr. Hayashi's publications.
Awards and Honors
2014     First Place, Veterinary Surgery Publication, Research, Mark Dosch. Biomechanical evaluation of the helica femoral implant system using traditional and modified techniques. Hayashi K, Garcia T, Weeren R, Stover S. Veterinary Surgery, 42: 867-876.

2010     Diplomate, Japanese College of Veterinary Surgeons (JCVS)

2004     Diplomate, American College of Veterinary Surgeons (ACVS)

2003     Best Resident honorable mention, School of  Veterinary Medicine, University of Wisconsin

2003     Annual Residents Award nominated, American Association of Veterinary Clinicians

1997 - 2000     Special Research Fellow (Post-doctoral), the Japanese Society for Promotion of Science

1998     New Investigator Recognition Awards nominated, Orthopaedic Research Society.

1994 - 1997     Special Research Fellow (Doctoral), the Japanese Society for Promotion of Science
Professional/Academic Affiliations
2010     Association of Veterinary Orthopedic Research and Education (AVORE), Council Member

2007     AO foundation, Ambassador

2004     American College of Veterinary Surgeons (ACVS), Diplomate

2003     Veterinary Orthopedic Society (VOS), Member

2000     American Veterinary Medical Association, Member

1997     Othopedic Research Society (ORS), Member

Advisory Board:

Asian Society of Veterinary Surgery (AiSVS)
Japanese College of Veterinary Surgeons (JCVS)
Asian Board of Veterinary Specialties (AiBVS)