Kristy Richards, PhD, MD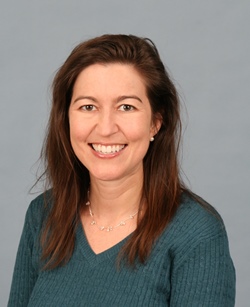 Department of Biomedical Sciences, College of Veterinary Medicine
Associate Professor
---
Division of Hematology/Medical Oncology, Weill Cornell Medicine
---
---
Department of Biomedical Sciences
Cornell University College of Veterinary Medicine
T8 004B Veterinary Research Tower, Box 17
Ithaca, NY 14853-6401
Office: 607-253-3482
Fax: 607-253-4447

Weill Cornell Medicine
The Sandra and Edward Meyer Cancer Center
BRB1424, 413 E. 69th St.
New York, NY 10021
Office: 646.962.6858
Fax: 646.962.0576
Email: kristy.richards@cornell.edu
Research Interest
Our group uses genetic and genomic strategies to understand lymphoma. One of our projects involves the study of polymorphisms that affect sensitivity to chemotherapeutic agents. One of these polymorphisms, in the FCGR3A gene, affects response to rituximab, a monoclonal antibody used to treat lymphoma patients. We are looking for ways to use this genetic information to tailor treatment strategies for lymphoma clinical trials. We are also using a genome-wide screening strategy to look for additional polymorphisms that affect response to other agents used to treat hematologic malignancies.

Another approach we are using to understand lymphoma biology and speed development of clinical treatments is to characterize a canine model of lymphoma using pet dogs that present for cancer treatment. As a spontaneously occurring, large-animal model of lymphoma, dogs are at least a complementary model organism to mice, while possibly providing a better model in some respects, including therapies that harness the immune system to fight cancer. We are currently using mRNA expression profiling, exome sequencing, and methylation profiling to characterize canine lymphomas. As similarities between humans and dogs are identified, we plan to exploit these similarities to develop and test new treatments in dogs as an expedited method of introducing novel human treatments, to the eventual benefit of both humans and pets.

The common theme of all of these strategies is to decipher the causes of lymphoma development and progression, and then to translate these findings into clinical trials for the improved and individualized treatment of lymphoma in the clinic.
Education
Biography/Professional Experience
Publications
Walker MP, Stopford CM, Rabinowitz AD, Goldfarb D, Yan F, Richards KL, Damania BA, and Major MB. (2015) FOXP1 Activates Wnt Signaling in Diffuse Large B-cell Lymphoma. Science Signaling, 3;8(362):ra12.
Richards KL, Suter SE. Man's best friend: what can pet dogs teach us about non-Hodgkin's lymphoma?. Immunol Rev. 2015 Jan;263(1):173-91. PubMed PMID: 25510277; NIHMSID: NIHMS634385; PubMed Central PMCID: PMC4269254.
Chen HW, Small GW, Motsinger-Reif A, Suter SE, Richards KL. VH1-44 gene usage defines a subset of canine B-cell lymphomas associated with better patient survival. Vet Immunol Immunopathol. 2014 Feb 15;157(3-4):125-30. PubMed PMID: 24332568; NIHMSID: NIHMS550369; PubMed Central PMCID: PMC3923267.
Richards KL, Motsinger-Reif AA, Chen HW, Fedoriw Y, Fan C, et al. Gene profiling of canine B-cell lymphoma reveals germinal center and postgerminal center subtypes with different survival times, modeling human DLBCL. Cancer Res. 2013 Aug 15;73(16):5029-39. PubMed PMID: 23783577; NIHMSID: NIHMS496959; PubMed Central PMCID: PMC3755352.
Small GW, McLeod HL, Richards KL. (2013) Analysis of Innate and Acquired Resistance to the Anti-CD20 Monoclonal Antibodies Rituximab and Ofatumumab in Malignant and Nonmalignant B cells. PeerJ, 1:e31.
Su Y, Nielsen D, Zhu L, Richards K, Suter S, et al. Gene selection and cancer type classification of diffuse large-B-cell lymphoma using a bivariate mixture model for two-species data. Hum Genomics. 2013 Jan 5;7:2. PubMed PMID: 23289441; PubMed Central PMCID: PMC3618031.
Fore M, Jagasia M, Sarantopoulos S, Richards KL. Further examination of BAFF SNPs in cGVHD. Blood. 2012 Jul 19;120(3):700-1. PubMed PMID: 22822003.
Suter SE, Small GW, Seiser EL, Thomas R, Breen M, Richards KL. FLT3 mutations in canine acute lymphocytic leukemia. BMC Cancer. 2011 Jan 27;11:38. PubMed PMID: 21272320; PubMed Central PMCID: PMC3040160.

Browse PubMed for a complete listing of Dr. Richards's publications
Awards and Honors
Professional/Academic Affiliations
Share this: