Kristy Richards, PhD, MD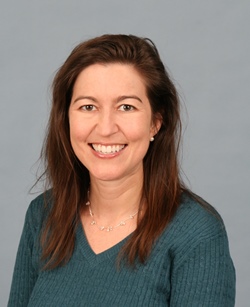 In Memoriam: July 27, 1968 - March 30, 2019
Department of Biomedical Sciences, College of Veterinary Medicine
Associate Professor
---
Division of Hematology/Medical Oncology, Weill Cornell Medicine
---
---
Obituaries:
Trailblazing lymphoma research Kristy Richards '90 dies
Remembering Kristy Richards, PhD, MD
 
A message from Dean Lorin Warnick: 
From the moment she joined as a faculty member at the college, Kristy stood out as someone that exemplified comparative and interdisciplinary research. With her joint appointments here and at Weill Cornell Medicine, she blazed a trail in the field of translational medicine with her comparative cancer program for canine and human lymphoma. She divided her time between the Ithaca campus and Manhattan and in addition to research, provided clinical care as an oncologist at New York-Presbyterian Hospital. Kristy also took a major leadership role with our veterinary biobank, helping to grow the collection of valuable samples from canine cancer patients.
In addition to her many scientific and career accomplishments, Kristy had unbounded energy and an infectious passion for discovery. She could explain her research in a way that made it accessible to all — and left her audiences with the same excitement and curiosity that she radiated.
Kristy was a wonderful citizen of the college and university. She was always willing to provide a supportive voice for our initiatives, and took great pride in the empowerment of others.  Kristy's passing is a tremendous loss to us personally and to the research field she pushed forward with great determination.  
Research Interest
During her career at Cornell, Richards' group used genetic and genomic strategies to understand lymphoma. One of otheir projects involved the study of polymorphisms that affect sensitivity to chemotherapeutic agents. One of these polymorphisms, in the FCGR3A gene, affects response to rituximab, a monoclonal antibody used to treat lymphoma patients. The Richards lab was looking for ways to use this genetic information to tailor treatment strategies for lymphoma clinical trials. They also used a genome-wide screening strategy to look for additional polymorphisms that affect response to other agents used to treat hematologic malignancies.

Another approach the lab used to understand lymphoma biology and speed development of clinical treatments was to characterize a canine model of lymphoma using pet dogs that present for cancer treatment. As a spontaneously occurring, large-animal model of lymphoma, dogs are at least a complementary model organism to mice, while possibly providing a better model in some respects, including therapies that harness the immune system to fight cancer. The Richards lab used mRNA expression profiling, exome sequencing, and methylation profiling to characterize canine lymphomas. As similarities between humans and dogs are identified, they planned to exploit these similarities to develop and test new treatments in dogs as an expedited method of introducing novel human treatments, to the eventual benefit of both humans and pets.

The common theme of all of these strategies was to decipher the causes of lymphoma development and progression, and then to translate these findings into clinical trials for the improved and individualized treatment of lymphoma in the clinic.
Additional projects launched by Richards with collaborators are ongoing, and will be published posthumously.
Education
M.D. June 2001.  Stanford University, Stanford, CA
Ph.D. Genetics, Sept. 1997.  Stanford University, Stanford, CA
 B.S. Biology, magna cum laude, May 1990.  Cornell University, Ithaca, NY
Biography/Professional Experience
Associate Professor   2015-2019
Dept. of Biomedical Sciences, College of Veterinary Medicine, Cornell
 University/Dept. of Medicine, Weill Cornell Medical College
Assistant Professor    2007-2015
 Division of hematology/oncology, Dept. of Medicine, University of North Carolina
Medical Oncology Fellowship Research     2004-07
Dr. Ralf Krahe, Section of Cancer Genetics, Dept. of Molecular Genetics, UT MD Anderson Cancer Center

Medical Scholars Project     1998-99
Gynecology and Obstetrics Department, Stanford University

Research Technician    1991
Roche Institute of Molecular Biology

Research Technician  1990-91
 Genetics Department, Cornell University
Publications
Walker MP, Stopford CM, Rabinowitz AD, Goldfarb D, Yan F, Richards KL, Damania BA, and Major MB. (2015) FOXP1 Activates Wnt Signaling in Diffuse Large B-cell Lymphoma. Science Signaling, 3;8(362):ra12.
Richards KL, Suter SE. Man's best friend: what can pet dogs teach us about non-Hodgkin's lymphoma?. Immunol Rev. 2015 Jan;263(1):173-91. PubMed PMID: 25510277; NIHMSID: NIHMS634385; PubMed Central PMCID: PMC4269254.
Chen HW, Small GW, Motsinger-Reif A, Suter SE, Richards KL. VH1-44 gene usage defines a subset of canine B-cell lymphomas associated with better patient survival. Vet Immunol Immunopathol. 2014 Feb 15;157(3-4):125-30. PubMed PMID: 24332568; NIHMSID: NIHMS550369; PubMed Central PMCID: PMC3923267.
Richards KL, Motsinger-Reif AA, Chen HW, Fedoriw Y, Fan C, et al. Gene profiling of canine B-cell lymphoma reveals germinal center and postgerminal center subtypes with different survival times, modeling human DLBCL. Cancer Res. 2013 Aug 15;73(16):5029-39. PubMed PMID: 23783577; NIHMSID: NIHMS496959; PubMed Central PMCID: PMC3755352.
Small GW, McLeod HL, Richards KL. (2013) Analysis of Innate and Acquired Resistance to the Anti-CD20 Monoclonal Antibodies Rituximab and Ofatumumab in Malignant and Nonmalignant B cells. PeerJ, 1:e31.
Su Y, Nielsen D, Zhu L, Richards K, Suter S, et al. Gene selection and cancer type classification of diffuse large-B-cell lymphoma using a bivariate mixture model for two-species data. Hum Genomics. 2013 Jan 5;7:2. PubMed PMID: 23289441; PubMed Central PMCID: PMC3618031.
Fore M, Jagasia M, Sarantopoulos S, Richards KL. Further examination of BAFF SNPs in cGVHD. Blood. 2012 Jul 19;120(3):700-1. PubMed PMID: 22822003.
Suter SE, Small GW, Seiser EL, Thomas R, Breen M, Richards KL. FLT3 mutations in canine acute lymphocytic leukemia. BMC Cancer. 2011 Jan 27;11:38. PubMed PMID: 21272320; PubMed Central PMCID: PMC3040160.

Browse PubMed for a complete listing of Dr. Richards's publications
Awards and Honors
• Canine Lymphoma Education Awareness and Research (CLEAR) Vision Award, 2017
• ASH Advocacy Leadership Institute, Oct. 2015
• Atkinson Center for a Sustainable Future Faculty Fellow, 2015-present
 • NIH Loan Repayment Program (LRP) Competitive Renewal, 2008-2009
• American Society of Hematology Clinical Research Training Institute, 2007
• NIH Loan Repayment Program (LRP) Award, 2006-2007
• Janice Davis Singletary Fellowship for Lymphoma Research, 2004, 2007
 • Outstanding Thoracic Fellow Award, 2004
 • Excellence in Teaching Award, 2002
 • Medical Scholars Fellowship, 1998
 • National Science Foundation Graduate Fellowship, 1991-94
 • National Science Foundation Summer Research Award, 1989
 • National Merit Scholarship, 1986
Professional/Academic Affiliations
• Progressive Assessment of Therapeutics (PATh) program co-leader, 2015-present
• Cornell Biobank Steering Committee, 2015-present
• Cornell Biobank Steering Committee Chair, 2016-present
• Cornell Clinical Translational Science Center (CTSC) Education Advisory Board, 2016-present
• Cornell College of Veterinary Medicine Committee for the Status of Faculty Women, elected representative, 2016-2017
• NIH Mentored Training in Comparative and Veterinary Medicine [ZRG1 IMST-R (80)] study section, ad hoc, July 2016
• PLoS One Academic Editor, 2012-present
• PeerJ Academic Editor, 2012-present
• ACS, Tumor Biology and Genetics Study Section, 2103-present
• UNC Oncology Protocol Review Committee, 2013, 2014
• PI, UNC Hematologic Tissue Procurement Facility, 2008-2015
• UNC Hospital Oncology Safety Committee, 2008-2012
• Data Safety Monitoring Committee, Lineberger Cancer Center, 2008-2012
• Data Safety Monitoring Committee, Vice-chair, 2012
• Manuscript reviewer for Blood, Leukemia, Annals of Oncology, Cancer, PLoS One, Veterinary and Comparative Oncology, and others 2007-
                       • CPR/Code Blue Committee, UT MD Anderson Cancer Center, 2005-2006