Lena DeTar, DVM, DABVP, DACVPM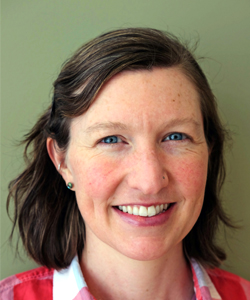 Department of Population Medicine and Diagnostic Sciences
Interim Director, Janet L. Swanson Director of Maddie's® Shelter Medicine Program
Associate Clinical Professor
---
 MADDIE'S SHELTER MEDICINE PROGRAM
---
Department of Population Medicine and Diagnostic Sciences
Cornell University College of Veterinary Medicine
Ithaca, NY 14853

Email: hgd29@cornell.edu
Research Interest
Infectious disease, spay/neuter, veterinary education
Education
Oregon State University 2013 - 2016  Maddie's Shelter Medicine Resident
University of Florida 2016 - Master of Veterinary Science Certificate in Public Health
University of Florida 2012 - 2013 Certificate in Shelter Medicine
University of Minnesota 2005 - 2009 Doctor of Veterinary Medicine Mixed Animal Track
Johns Hopkins University 2003 - 2004 Master of Arts Science Writing
Macalester College 1998 - 2002 Bachelor of Arts Cum Laude Majors: Anthropology/PreMed.
Biography/Professional Experience
Maddie's Shelter Medicine Resident July 2013 - July 2016
Oregon Humane Society/Oregon State University, Portland, OR
Co-instructor for Maddie's Shelter Certificate Courses "Integrating Veterinary Medicine and Shelter Systems" and "Shelter Physical Health" online
at the University of Florida, Summer and Fall, 2014
Public Clinic Veterinarian May 2012 - July 2013
Arizona Humane Society, Phoenix, AZ
Shelter Veterinarian August 2010 - April 2012
Humane Society of Utah, Salt Lake City, UT
Publications
Awards and Honors
Education Innovation Grant for Outbreak Learning Experience (Center for Ed Tech) 2018-2019
Morris Animal Foundation Student Scholar Grant- Palau Cat Census- Summer 2018
Wiederhold Grant: Creating Adoptable Animals and Accomplished Veterinarians. Collaboration with Dr. Berliner and Dr. Henry. 2019-2020
Engaged Cornell Grant: Community Veterinary Wellness Clinics at the HuSoc of Schuyler County. Collaboration with Dr. Berliner and Dr. Henry. 2019
HSVMA Student Research Grant: Adoption Policies in NY State-2019
Wiederhold Grant: FIP in Animal Shelters. Collaboration with Allison Stout and Gary Whittaker. 2020. Paper in progress. 
Professional/Academic Affiliations
Diplomate of the American College of Veterinary Preventive Medicine 2016 (ACVPM)
Association of Shelter Veterinarians since 2005 (ASV)
Humane Society Veterinarians of America since 2014 (HSVA)
American Veterinary Medical Association since 2013 (AVMA)
Accredited Category 2 Veterinarian USDA-APHIS since 2010