Pamela Chang, PhD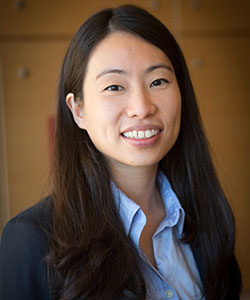 Research Interest
We are colonized by trillions of microorganisms, including bacteria and fungi, which inhabit the external and internal surfaces of our bodies. It is becoming increasingly evident that these microbes play an important role in regulating many aspects of host physiology, including the immune system. For example, the bacteria in the gut are critical for the development and function of the immune system, as germ-free mice have an underdeveloped intestinal immune system.  In addition, perturbations to the populations of commensal bacteria have been linked to autoimmunity and chronic inflammatory conditions, such as inflammatory bowel diseases and metabolic syndrome.
The overall theme of our research is to understand how the host immune system is regulated by the gut microbiota through their secretion of small molecule metabolites. Our research focuses primarily on two areas: (1) the identification of metabolites produced by the gut microbiota that regulate the host immune system and, building on these discoveries, (2) the development of chemical tools to modulate the immune response. We employ biological and chemical approaches including the tools of molecular and cellular immunology, microbiology, chemical biology, biochemistry, and cell biology to elucidate key communication pathways between the gut microbiota and the host immune system. Our ultimate goal is to understand how immune homeostasis is maintained in the intestines, as such discoveries would have broad implications for the development of therapeutics and prophylactics for many inflammatory diseases.
Education
PhD (University of California, Berkeley)
Biography/Professional Experience
Dr. Chang completed her BS in Chemistry with a minor in Biology at the Massachusetts Institute of Technology (MIT) and her PhD in Chemistry at the University of California, Berkeley, where she developed chemical tools for probing glycosylation in the laboratory of Dr. Carolyn Bertozzi. She received her postdoctoral training in the laboratory of Dr. Ruslan Medzhitov at Yale University School of Medicine in the Department of Immunobiology, where she studied the regulation of innate immunity by microbial metabolites.
Publications
Awards and Honors
Beckman Young Investigator Award (2017)
PCCW Affinito-Stewart Grant (2016)
Jane Coffin Childs Memorial Fund Postdoctoral Fellowship (2011)
Cancer Research Institute Irvington Postdoctoral Fellowship (2010)
American Chemical Society Predoctoral Fellowship (2008)
National Science Foundation Graduate Research Fellowship (2005)
Professional/Academic Affiliations
Dr. Chang is a member of the following Graduate Fields: