Praveen Sethupathy, PhD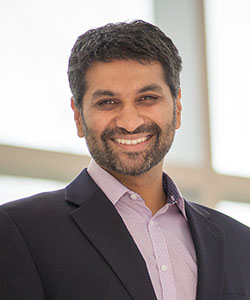 Department of Biomedical Sciences
Associate Professor
Director, Center for Vertebrate Genomics
---
---
Department of Biomedical Sciences
Cornell University College of Veterinary Medicine
T7 006D Veterinary Research Tower, Box 17
Ithaca, NY 14853-6401

Office: 607-253-4375
Fax: 607-253-4447
Email: praveens@cornell.edu
Research & Teaching Interests
Research Interests
Our research program is centered on the role of non-coding RNAs (in particular microRNAs) in genetic, microbial, dietary, and environmental control of metabolic health and disease.  The primary disease areas of focus are diabetes, dyslipidemia, Crohn's disease, and most recently, liver/gastrointestinal cancer (e.g., fibrolamellar carcinoma).
Our laboratory research paradigm is highly interdisciplinary, at the interface of computational and experimental biology.  I am committed to cultivating an ethos of collegiality and strong mentorship.  We are always on the lookout for motivated trainees and staff scientists with interests in one or more of several diverse areas of study, including functional genomics, gene regulation, non-coding RNAs, bioinformatics, human genetics, mouse models of disease, GI biology, and metabolic disease.  We are indebted to our collaborators, colleagues, and funding sources, without whom we could not efficiently tackle what we believe are incredibly interesting and important problems in biomedicine.
Active research areas in the lab include:
The contribution of non-coding RNA networks to gene expression dynamics
MicroRNA and long, non-coding RNA (lncRNA) mediated regulation of processes relevant to metabolic homeostasis
Environmental (diet, microbes, toxicants) control of microRNAs and lncRNAs that regulate metabolic functions in the liver, islet, and intestine
MicroRNAs and tRNA-derived RNAs as candidate disease biomarkers and potential therapeutic targets
Novel forms of intercellular communication via regulated transfer of small RNAs
Contribution of microRNAs and lncRNAs to stem cell maintenance and function in the liver and intestine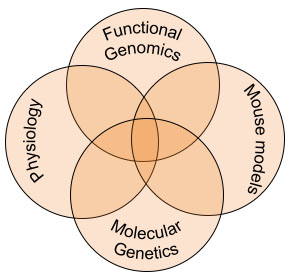 Teaching and Mentoring
Teaching and mentoring are my first passions. I am deeply committed to developing a strong, robust didactic and practical learning atmosphere for students in the classroom and trainees in the laboratory. My love for teaching took hold when I was an undergraduate at Cornell University, during which time I served for several years as either a teaching assistant or a course consultant, and it has intensified over the years because I believe that: (1) the ability to teach/articulate a concept effectively is the sign of when one has truly learned it well; (2) enthusiastic students at the best universities like Cornell should have direct access to their professors in order to nurture their creative spirit and sharpen their intellect at an early stage of their career; and (3) the overall scientific enterprise is strengthened when we take the time to invest in the next generation of scholars.
I am firmly committed to serving as a research mentor for undergraduate and graduate students, and I am particularly passionate about helping students grow not only as scientists, but also as artful and articulate communicators of their scientific work. Exchange of research ideas and goals, both with scientific and lay audiences, is extremely important and I have deeply enjoyed the opportunity to help train students improve their skills in this area. The most rewarding moments of my career so far have come in those times when I realize how much my students have grown not only as critical thinkers but also as effective communicators.
Education
PhD, Genomics, University of Pennsylvania
BA, Cornell University
Biography/Professional Experience
Praveen is an Associate Professor of Biomedical Sciences and Director of the Center for Genomics at Cornell University. He received his BA degree from Cornell University and his PhD in Genomics from the University of Pennsylvania. After completing a post-doctoral fellowship at the National Human Genome Research Institute under the mentorship of Dr. Francis Collins, he moved in 2011 to the University of North Carolina at Chapel Hill as an Assistant Professor in the Department of Genetics. In 2017, he returned to Cornell University as an Associate Professor. Praveen has authored over 90 peer-reviewed publications in scientific journals and has served as a reviewer for over 35 different journals. Recent honors include a faculty merit award for outstanding teaching and mentoring. Praveen's laboratory is located in the newly renovated 7th floor of the Research Tower on Tower Road.  He lives in Brooktondale, NY with his wife and three children.
Publications
B.E Peck, A.T. Mah, W.A. Pitman, S. Ding, P.K. Lund and P. Sethupathy (2017). Functional transcriptomics in diverse intestinal epithelial cell types reveals robust microRNA sensitivity in intestinal stem cells to microbial status. Journal of Biological Chemistry,doi:10.1074/jbc.M116.770099.
M. Kanke, J. Baran-Gale, J. Villanueva and P. Sethupathy (2016). miRquant 2.0: an expanded tool for accurate annotation and quantification of microRNAs and their isomiRs from small RNA-sequencing data. Journal of Integrative Bioinformatics, 13:307.​
P. Sethupathy (2016). The promise and challenge of therapeutic microRNA silencing in diabetes. Current Diabetes Reports, 16:52. 
B.E. Peck, J. Sincavage, S. Feinstein, A. Mah, J. Simmons, P.K. Lund and P. Sethupathy (2016). miR-30 family controls proliferation and differentiation in intestinal epithelial cell models by directing a broad gene expression program that includes SOX9 and the ubiquitin ligase pathway. Journal of Biological Chemistry, 291:15975-15984.
V. Swahari, A. Nakamura, J. Baran-Gale, I. Garcia, A.J. Crowther, R. Sons, T.R. Gershon, S. Hammond, P. Sethupathy and M. Deshmukh (2016). Essential function of Dicer in resolving DNA damage in the rapidly dividing cells of the developing and malignant cerebellum. Cell Reports, 14:216-224.
J. Baran-Gale, C.L. Kurtz, Michael R. Erdos, C. Sison, A. Young, E.E. Fannin, P.S. Chines and P. Sethupathy (2015). Addressing bias in small RNA library preparation for sequencing: a new protocol detects microRNAs that evade capture by current methods. Frontiers in Genetics, 6:352.
S.R. Selitsky and P. Sethupathy (2015). tDRmapper: challenges and solutions to mapping, naming, and quantifying tRNA-derived RNAs from human small RNA-sequencing data. BMC Bioinformatics, 16:354.
T. Oikawa, E. Wauthier, T.A. Dinh, S. R. Selitsky, A. Reyna-Neyra, G. Carpino, R. Levine, V. Cardinale, E. Gaudio, D. Alvaro, D. Klimstra, N. Carrasco, P. Sethupathy* and L.M. Reid* (2015). Model of fibrolamellar hepatocellular carcinoma reveals striking enrichment in cancer stem cells. Nature Communications, 6:8070.
C.L. Kurtz, E.E. Fannin, C.L. Toth, D.S. Pearson, K.C. Vickers and P. Sethupathy (2015). Inhibition of miR-29 has a significant lipid-lowering benefit through suppression of lipogenic programs in the liver. Scientific Reports, 5:12911.
B.E. Peck, M. Weiser, E. Lee, G.R. Gipson, R.B. Sartor, H.H. Herfarth, R. Rahbar, T.S. Sadiq, T.S. Furey*, P. Sethupathy* and S.Z. Sheikh* (2015). MicroRNAs classify different disease behavior phenotypes of Crohn's disease and may have prognostic utility. Inflammatory Bowel Diseases, 21:2178-2187.
S.R. Selitsky, J. Baran-Gale, M. Honda, D. Yamane, T. Masaki, E.E. Fannin, B. Guerra, T. Shirasaki, T. Shimakami, S. Kaneko, R.E. Lanford, S.M. Lemon* and P. Sethupathy* (2015).  Small tRNA-derived RNAs are increased and more abundant than microRNAs in chronic hepatitis B and C. Scientific Reports, 5:7675.
K.C. Vickers, M.G. Levin, B.M. Shoucri, B.T. Palmisano, F. Tabet, H.L. Cui, Q. Xu, H.S. Kruth, K.A. Rye, P. Sethupathy and A.T. Remaley (2014). MicroRNA-223 coordinates cholesterol homeostasis.  PNAS, 111:14518-23.
C.L. Kurtz*, B.C. Peck*, E.E. Fannin, C. Beysen, S.R. Landstreet, S. Ding, V. Turaga, P.K. Lund, S. Turner, S. B. Biddinger, K.C. Vickers, and P. Sethupathy (2014).  microRNA-29 fine-tunes the expression of key FOXA2-activated lipid metabolism genes and is dysregulated in animal models of insulin resistance and diabetes. Diabetes, 63:3141-8.
K.C. Vickers, B. Shoucri, M.G. Levin, H. Wu, D.S. Pearson, D. Osei-Hwedieh, F.S. Collins, A.T. Remaley* and P. Sethupathy* (2013). MicroRNA-27b is a regulatory hub in lipid metabolism and is altered in dyslipidemia. Hepatology, 57:533-542.
T.S. Furey and P. Sethupathy (2013). Genetics driving epigenetics. Science, 342:705-706.
 Browse PubMed for a complete listing of Dr. Sethupathy's publications
Awards and Honors
Professional/Academic Affiliations