Rodman Getchell, PhD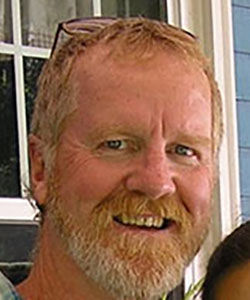 Department of Microbiology and Immunology
Assistant Research Professor
---
Department of Microbiology and Immunology
Cornell University College of Veterinary Medicine
C4 177 VMC
Ithaca, NY 14853

Office: 607.253.3393
Email: rgg4@cornell.edu
Research Interest
Dr. Getchell has a broad background in fish health medicine, with specific training and expertise in conducting experimental trials with a variety of fish species.  He has focused on research in emerging pathogens of fish, including rhabdoviruses, which are the focus of the two most recent projects.  As PI or co-Investigator on several Sea Grant and USDA-NIFA funded grants, he has administered projects (e.g. staffing, sample collections, budget), collaborated with other researchers, and produced several peer-reviewed publications from each project. 
Collaborations. In 2017 he worked with Jose Andrés and Steve Bogdanowicz tracking the source of a VHSV IVb outbreak in Round Gobies that occurred in Cayuga Lake near King Ferry. With further help from the AQUAVET® Summer Fellow, Erika First (DVM Class of 2019) we sequenced whole genomes of the aquatic rhabdovirus of eleven VHSV isolates and explored their genetic variation to determine where the VHSV outbreak on the eastern shore of Cayuga Lake originated. The phylogenetic tree created from these aligned sequences and four other complete VHSV IVb genomes shows the Cayuga Lake isolates are closely related to the Lake Erie isolates.
Dr. Getchell continues to collaborate with Dr. Jim Casey and Dr. Donna Cassidy-Hanley on their USDA Hatch grant that is bringing an eDNA curriculum to New York schools.  Our interests in this project are to continue to bring down the costs of DNA extractions and assist with quantitative PCR assay development.  The project concentrates on invasive species detection.  The same technology also can be used to search for emerging fish pathogens, which explains a long-term interest in this extension/teaching effort.
Mentoring. Dr. Getchell informally mentors many students in the Aquatic Animal Health Program.  His most recent undergraduate student in the lab will be an author on the next VHSV sequencing manuscript.  He is mentoring several of the recent AQUAVET® alumni, including Kwamina Otseidu (class of 2021), who, along with Gabby Mentis (DVM Class of 2019) and Timi Wu (DVM 2017), has assisted him in developing a digital fish pathology collection.  
Diagnostic Investigations. Our laboratory operates the Fish Disease Diagnostic Laboratory, a service laboratory providing disease diagnostic assistance to the aquaculture community, research community, and fish hobbyist in New York State. We also assist the New York State Department of Environmental Conservation in investigations of fish kills in wild fish populations in the state. Many times these diagnostic investigations lead to more in-depth research investigations in fish health issues. Our diagnostic efforts have led to a major effort to understand the implications of the emergence of Viral Hemorrhagic Septicemia Virus Genotype IVb (VHSV IVb) in a variety of fish in the Great Lakes Basin.  This effort has been undertaken in collaboration with the Laboratory of Dr. James Casey as well as a number of collaborators including the USDA APHIS,  the USGS Western Fisheries Research Center, Seattle, WA, the New York State Department of Environmental Conservation and the Department of Natural Resources in the College of Agriculture and Life Sciences at Cornell. 
Education
PhD (Cornell University)
MS (Oregon State University
BA (University of New Hampshire)
Biography/Professional Experience
Dr. Getchell has been associated with the department since 1995 (previously he was an Extension Associate and Research Support Specialist in the Department of Avian and Aquatic Animal Medicine, (1990-1995). He served as a marine pathologist with the Maine Department of Marine Resources (1985-1990) after graduating with an M.S. from Oregon State University focusing on diseases of salmonids. He has obtained funding (FDA, USDA, NY Sea Grant, etc.) to study emerging diseases of fish, molecular diagnostic methods, and target animal safety studies.
He received his postdoctoral training in the laboratory of Dr. Paul Bowser.
Publications
Getchell, R.G., E. R. Cornwell, S. M. Bogdanowicz, J. Andrés, and others  2017. Complete sequences of 4 viral hemorrhagic septicemia virus IVb isolates and their virulence in northern pike fry. Diseases of Aquatic Organisms 126:211-227. https://doi.org/10.3354/dao03171
Lewis C., J. M. Farrell, K. L. Sams, R. G. Getchell. 2017. A comparison of virulence of four VHSV IVb strains in Lake Chautauqua muskellunge. In: Kapuscinski K, Crane D, Kerr S, Simonson T, Diana J, Farrell J (eds) Muskellunge management: fifty years of cooperation among anglers, scientists, and fisheries biologists. American Fisheries Society Symposia 85, Bethesda, MD
Burge C. A., Friedman C. S., R. G. Getchell, M. House M, K.D. Lafferty, et al.  2016.  Complementary approaches to diagnosing marine diseases: a union of the modern and the classic. Philosophical Transactions of the Royal Society B 371: 20150207.
Susan B. Fogelson, B.D. Petty, S. R. Reichley, C. Ware, P. R. Bowser, M. J. Crim, R. G. Getchell, K. L. Sams, H. Marquis, and M. J. Griffin.  2016.  Histologic and molecular characterization of Edwardsiella piscicida infection in largemouth bass (Micropterus salmoides).  Journal of Veterinary Diagnostic Investigations.  28(3):338-344.
Breyer, K.E.,  R. G. Getchell, E. R. Cornwell, G. A. Wooster, H.G, Ketola and P.R. Bowser. 2015.  Efficacy of an extract from garlic, Allium sativum, against infection with the furunculosis bacterium, Aeromonas salmonicida, in rainbow trout, Oncorhynchus mykiss. Journal of the World Aquaculture Society.  46(3):274-283.
R.G. Getchell, T. Erkinharju, A.O. Johnson, B.W. Davis, E.E. Hatch, E.R. Cornwell, P.R. Bowser.  2015.  Goldfish Carassius auratus susceptibility to viral hemorrhagic septicemia virus (VHSV) genotype IVb depends on route of exposure.  Diseases of Aquatic Organisms.  115:25–36.
Cornwell, E.R., G. B, Anderson, D. Coleman, R.G. Getchell, G.H. Groocock, J.V. Warg, A.M. Cruz, J.W. Casey, M.B. Bain, P.R. Bowser.  2015.  Applying multi-scale occupancy models to infer host and site occupancy of an emerging viral fish pathogen in the Great Lakes.  Journal of Great Lakes Research.  41:520-529.
Imanse, S.M., E.R. Cornwell, R.G. Getchell, G. Kurath, and P.R. Bowser.  2014.  In vivo and in vitro phenotypic differences between Great Lakes VHSV genotype IVb isolates with sequence types vcG001 and vcG002.  Journal of Great Lakes Research.  40:879-885.
Awards and Honors
Journal of Aquatic Animal Health Best Paper Award 2011
Professional/Academic Affiliations
Past President of the American Fisheries Society Fish Health Section
Associate Director of AQUAVET®
AVMA Aquatic Veterinary Medical Committee