Rodney Dietert, PhD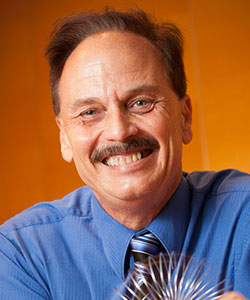 Department of Microbiology and Immunology
Professor Emeritus of Immunotoxicology 
---
Department of Microbiology and Immunology
Cornell University College of Veterinary Medicine
C5 135 VMC
Ithaca, NY 14853

Office: 607.253.3400
Email: rrd1@cornell.edu
Research Interest
My research and public health interests concern risk reduction for noncommunicable diseases (also known as chronic diseases).  The initiatives include:  1) microbiome-based strategies for self-completion of the infant and microbiome management for improved later-life health, 2) determination of immunological risk in early life from environmental chemicals, foods, and drugs, 3) identification and prevention of co-morbid, noncommunicable diseases, and 4) integrated approaches to reduce the risk of noncommunicable diseases.
Education
PhD (University of Texas - Austin)
Biography/Professional Experience
Dr. Dietert is a Professor in the Department of Microbiology and Immunology. He received the BS degree in Zoology from Duke University in 1974 and his PhD from University of Texas at Austin in 1977. Dr. Dietert has been:  Director of Graduate Studies for the Graduate Field of Immunology, Senior Fellow in the Center for the Environment, Director of the Institute for Comparative and Environmental Toxicology, Director of the Program on Breast Cancer and Environmental Risk Factors and President of the Immunotoxicology Specialty Section of the Society of Toxicology. His research on the immune programming and the developmental basis of childhood and adult disease has been supported by the NSF, the USDA, the NIH and industry.
You can watch a trailer of Dr. Dietert's appearance in the award-winning documentary film, Microbirth here:  http://microbirth.com/trailer/
Publications
Dietert, J.M. and Dietert, R.R. The Sum of Our Parts.  July 1, 2015. The Scientist.
https://www.the-scientist.com/?articles.view/articleNo/43379/title/The-Sum-of-Our-Parts/
Dietert, R.R. and Silbergeld, E.K. Biomarkers for the 21st Century: Listening to the Microbiome. Toxicol Sci. 2015 Apr;144(2):208-16. http://toxsci.oxfordjournals.org/content/early/2015/03/20/toxsci.kfv013....
Dietert R.R. and Dietert, J.A.  The Microbiome and Sustainable Healthcare. Healthcare 2015, 3(1), 100-129.  http://www.mdpi.com/2227-9032/3/1/100
Dietert RR. Macrophages as Targets of Developmental Immunotoxicity. OA Immunology 2014, Jan 18;2(1)2. http://www.oapublishinglondon.com/article/1199
Dietert, R.R.  The Microbiome in Early Life: Self-Completion and Microbiota Protection as Health Priorities.  Birth Defects Research Part B: Developmental and Reproductive Toxicology  2014, 101(4): 333 340.  http://onlinelibrary.wiley.com/doi/10.1002/bdrb.21116/abstract
Dietert, R.R. and Luebke, R.W (eds). (2012). Immunotoxicity, Immune Dysfunction, and Chronic Disease. Springer/Humana, NY, NY. ISBN: 9781617798115.
Awards and Honors
Professional/Academic Affiliations
Dr. Dietert is a member of the following Graduate Fields: