Rodney Dietert, PhD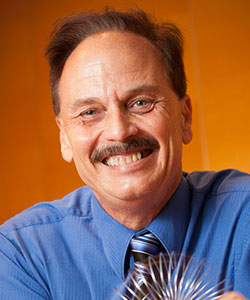 Department of Microbiology and Immunology
Professor Emeritus of Immunotoxicology 
---
Department of Microbiology and Immunology
Cornell University College of Veterinary Medicine
C5 135 VMC
Ithaca, NY 14853

Office: 607.253.3400
Email: rrd1@cornell.edu
Research Interest
My research and public health interests concern risk reduction for noncommunicable diseases (also known as chronic diseases).  The initiatives include:  1) microbiome-based strategies for self-completion of the infant and microbiome management for improved later-life health, 2) determination of immunological risk in early life from environmental chemicals, foods, and drugs, 3) identification and prevention of co-morbid, noncommunicable diseases, and 4) integrated approaches to reduce the risk of noncommunicable diseases.
Education
PhD (University of Texas - Austin)
Biography/Professional Experience
Dr. Dietert is a Professor in the Department of Microbiology and Immunology. He received the BS degree in Zoology from Duke University in 1974 and his PhD from University of Texas at Austin in 1977. Dr. Dietert has been:  Director of Graduate Studies for the Graduate Field of Immunology, Senior Fellow in the Center for the Environment, Director of the Institute for Comparative and Environmental Toxicology, Director of the Program on Breast Cancer and Environmental Risk Factors and President of the Immunotoxicology Specialty Section of the Society of Toxicology. His research on the immune programming and the developmental basis of childhood and adult disease has been supported by the NSF, the USDA, the NIH and industry.
You can watch a trailer of Dr. Dietert's appearance in the award-winning documentary film, Microbirth here:  http://microbirth.com/trailer/
Publications
Last five years papers
 Mener, D.J., Garcia E., Navas-Acien, Rodney R Dietert R.R., Shargorodsky J. and Lin S.Y. Lead Exposure and increased food allergic sensitization. Int Forum Allergy Rhinol. 5(3):214-20, 2015. 
Dietert, R.R. and Dietert, J.M. The microbiome and sustainable healthcare.  Healthcare 3: 100-129, 2015. 
 Dietert R.R. and Silbergeld, E.S. Biomarkers for the 21st century: listening to the microbiome. Toxicol. Sci.  144 (2): 208-216, 2015. 
Dietert, R.R and Grammer, A.C. Immune disorders, epigenetics, and the developmental origins of health  and disease. Chapter 13 In : Rosenfeld C (Ed) The Epigenome and Developmental Origins of Health and Disease. Elsevier, pp.211-234, 2015. 
 Dietert, R.R. Microbiome-based precision medicine. EC Pharmacol. Toxicol. 1.S1:S1-S3, 2015. 
  Dietert RR and Dietert JM. Chapter 6.  The Role of the Microbiome on Human Health, IN : Bakrhu, A. Nutrition and Integrative Medicine: A Primer for Clinicians. Taylor and Francis. 2018 
  Dietert R.R. The microbiome-immune-host defense barrier complex (microimmunosome) and developmental programming of noncommunicable diseases. Reproductive Toxicol. http://doi.org/10.1016/j.reprotox.2016.04.026 
Dietert, R.  The Human Superorganism. (Dutton Penguin/Random House), NY,  2016.
Dietert R.R. Editorial: Safety and risk assessment for the human superorganism. Human and Environmental Risk Assessment 23(8): 1819-1829. 2017.  
Dietert, R.R. A focus on microbiome completeness and optimized colonization resistance in neonatology.  NeoReviews 19(2): e78.  2018. 
 Burleson, G.R., Burleson, F.G., Dietert, R.R.  Evaluation of cell-mediated immune function using the cytotoxic T-lymphocyte assay. Methods Mol Biol. 2018;1803:199-208. 
Mendrick, D.L., Dieh,l A.M., Topor, L.S., Dietert, R.R., Will, Y., La Merrill, M.A., Bouret, S., Varma, V., Hastings, K.L., Schug, T.T., Emeigh Hart, S.G., Burleson. F,G. Metabolic syndrome and associated diseases: from the bench to the clinic. Toxicol Sci. 162(1):36-42. 2018. 
 Sutherland VL, McQueen CA, Mendrick D, Gulezian D, Cerniglia C, Foley S, Forry S, Khare S, Liang X, Manautou JE, Tweedie D, Young H, Alekseyenko AV, Burns F, Dietert R, Wilson A, Chen C. The gut microbiome and xenobiotics: identifying knowledge gaps. Toxicol Sci 176(1):1-10. 2020.  doi: 10.1093/toxsci/kfaa060
Awards and Honors
Professional/Academic Affiliations
Dr. Dietert is a member of the following Graduate Fields: