Romain Pariaut, DVM, DACVIM, DECVIM-CA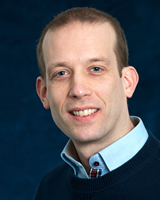 Diplomate - American College of Veterinary Internal Medicine (Cardiology)
Diplomate - European College of Veterinary Internal Medicine (Cardiology)
Associate Professor, Section of Cardiology
Section Chief
---
Department of Clinical Sciences
Cornell University College of Veterinary Medicine
930 Campus Road, Box 25
Ithaca, NY 14853

Email: rp223@cornell.edu
Research/Clinical Interest
Dr. Pariaut's interests include the study of cardiac electrophysiology and arrhythmias, innovation in interventional cardiology techniques for structural heart disease and medical device development.
Education
2002-2005     Cornell University, Residency in Cardiology
1999-2000     Ecole National Veterinaire de Lyon, Marcy l'Etoile, France, Internship in Small Animal Medicine and Surgery
1995-1999     Ecole National Veterinaire de Lyon, Marcy l'Etoile, France, DVM
Biography
Romain Pariaut has been practicing veterinary cardiology since 2002. He received his DVM from the National School of Veterinary Medicine (ENVL) in Lyon, France. After a small animal rotating Internship, he continued as an Instructor in Emergency and Critical Care. He completed a residency in Veterinary Cardiology at Cornell in 2005. Before coming back to Cornell in 2015, Dr. Pariaut was an Associate Professor and Service Chief of Cardiology at Louisiana State University. Dr.Pariaut has also been an Associate Editor of the Journal of Veterinary Cardiology for the last 10 years. He is currently working on developing a cardiac electrophysiology laboratory to diagnose and treat via radiofrequency catheter ablation of arrhythmias. He is also working on the development of innovative cardiac devices in collaboration with students from the Nancy E and Peter C Meinig School of Biomedical Engineering. Dr. Pariaut is a regular speaker at National and International Veterinary Conferences.
Publications

    Please select the PubMed link for a list of Dr. Pariaut's publications.
Honors and Awards
           Diplomate, American College of Veterinary Internal Medicine (Specialty of Cardiology)
           Diplomate, European College of Veterinary Internal Medicine (Specialty of Cardiology
2015    Dean's Teacher Merit honor roll for Year I and II, Louisiana State University School of Veterinary Medicine
2014    Dean's Teacher Merit honor roll for Year II and IV, Louisiana State University School of Veterinary Medicine
2014    Outstanding Teacher Award selected by the class of 2016, Louisiana State University School of Veterinary Medicine
2012    Dean's Teacher Merit honor roll for Year I, II and IV, Louisiana State University School of Veterinary Medicine
2011    Agriculture Teacher Honor Roll, Gamma Sigma Delta Honor Society, Louisiana State University Chapter
2011    Dean's Teacher Merit honor roll for Year I, II and IV, Louisiana State University School of Veterinary Medicine
2005    Resident Research Award, Specialty of Cardiology. American College of Veterinary Internal Medicine Forum, Baltimore, MD
Professional/Academic Affiliations
American College of Veterinary Internal Medicine (ACVIM)
Cardiac Electrophysiology Society
European College of Veterinary Internal Medicine (ECVIM)
European Society of Veterinary Cardiology
Phi Zeta Tau Chapter, Louisiana State University