Scott Coonrod, PhD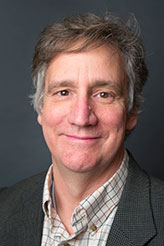 Baker Institute for Animal Health
Department of Biomedical Sciences
Judy Wilpon Professor of Cancer Biology
 Baker Institute for Animal Health
---
---
Baker Institute for Animal Health
235 Hungerford Hill Road
Ithaca, NY 14853-6401
Department of Biomedical Sciences
Cornell University College of Veterinary Medicine
Baker, Box 53
Ithaca, NY 14853
Office: 607-256-5657
Fax: 607-256-5608
Email: sac269@cornell.edu
Research Interest
Searching for simpler and targeted treatments for common cancers
Dr. Scott Coonrod focuses his research attention on cancer, the out-of-control growth of cells that claims millions of animal and human lives every year.
Finding smarter treatments for a canine cancer. In a dog-focused collaboration with Dr. Charles Danko, Dr. Gerlinde Van de Walle, and Dr. Roy Cohen, Coonrod's laboratory is working to find targeted treatments for hemangiosarcoma, a common and often untreatable form of cancer in dogs. Using new sequencing technologies developed in Danko's laboratory and mouse cancer models, Coonrod's team is identifying the genes that make these tumors tick, then they aim to test drugs specifically intended to target the pathways that those genes control.
 
Outsmarting cancer drug resistance. The drug tamoxifen is often given to women following treatment for breast cancer to prevent the cancer from coming back, but breast cancer cells often become resistant to the drug. In another collaboration with the Danko laboratory, Coonrod is identifying the genes that make tamoxifen resistance possible in order to 1) stop those genes from making the switch to resistance, and 2) help identify cancer patients most at risk of tamoxifen resistance so that they can receive more effective alternative therapies.
 
Treatments for mammary cancer. In ongoing work, Coonrod and his team are testing a new therapy for treating mammary cancer in animals and humans alike. The early results are promising and the drug may be headed to clinical trials in dogs soon.
Coonrod's work has the potential to uncover some powerful new ways for treating breast cancer – and preventing its return. Breast cancer survivors today who are at high risk for recurrence are administered the drug tamoxifen for years following their diagnosis and treatment, but most women become resistant to this adjuvant therapy within five years. PAD2 inhibitors could represent a potent new therapy for these women who are no longer responsive to tamoxifen therapy. Given that most cases of mammary cancer in canines are estrogen receptor positive, Dr. Coonrod hopes that, once developed, PAD2 inhibitors will also represent a new therapeutic option for canine mammary cancer.
Education
Post Doc, Cell Biology, University of Virginia, 1995-1999
PhD, Veterinary Physiology, Texas A&M, 1995
MS, Biomedical Science, Texas A&M, 1991
BS, Biomedical Science, Texas A&M, 1984
Biography/Professional Experience
1995 – 1997 Research Associate, Department of Cell Biology, University of Virginia, Charlottesville, VA
1998 – 1999 Postdoctoral Fellow, Department of Cell Biology, University of Virginia, Charlottesville, VA
2000 – 2001 Research Instructor, Department of Cell Biology, University of Virginia, Charlottesville, VA
2001 – 2003 Assistant Professor of Research, Department of Cell Biology, University of Virginia, Charlottesville, Virginia (non-tenure track)
2003 – 2007 Assistant Professor, Department of Genetic Medicine, Weill Medical College of Cornell University (tenure track)
2007 – Present Associate Professor of Epigenetics and Reproductive Biology, Baker Institute for Animal Health, College of Veterinary Medicine, Cornell University (tenured in 2007)
Selected Publications
Links and abstracts for all of Dr. Coonrod's publications can be found at NCBI.
1.  Lata, JP; Gao, L; Mukai, C; Cohen, R; Nelson, JL; Anguish, L; Coonrod, SA; Travis, AJ. (2015). Effects of Nanoparticle Size on Multilayer Formation and Kinetics of Tethered Enzymes. Bioconjugate Chemistry, 26(9), 1931-38.
2. Choi, S; Coonrod, SA; Estroff, L; Fischbach, C. (2015). Chemical and physical properties of carbonated hydroxyapatite affect breast cancer cell behavior. (2015). Acta Biomaterialia, 24, 333-42.
3. Horibata, S; Vo, TV; Subramanian, V; Thompson, PR; Coonrod, SA. Utilization of the Soft Agar Colony Formation Assay to Identify Inhibitors of Tumorigenicity in Breast Cancer Cells. Journal of Visualized Experiments, (99).
4. Slade, DJ; Fang, P; Dreyton, CJ; Zhang, Y; Fuhrmann, J; Rempel, D; Bax, BD; Coonrod, SA; Lewis, HD; Guo, M; Gross, ML; Thompson, PR. (2015). Protein Arginine Deiminase 2 Binds Calcium in an Ordered Fashion: Implications for Inhibitor Design. ACS Chemical Biology, 10(4), 1043-53.
5. Subramanian, V; Knight, JS; Parelkar, S; Anguish, L; Coonrod, SA; Kaplan, MJ; Thompson, PR. (2015). Design, Synthesis, and Biological Evaluation of Tetrazole Analogs of CI-Amidine as Protein Arginine Deiminase Inhibitors. Journal of Medicinal Chemistry, 58(3), 1337-44.
6. McElwee, JL; Mohanan, S; Horibata, S; Sams, KL; Anguish, LJ; McLean, D; Cvitas, I; Wakshlag, JJ; Coonrod, SA. (2014). PAD2 Overexpression in Transgenic Mice Promotes Spontaneous Skin Neoplasia. Cancer Research, 74(21), 6306-6317. 
7. Guertin, MJ; Zhang, X; Anguish, L; Kim, S; Varticovski, L; Lis, JT; Hager, GL; Coonrod, SA (2014). Targeted H3R26 Deimination Specifically Facilitates Estrogen Receptor Binding by Modifying Nucleosome Structure. PLOS Genetics, 10(9).

Browse PubMed for a complete listing of Dr. Coonrod's publications
Awards and Honors
Professional/Academic Affiliations
Standing Member: NIH DEV1 Study Section (2010-2015)
NIH Study Section Participant:

RFA HD-02-028 Novel Approaches to Male Fertility Regulation (August 2003)
RFA HD-PAR-07-350, Female Health and Egg Quality (February 2008)
Dev 1 Study Section (Summer 09)
Dev 1 Study Section (Fall 09)
ZRG1 EMNR-H (52) Special Emphasis Panel/Scientific Review Group Dec 09.
Dev 2 Study Section Feb 4-5, 2010

DOD Breast Cancer Research Program Programmatic Review (2009-2013)
DOD Breast Cancer Research Program Breakthrough Award pre-application screening (2012-2013) 
Share this: