Sean McDonough, DVM, PhD, DACVP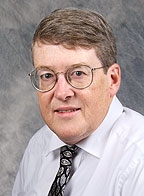 Department of Biomedical Sciences
Associate Professor
---
---
Department of Population Medicine and Diagnostic Sciences
Cornell University College of Veterinary Medicine
T8 008A Veterinary Research Tower, Box 17
Ithaca, NY 14853-6401

Office: 607-253-3319
Fax: 607-253-3357
Email: spm13@cornell.edu
Research Interest
In addition to a strong interest in general diagnostic pathology and resident instruction, I have a particular interest in the immunophenotyping canine leukemias and lymphomas. Immunophenotypic analysis is a powerful diagnostic aid that can define the lineages of these neoplastic disorders with greater precision than is possible based just on morphologic criteria. This information is also providing new insights into the biology of this complex group of diseases. Other research interests lie in exploring the interface between adaptive and innate immunity and the role the microenvironment plays in regulating these interactions. As part of my graduate studies, I found a large population of gamma/delta T-cells resides in the red pulp of the canine spleen. Although the functions of gamma/delta T-cells are not well defined, I believe they interact with red pulp macrophages in defense against blood-borne infectious agents. Exploring the cellular and molecular basis of these potential interactions may provide new insights into the function of this important immune compartment during bacteremia and in control of hemoparasites. Other studies have focused on the ontogeny of the immune system in fetal and neonatal calves. The aims of these studies were to quantify leukocyte subsets in various compartments of the immune system during responses to spontaneous infection, experimental infection, and vaccination. The increasing pace and sophistication of biomedical research requires the collaboration of scientists with complimentary resources and expertise.
Education
PhD, Comparative Pathology, University fo California, Davis, 1996
Diplomate, American College of Veterinary Pathology, 1992
Veterinary Pathology Residency, University of California, Davis, 1989
DVM, Colorado State University, 1981
Biography/Professional Experience
Dr. McDonough is an Associate Professor in the Department of Population Medicine and Diagnostic Sciences. He obtained his DVM from Colorado State University in 1981 and engaged in small animal medicine in central Wyoming. Dr. McDonough entered the veterinary pathology residency program at the University of California, Davis in 1989 and achieved diplomate status in the American College of Veterinary Pathology in 1992. The PhD in Comparative Pathology was awarded by the University of California, Davis in 1996.
Publications
McDonough SP, MacLachlan NJ, Tobias AH: Canine pericardial mesothelioma. Veterinary Pathology 29:256-260, 1992.
Stull CL, McDonough SP: Multi disciplinary approach to evaluating welfare of veal calves in commercial facilities. Journal of Animal Science 72:2518-2524, 1994.
McDonough SP, Stull CL, Osburn BI: Enteric pathogens in intensively reared veal calves. American Journal of Veterinary Research 55:1516-1520, 1994.
McDonough SP, Woodbury AH, Galey FD, Wilson DW, East N, Bracken E: Hepatogenous photosensitization of sheep in California associated with ingestion of Tribulus terrestris (puncture vine). Journal of Veterinary Diagnostic Investigation 6:392-395, 1994.
Liu KX, Bird AEC, Lenz SD, McDonough SP, Wolfe LG: Antigen expression in normal and neoplastic canine tissues defined by a monoclonal antibody generated against canine mesothelioma cells. Veterinary Pathology 31:663-673, 1994.
Danilenko DM, Moore PF, Van der Vieren M, Trong HL, McDonough SP, Affolter VK, Moore PF: A novel canine leukointegrin, of d 2, is expressed by specific macrophage subpopulations in tissue and a minor CD8+ Iymphocyte subpopulation in peripheral blood. Journal of Immunology 155:35-44, 1995.
Nash RA, Burstein SA, Storb R, Yang W, Abrams K, Appelbaum FR, Boone T, Deeg HJ, Durack LD, Schuening FG, McDonough SP, Moore PF, Nelp WB, Slichter S: Thrombocytopenia in dogs induced by Granulocyte-Macrophage Colony-Stimulating Factor: increased destruction of circulating platelets. Blood 86:1765-1775, 1996.
Wozniak EJ, Barr BC, Thomford JW, Yamane I, McDonough SP, Moore PF, Naydan D, Robinson TW, Conrad PA: Clinical, Anatomic and Immunopathologic Characterization of Babesia gibsoni infection in the domestic dog (Canis Familiaris). J. Parasitol. 83:692-699, 1997.

Browse PubMed for a complete listing of Dr. McDonough's publications