Vicki Meyers-Wallen, VMD, PhD, DACT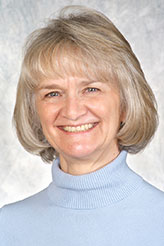 Baker Institute for Animal Health
Department of Biomedical Sciences
Associate Professor of Genetics and Reproduction
 Baker Institute for Animal Health
---
---
Baker Institute for Animal Health
235 Hungerford Hill Road
Ithaca, NY 14853
Department of Biomedical Sciences
Cornell University College of Veterinary Medicine
Baker, Box 53
Ithaca, NY 14853

Office: 607.256.5683
Lab: 607.253.3661
Fax: 607.256.5608
Email: vnm1@cornell.edu
Research Interest
Dr. Vicki-Meyers-Wallen is working to identify the genetic causes behind inherited disorders of sexual development, or DSDs, conditions that impair the normal development of reproductive organs in animals and humans alike. Inherited disorders of dogs have long plagued dog breeding because, in many cases, it is difficult to tell which dogs carry the mutations related to the condition and which do not, an ambiguity that enables the mutation to continue to be passed down through the generations.
This ambiguity is true of the particular form of DSD that Meyers-Wallen is currently studying, "XX DSD", which causes infertility (impaired ability to reproduce) and sterility (the incapacity to reproduce) in 28 breeds of purebred dogs. And like other inherited conditions, XX DSD can't be eliminated from a population unless all the dogs that carry the mutations  for the condition are identified and are prevented from reproducing and carrying the condition to the next generation. Similar conditions also strike in humans, but the genetics and the mode of inheritance of these conditions are often difficult or impossible to tease apart.
Dogs that are affected with XX DSD have normal female chromosomes but instead of developing ovaries, they develop testicles or combination ovary-testes called ovotestes, which produce testosterone and promote male features in the remainder of internal and external genitalia. Genetically speaking, these dogs are female because they have two X chromosomes, but since they have some features of male external genitals, they can appear to be males or females. Early investigations of the disorder focused on a gene called SRY, which is responsible for initiating male sex determination in humans, but Meyers-Wallen's lab put that possibility to rest by showing that SRY isn't present in XX DSD-affected dogs.
In order to determine the real cause, Meyers-Wallen is applying whole genome sequencing, computational tools, and careful analysis to solve the riddle of XX DSD. The search has been narrowed down to a small region in the genome where affected dogs differ from dogs who definitely do not carry the mutation  for the disorder. Further testing lies ahead to determine which mutation  is responsible for testes development in XX DSD dogs.
Once Meyers-Wallen has identified the mutation responsible for XX DSD, a test can be developed to identify dogs that carry the mutation. Determining the genetic cause of XX DSD would not only help dogs. A better understanding of the normal pathways of sexual development may also help human families struggling with these disorders by pointing the way to genetic tests that can help with family planning decisions.
Education
Board Certification in Veterinary Reproduction (Theriogenology), Diplomate, American College of Theriogenologists, 1986
Ph.D. Comparative Medical Sciences, University of Pennsylvania, College of Arts & Sciences, 1986
Resident, Genetics, Pediatrics, and Reproduction, University of Pennsylvania School of Veterinary Medicine, 1980-1982
VMD, University of Pennsylvania, 1976
BS, Zoology, University of Maryland, 1970
Biography/Professional Experience
1970-1972 Laboratory Scientist I (Clinical Laboratory Technician) Great Oaks Center, Silver Spring, Maryland
1976-1977 Associate Veterinarian. Butler Animal Hospital, Charlotte, NC
1977-1980 Associate Veterinarian. Rothman Animal Hospital, Collingswood, NJ
1982-1983 Instructor: Genetics, Pediatrics, and Reproduction. Section of Medical Genetics, Department of Clinical Studies-Philadelphia, School of Veterinary Medicine, University of Pennsylvania
1983-1986 Postdoctoral Fellow, School of Veterinary Medicine, University of Pennsylvania. National Research Service Award 1 F32 HD06396
1986-1989 Assistant Professor of Reproduction, Section of Medical Genetics, Department of Clinical Studies-Philadelphia Secondary Appointment: Section of Reproduction, Department of Clinical Studies-New Bolton Center, School of Veterinary Medicine, University of Pennsylvania
1989-1994 Assistant Professor of Theriogenology, Department of Clinical Sciences, Chief, Small Animal Fertility and Infertility Service, Cornell University Hospital for Animals, College of Veterinary Medicine, Cornell University (50% research appointment) 
1994-2003 Associate Professor of Genetics and Reproduction, Department of Anatomy (Biomedical Sciences) and Baker Institute for Animal Health. Chief, Small Animal Fertility and Infertility Service, Cornell University Hospital for Animals, College of Veterinary Medicine, Cornell University (50% research appointment)
2003-present Associate Professor of Genetics and Reproduction, Department of Biomedical Sciences and Baker Institute for Animal Health, College of Veterinary Medicine, Cornell University (70% research appointment)
Selected Publications
Awards and Honors
2008 Senior Investigator Award for Excellence in Basic Research European Veterinary Society of Small Animal Reproduction
1975 Phi Zeta
1970 Phi Beta Kappa, Phi Kappa Phi, Phi Sigma
Professional/Academic Affiliations
State Veterinary Practice Licensures
1975 to present Pennsylvania and Virginia
Memberships in Professional Societies
American Society of Human Genetics
American Association for the Advancement of Science
American Genetics Association
Society for the Study of Reproduction
American College of Theriogenologists Society for Theriogenology
American Veterinary Medical Association