William Wilmot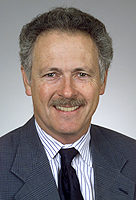 An equine veterinarian and breeder, Dr. William Wilmot, of Saratoga Springs, is a former horse groom, owner, trainer, and track publicist. His love for horses started when he was a boy from Rochester who spent summers on his uncle's farm in Louisiana.
Wilmot has been on the Zweig committee since 1992 and was recently renominated for another term.
Growing up in Rochester, Wilmot rode horses regularly. When the Finger Lakes Race Track opened, his parents took him there frequently; in high school, he worked on the track's maintenance crew, and during college he worked summers at the track, working his way up to a position as groom. After graduating from Georgetown University, with a major in American government, he took a job as a trainer.
For the next nine years, Wilmot trained and raced Thoroughbreds at 22 race tracks in California, Kentucky, Miami, Delaware, and New York. During that time, he realized he wanted to pursue a degree in veterinary medicine.
Wilmot attended Tufts University, graduating with a doctor of veterinary medicine degree in 1983. While in veterinary school, Wilmot met Joan Taylor, now his wife and partner in Stepwise Farm in Saratoga Springs, where they breed and raise Thoroughbreds for racing and commercial sale.
Wilmot also is involved in managing several real estate development companies started by his father and uncle. He has served on the Board of the Saratoga Independent School, Saint Gregory's School in Loudonville, and the Saratoga Youth Soccer Club.
Currently, Dr. Wilmot is on the Board of both the New York State Thoroughbred Breeding and Development Fund Corporation and the Saratoga County Chamber of Commerce. 
Share this: