Spotlight on the Green Team
The CVM Staff Council is excited to highlight the Green Team in the October 2018 edition of CVM eNews. The Green Team was formed to answer the college's call for green initiatives, and is comprised of a cross-section of college leadership, staff and students.
The CVM Staff Council had the opportunity to sit down with the Green Team and learn more about who they are and what they do!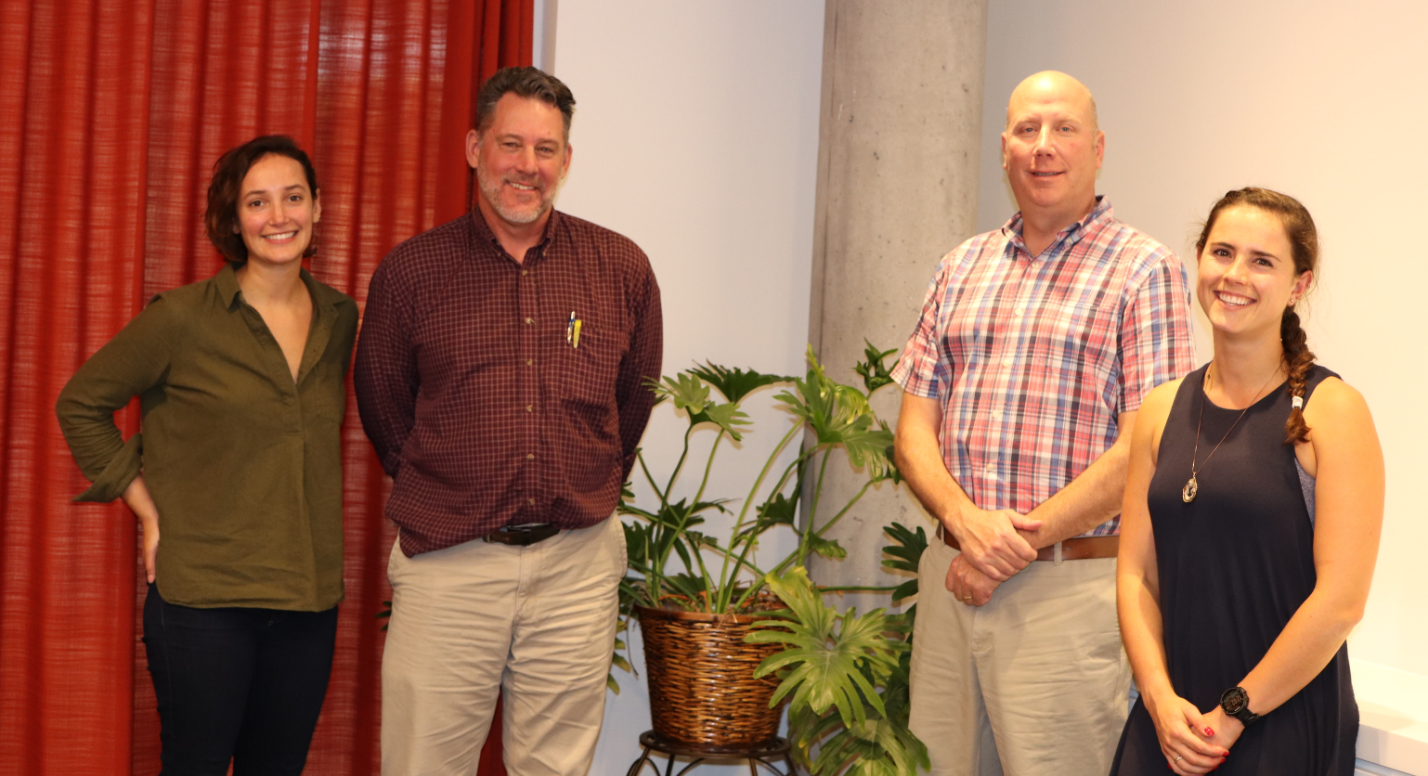 Staff Council: How was the Green Team formed?
The Green Team: The Green Team was formed in part from the Strategic Plan and is backed by Dean Warnick. The college has always been focused on saving energy; all of the newer buildings around the Veterinary College are LEED Silver certified. It helps that Cornell is stricter than the state of New York, which already has stringent energy requirements in place!
Staff Council: What are some of the Team's accomplishments?
The Green Team: The most significant accomplishments would include the new Small Animal Community Practice building and the recently completed Class Expansion project, both of which are LEED certified. Other accomplishments include ongoing energy conservation efforts, which are comprised of studying buildings and identifying areas for energy savings (chilled water, steam, natural gas, domestic water and electric), composting in the cafeteria kitchen, replacing plastic straws with paper straws and offering reusable dishes and utensils for catered events. Students are also very involved in sustainability efforts and request event attendees bring their own reusable glassware, utensils and dishes.
Staff Council: How can the College community be more involved with sustainability efforts?
The Green Team: Be better stewards of our resources by conserving energy, using eco-friendly materials, recycling and composting whenever possible. Sometimes the smallest efforts have the greatest impact; imagine how much energy is saved by flipping switches to the off position and unplugging electronics at home. Now imagine the amount of energy saved when a large organization does this! The college was able to save over one million dollars on utilities last year, which was reinvested into other programs and projects.
Staff Council: Anything fun coming up?
The Green Team: Check out the Energy Dashboard, which showcases data on past, present and future sustainability information about the college. Keep an eye out for a fun energy savings competition: Which floor can save the most energy?! Additionally, the college is working on obtaining Green Lab/Green Office certification and is also investigating solar opportunities.
Thank you, Green Team, for being our CVM Staff Council's October Spotlight! Interested in learning more about the Green Team? Have ideas or suggestions? Want to join the Team? Feel welcome to email any of the members:
Do you have ideas or suggestions for an upcoming Spotlight? Email us at cvmstaffcouncil@cornell.edu!