A Stitch in Time: Cornell Surgeons Build on Legacy
Written by Lauren Cahoon Roberts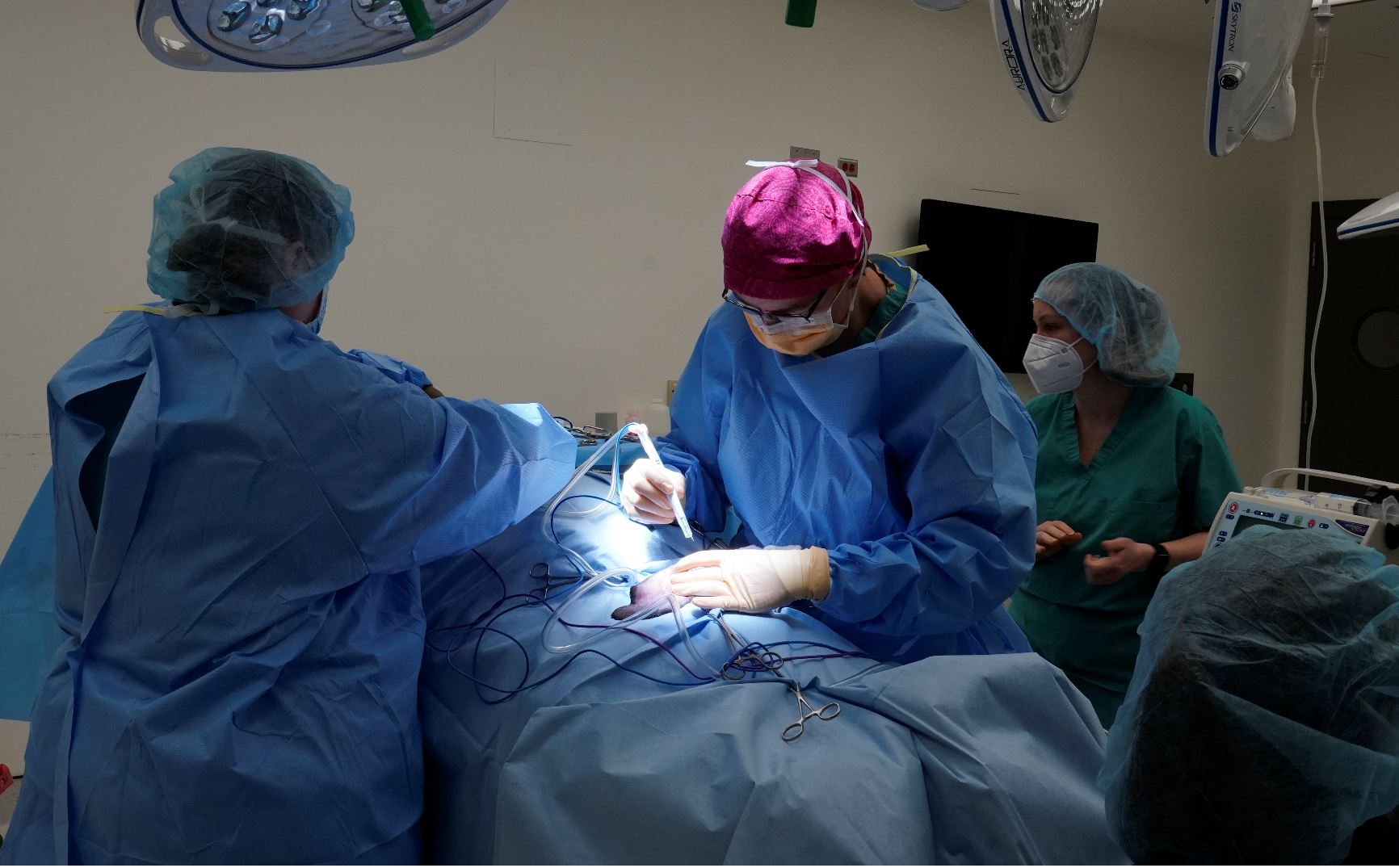 The small animal soft tissue surgery service at the Cornell University Hospital for Animals (CUHA) has helped countless pets over the years — treating patients with complex issues like narrowed ear canals and twisted stomachs, while also taking care of the basics like stitching up lacerations and spaying and neutering. Each surgeon who has worked under the operating room lights has brought their own expertise and skill to the service, treating students and trainees to excellent education and patients to world-class, science-driven care.
Drs. Jim Flanders and Jay Harvey: Shaping the service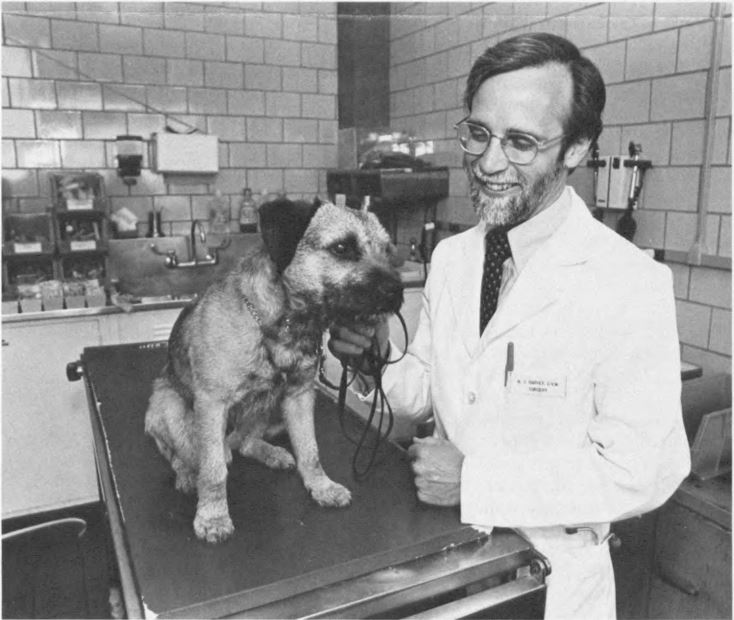 The excellence provided by the current soft-tissue surgeons at CUHA rests on a firm foundation built by their predecessors, particularly Drs. Jay Harvey and James Flanders.
Harvey, emeritus associate professor, is responsible for the expansion of the soft-tissue service into the realm of surgical oncology. He applied his passion and talent for the foundational techniques of surgery to every patient he touched, setting the bar for excellent surgical care and training those after him (who he notes "had much more talent than I did") to the same standards.
Flanders, emeritus associate professor of small animal surgery, played a formative role in establishing the service's world-class reputation and brought cutting-edge advancements to veterinary surgery that saved and improved countless patients' lives.
Harvey and Flanders arrived at the service from different paths. Harvey was recruited to the service from his surgery position at the Animal Medical Center (AMC) in 1979. "I was very happy there, but I was so impressed with the atmosphere and collegiality at Cornell that I decided to make the change," he says. "The chance to work alongside Cornell's veterinary legends was irresistible for a someone like me who was mostly just a journeyman surgeon."
At the AMC, Harvey was the surgical oncologist for one of the first organized oncology services in veterinary medicine. "Not only were dedicated oncology services unusual. It was especially novel to have a surgeon embedded with the medical oncologists in either human or veterinary medicine," Harvey explains. He brought this expertise with him to Cornell, which at the time did not yet have a dedicated oncology service. "I tried to apply what I knew about oncology as a soft tissue surgeon," says Harvey. Shortly after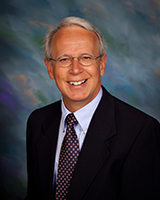 arriving at Cornell, the American Veterinary Medical Association enlisted Harvey and other oncology colleagues to outline a program for specialty certification. On his home turf, Harvey lobbied for an oncology service for years, resulting in the eventual founding of CUHA's dedicated oncology service.
Aside from his specialized knowledge, Harvey was always fascinated by the basics of surgery. "I enjoyed the traditional aspects of surgery the most: Making an incision, tying a perfect knot, the symmetry of a row of neatly place skin sutures, a well-done ligation — these skills are the aspects of surgery I found most satisfying," he says. "I told the students, interns and residents, that when an experienced surgeon has a complication, he or she always reassesses the basics: Were my sutures too far apart or too close together, were they too tight or to loose, did I remove enough tissue, were my ligations effective. Surgery is always about the basics." 
Harvey notes that, learning new technologically advanced surgical techniques is exciting and challenging, but developing the judgment to do the right thing for each case remains the most difficult aspect of being a surgeon. "Regardless of all the imaging and the testing we do prior to surgery, the surgeon still has to make decisions based on what is in front of them during surgery and do so accurately and quickly," says Harvey.
For Flanders, he hadn't planned on staying at Cornell past a year — but the mentors, colleagues and friends he met when he joined for his internship soon changed his destiny. "My plan was to go back to San Francisco and open up a cat practice," Flanders recalls. But mentors like Harvey and Dr. Eric Trotter sparked a passion for surgery within him. "I would scrub in on surgeries and watch how they worked. There was true artistry to the surgery — they were able to help the animal almost immediately. They were so good at what they did. It seemed effortless."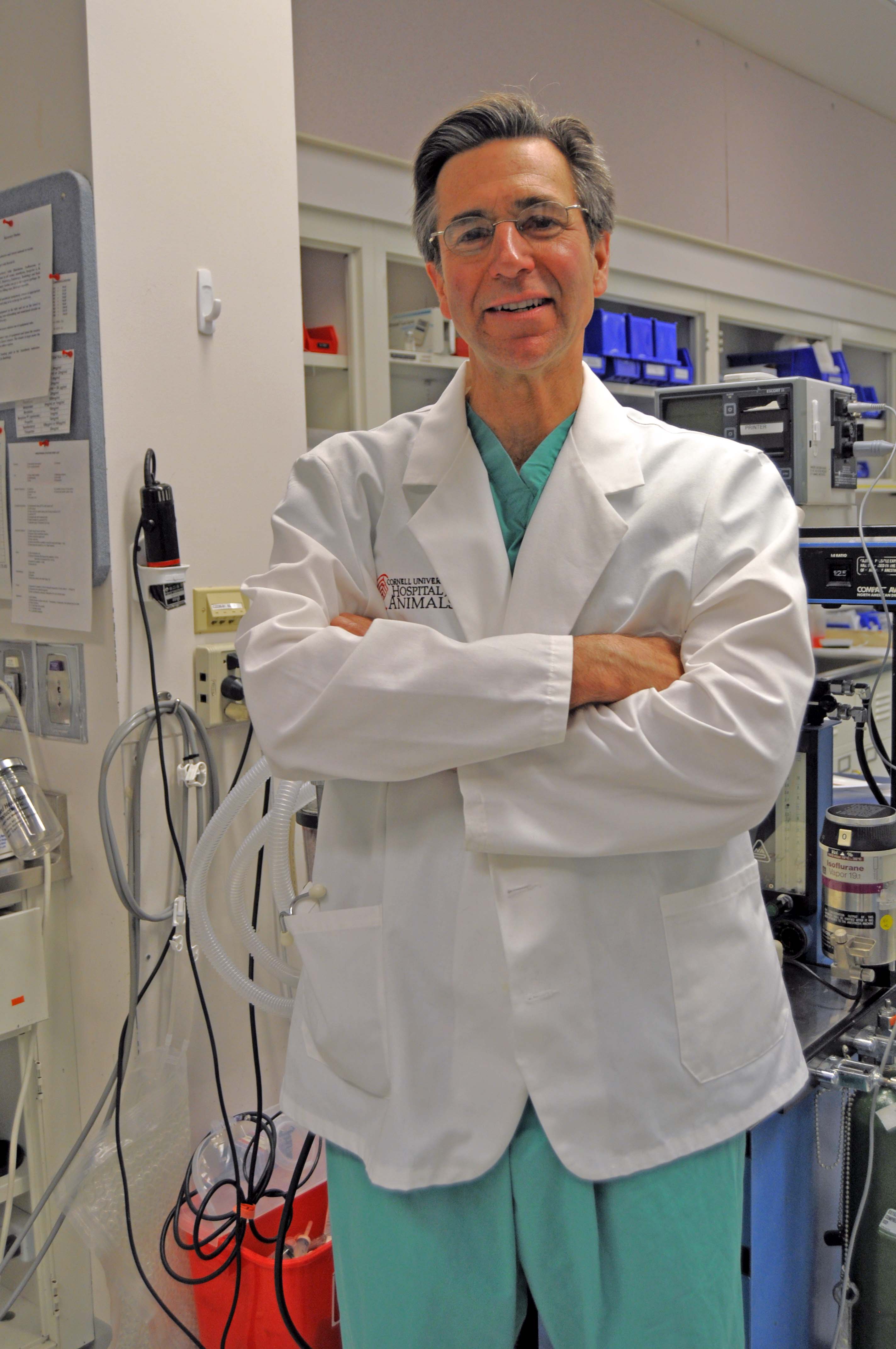 Soon, Flanders pursued a residency with the same team. During that next step of training, Flanders fell in love — not just with CUHA's soft tissue surgery section, but with another house officer, Dr. Sydney Moise, who would go on to become CV Starr Professor of Cardiology at the college. The two married and have stayed on together at CUHA, with Flanders shaping the soft tissue service with his own artistry and skill and bringing in new techniques and technology.
One key technique Flanders helped jumpstart was minimally invasive surgery (MIS). After traveling to Colorado State University's College of Veterinary Medicine in the '90s, he learned new surgical skills and returned to CUHA armed with the ability to do many surgeries with a small incision and a scope, rather than more invasive approaches that required opening the patient with larger incisions.
Operations on the stomach, the urinary tract, the lungs, the adrenal glands or even very common surgeries such as the spay could be done in a minimally invasive manner, providing a rapid recovery for animal patients. While MIS had been well-established in human medicine at that time, the method was brand-new to veterinary medicine. In fact, Flanders wrote one of the original papers detailing MIS in dogs.
"Dr. Flanders implemented a lot of the MIS that we use and changed the direction that we take with several of our procedures," says Dr. Galina Hayes, associate professor. "That's something that I've benefited from in my career here, and I've tried to continue that legacy onward with our patients and the veterinary community."
Hayes describes how Flanders changed the way the section treats ectopic ureters — a birth defect that causes incontinence in dogs. "Jim was the first person to learn and implement a MIS approach to this problem," says Hayes. "Before that, we would have to do an open surgical procedure, which has many more risks. Now, we treat them as outpatient procedures, with a scope and a laser fiber."
Throughout his career at CUHA, Flanders kept the same passion and curiosity that got him into the field. "There's a huge amount of creativity when it comes to surgery," says Flanders. "Even though you might have done a procedure a million times, there's always something unexpected, and you have to be innovative. During all my years, I never got bored, because I knew every patient was different."
Dr. Julia Sumner: Continuing the cutting-edge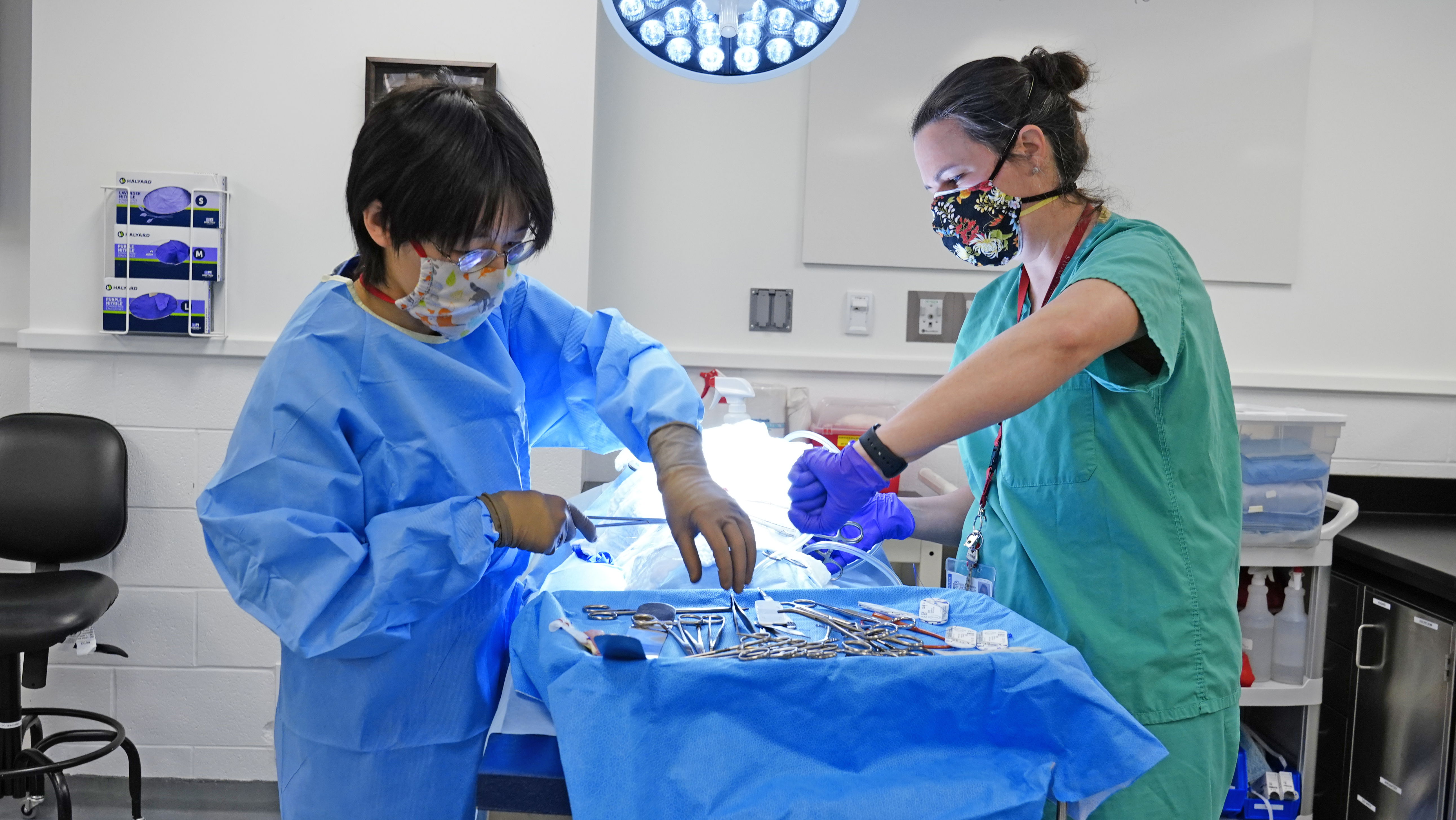 Dr. Julia Sumner and her colleagues Drs. Galina Hayes, Nicole Buote and Daniel Lopez '12, D.V.M. '16, all share the same passion for innovation and providing clients excellent care. The surgeons are excited about expanding the offerings of minimally invasive surgery (MIS) options for CUHA patients, Sumner included. "I'm very passionate about minimally invasive surgery and look forward to expanding what we can offer clients in this area," says Sumner, who is an assistant professor of small animal surgery. "In addition, my colleagues and I have all attended multiple advanced training sessions in minimally invasive surgery and interventional radiology and it is our hope that as a group we can continue to provide excellence in patient care and cutting-edge techniques that reduce operative morbidity to the pets that we see."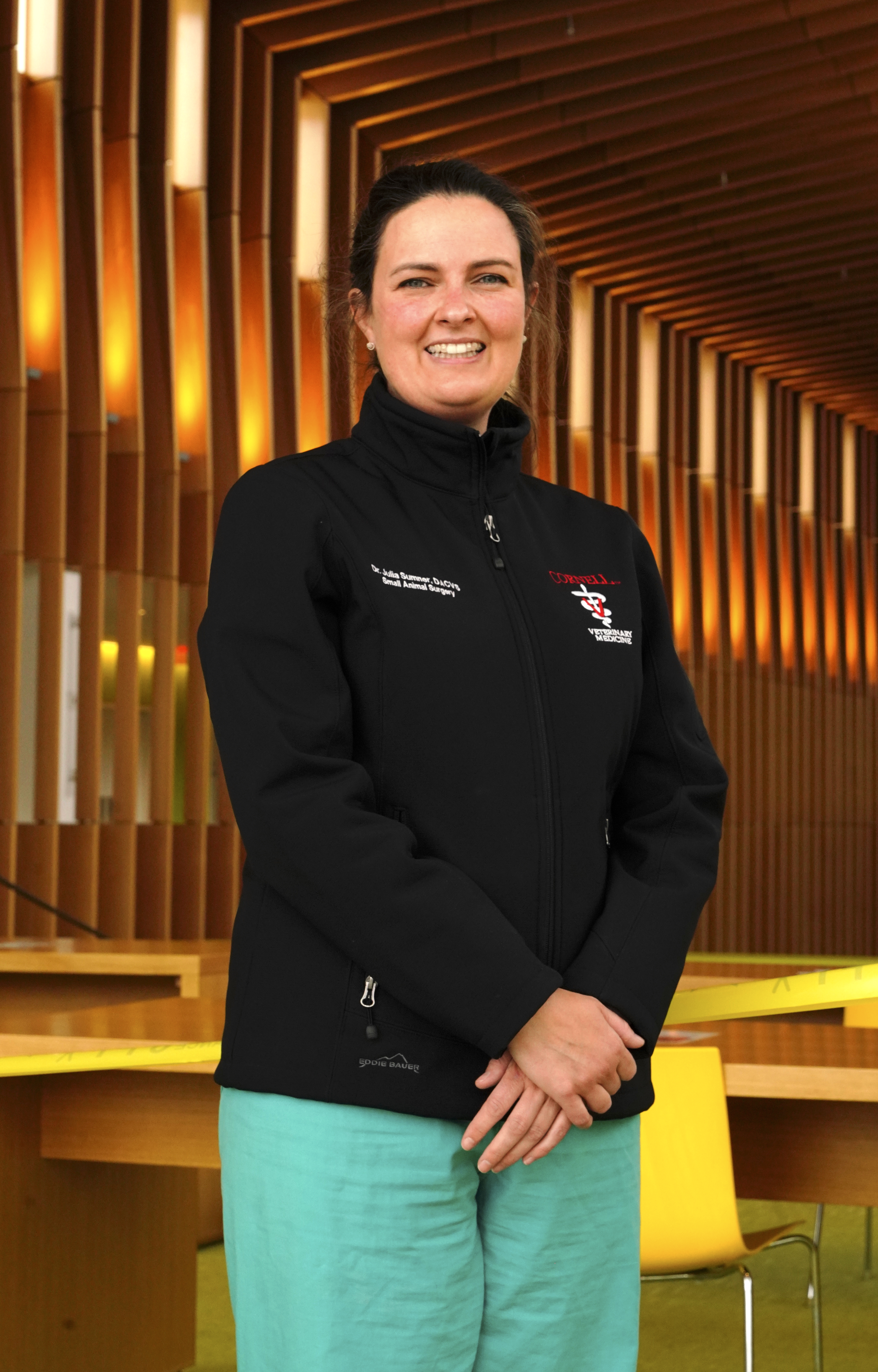 Some of the procedures Sumner and her colleagues offer include the full range of laparoscopic and thoracoscopic surgeries, such as gallbladder and bladder stone removals, liver biopsies and hernia repair. They also provide the full range of stenting procedures for tracheal, urethral, ureteral and nasopharyngeal issues — to name just a few offerings. "Our group is looking forward to replacement of our fluoroscopy system, original to the 1996 hospital, with an interventional radiology suite — that will allow us to streamline and offer more expertise in this area," Sumner notes.
Sumner benefits from the legacy of her predecessors. Two of the soft-tissue surgery section's long-term members, Drs. James Flanders and Jay Harvey, trained her mentor Dr. Robert Hardie, a former CUHA resident, who trained Sumner during her own surgical residency at the University of Wisconsin. Additionally, "I worked alongside Jim Flanders for a few years before his retirement. I loved the way he taught the residents and interacted with his colleagues," says Sumner. "He was always congenial and compassionate. Not only was he an amazing surgeon and researcher, but he was a really encouraging to early career faculty such as myself."
Originally from Canberra, Australia, Sumner studied veterinary medicine at the University of Sydney and brings a wide range of experience to her work at Cornell. "I have worked in mixed animal practice in the middle of nowhere, worked as a small animal practitioner all over the U.K. and Australia, before starting my surgical journey," she says. "My experiences in general practice are what actually fostered my love for the profession."
As a clinical researcher, Sumner is looking to "answering unanswered questions in clinical practice." This includes investigating novel minimally invasive surgery procedures, as well as studying parathyroid disease — an uncommon disease in dogs where an overactive parathyroid gland leads to dangerously high levels of calcium in the body.
For Sumner, working as a clinician and researcher at Cornell has opened up a world of knowledge and resource. "This place is amazing! It fosters our ability to conduct world-class research that then allows us to stay at the forefront of veterinary care," says Sumner. "We're also working shoulder to shoulder with a family of collegial individuals who are all leaders in their respective fields. Our ability to work together is what truly enables us to reach the best possible outcome for those pets under our care," she says.
Dr. Nicole Buote: Increasing the scope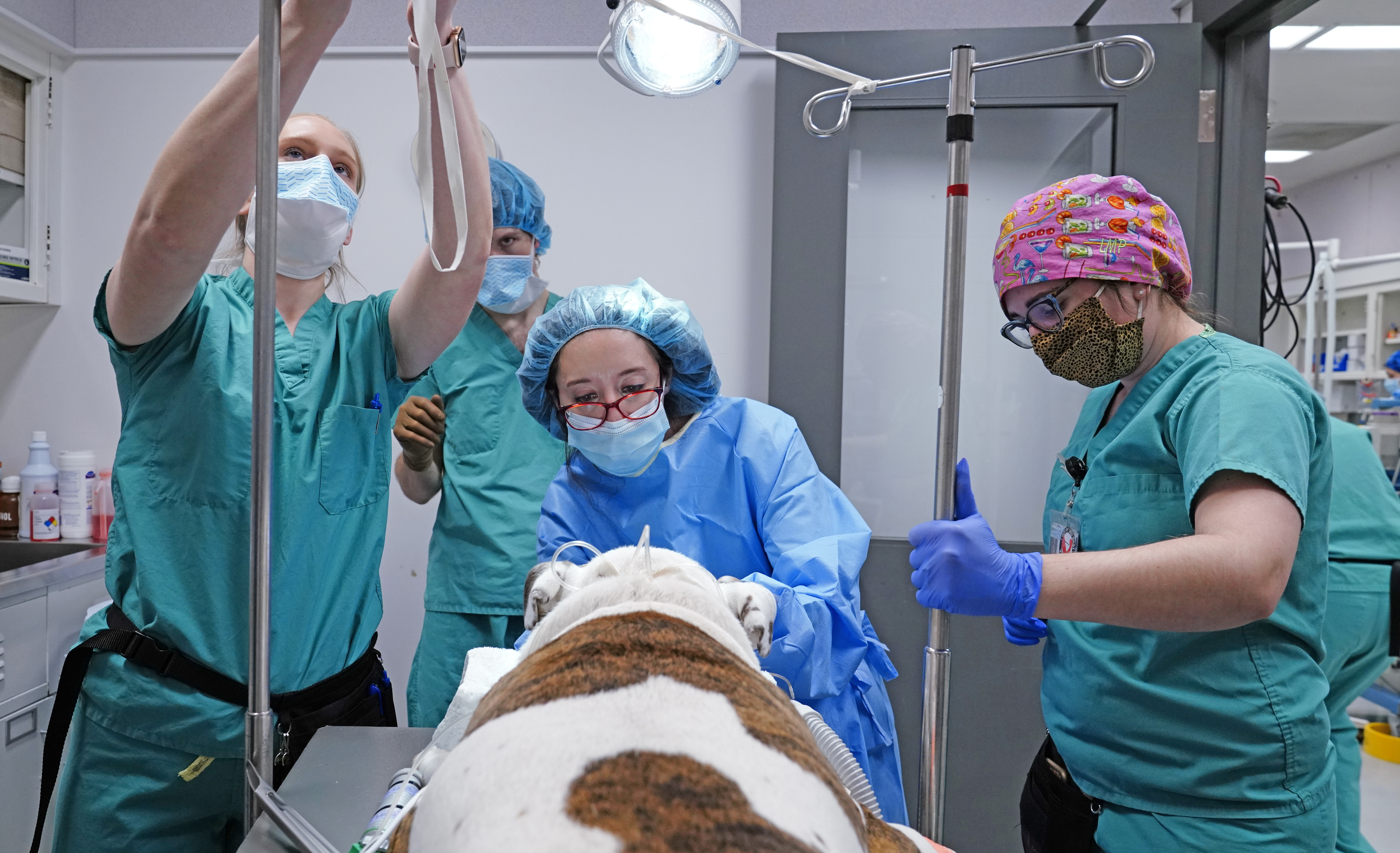 Dr. Nicole Buote, assistant professor of small animal surgery, is enthusiastic about sharing her knowledge with colleagues and students and providing state-of-the-art care to clients. With 10 years of working at a large private practice specialty clinic under her belt — and the last five spent as chief of surgery — she brings valuable real-world perspective to the service. "I think my private practice experience is one of the best attributes I bring to Cornell," says Buote. "I am so excited to be able to share my experience and help prepare our students and house officers for what they might encounter in their jobs and post-graduate positions."
Those state-of-the-art practices include MIS procedures that can make all the difference to patients' health and recovery. These include interventional radiology and MIS — the combination of using a small medical imaging tool to guide the catheters or needles used for the perform these 'keyhole' surgeries. "I'm interested in all the 'oscopies'," says Buote. "Anything that is done with a scope. There's many MIS procedures that are done regularly at the hospital, but I really want to move the needle and start performing more advanced surgeries for our animal patients." 
In addition to the procedures noted by her colleague Sumner, Buote adds that their service can remove dysfunctional spleens, adrenal glands and the pericardium (the external lining of the heart). Additionally, they offer urinary tract bypass procedures for patients with kidney obstructions, and more.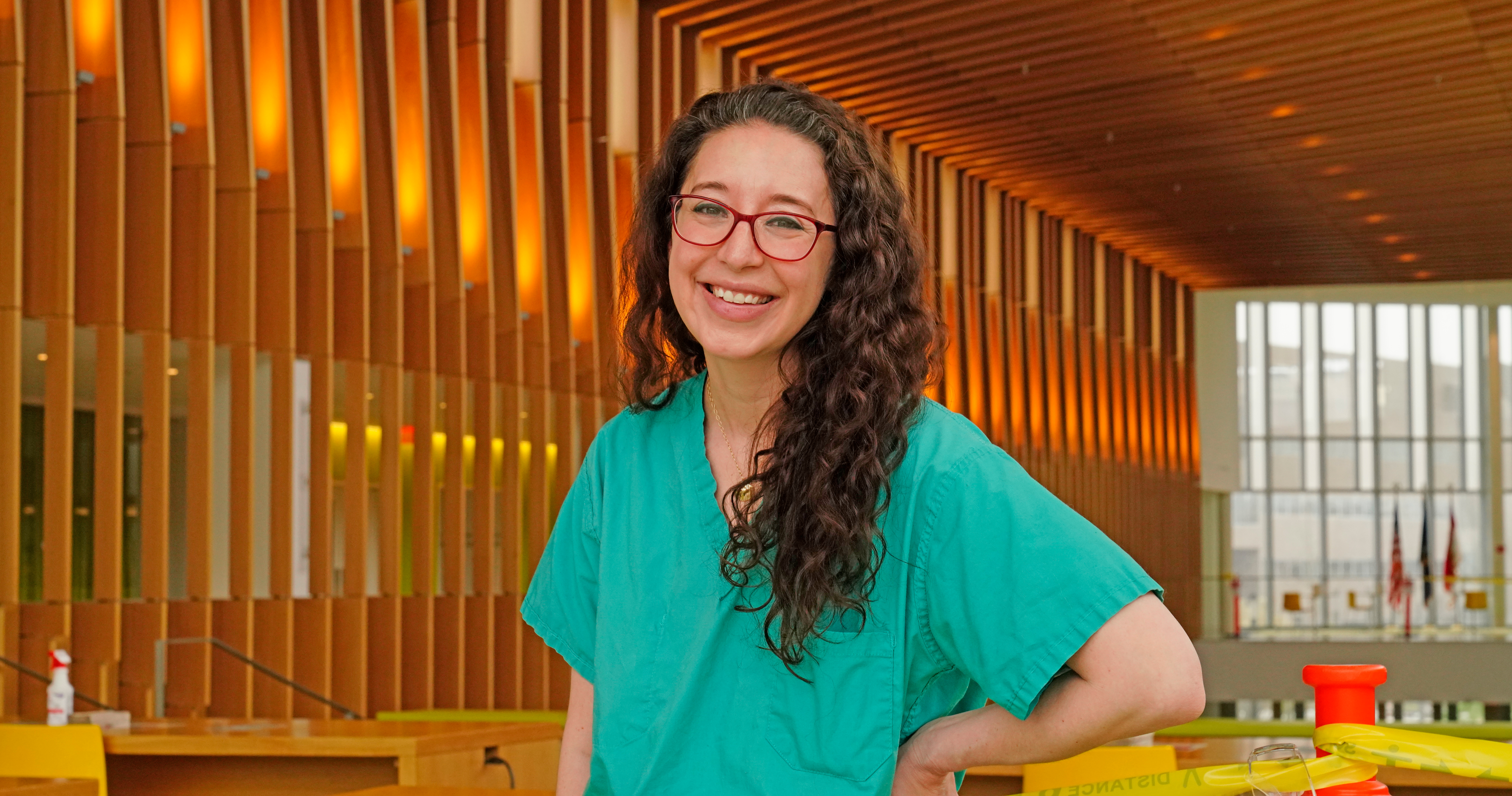 While clients may be wary of what a high-tech surgery might mean for their pocketbook, Buote notes that, all things considered, MIS procedures cost roughly the same as traditional open surgeries. "While the technology used in MIS is more expensive, the patients are able to go home much sooner due to faster recovery times," says Buote. "For example, a dog that has its gallbladder removed using open surgery has a minimum two-day stay in the hospital afterwards, whereas a laparoscopic patient would go home the next day." She goes on to note that MIS patients typically have less pain and decreased infection rates across the board.
In addition to strengthening CUHA's offerings of MIS for patients, Buote will be closely watching developments in robotics and other advances that may benefit veterinary surgery and education in the future.
Her years working at a private specialty clinic give Buote a solid understanding of what students and trainees may expect to see as they move from their training and into real-world practice. "Dealing with owners and referring veterinarians primarily for so many years also allows me to really drill down into some different communication tips I've used over the years," she says. "I love being able to take my time with teaching during the day and being able to tell students/residents what different tests, challenges they might encounter. Seeing so many cases in private practice also gives me confidence in my surgical skills and helps with training."
For Buote, becoming a veterinary surgeon was a life-long dream. "I felt drawn to service with animals from a young age," she says. "And with regards to surgery, the minute I started working in the surgery department at my first veterinary job in high school I knew this was for me… I love the chance I have to 'fix' something and make a lasting positive change to an animal's quality of life."
Dr. Daniel Lopez: Research for better outcomes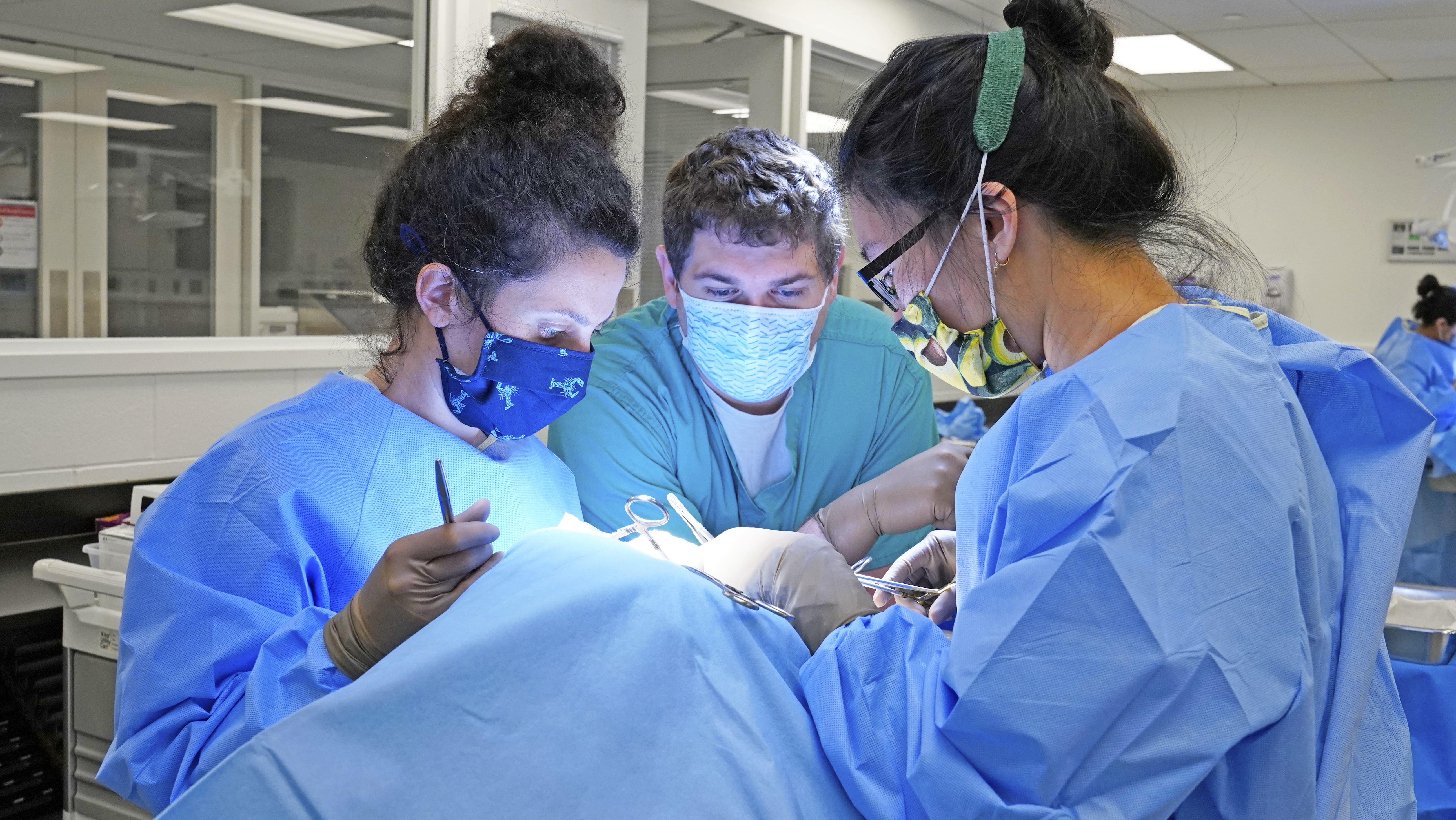 Daniel Lopez '12, D.V.M. '16, fell in love with small animal surgery as a veterinary student when learning from professor and section chief Dr. Ursula Krotscheck. This passion was further ignited by working with clinicians Drs. Rory Todhunter, Kei Hayashi and Marina McConkey. "They demonstrated what specialization in veterinary medicine and academia could offer," Lopez says.
Now as a faculty member, Lopez is digging into several different areas of clinical research, including a project with Hayes and Rory Todhunter, Ph.D. '92, the Maurice R. and Corinne P. Greenberg Professor of Surgery, to build and maintain a surgical site monitoring program to better follow up on patients and gather data to better understand the factors that influence the development of surgical site infections. "We can then tailor interventions and evaluate the effectiveness of new preventive measures," Lopez says.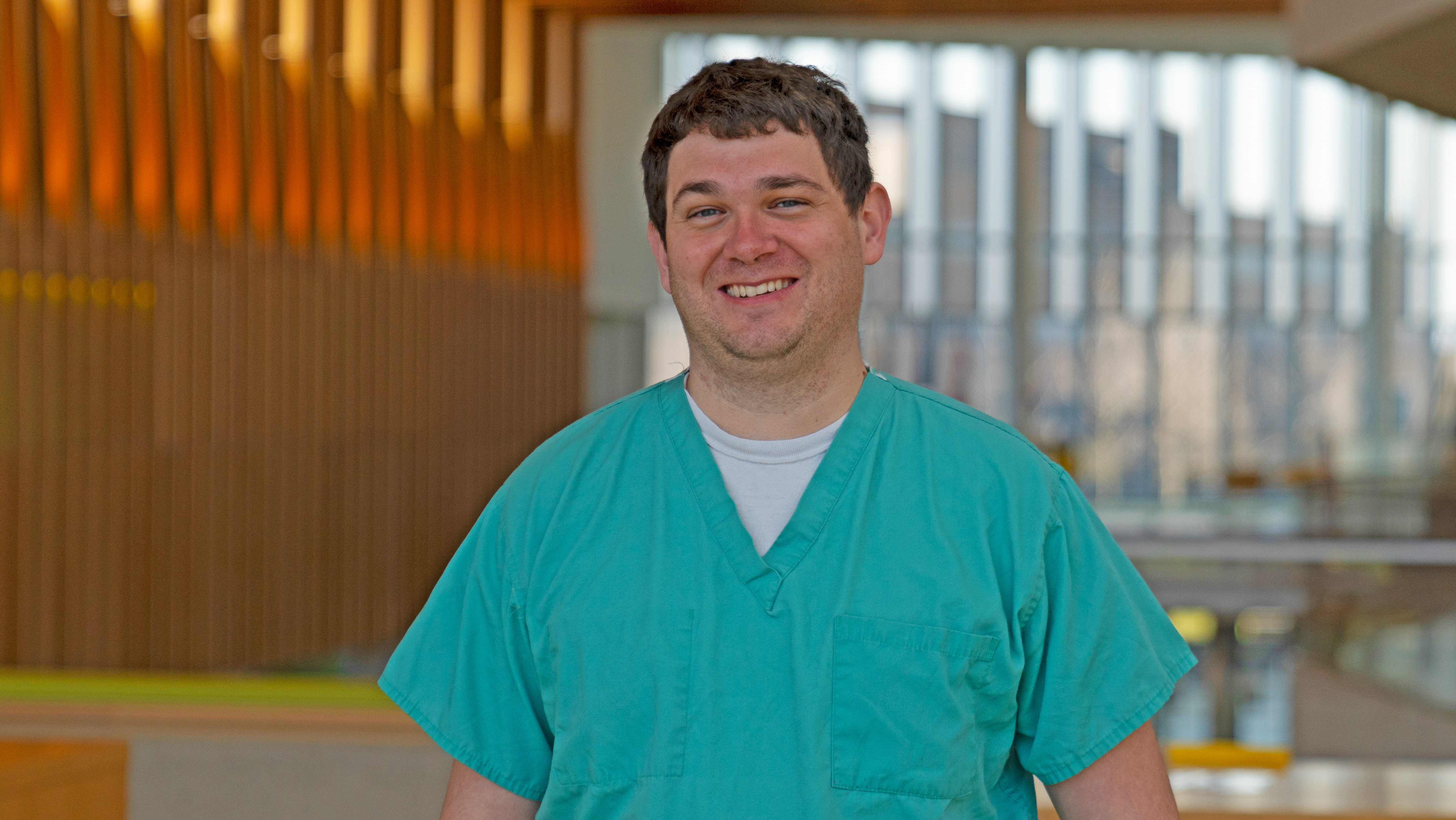 He is also doing research to identify and manage phantom limb pain with Hayes and senior lecturer in anesthesiology and pain medicine Jordyn Boesch, D.V.M. '06, and is assisting Sumner in analyzing a multi-institutional study evaluating surgical treatment of feline idiopathic megacolon. "We hope this study significantly alters the way feline idiopathic megacolon is treated in veterinary medicine," says Lopez. He is also working with small animal internal medicine resident Dr. Sarah Holm on investigating the association between small animal enteral nutrition and abdominal wound issues after surgery for ingested foreign bodies.
Lopez notes how his predecessor Dr. James Flanders has influenced his veterinary career. "Dr. Flanders constantly pushed the boundaries of veterinary medicine — and continued to learn something new from each case, even in his last week of clinics prior to retiring. He specifically taught me how it is important to develop an adaptable skill set that can be applied to unique situations instead of preparing for every possible situation, which is impossible," says Lopez.
As he forges his own path in the soft tissue surgery section, Lopez is driven by his desire to help every patient as much as he possibly can. "It is important work and motivation to know that reducing surgical complications even by a fraction can lead to a better outcome for a given family," he says.
Dr. Galina Hayes: Scalpel meets statistics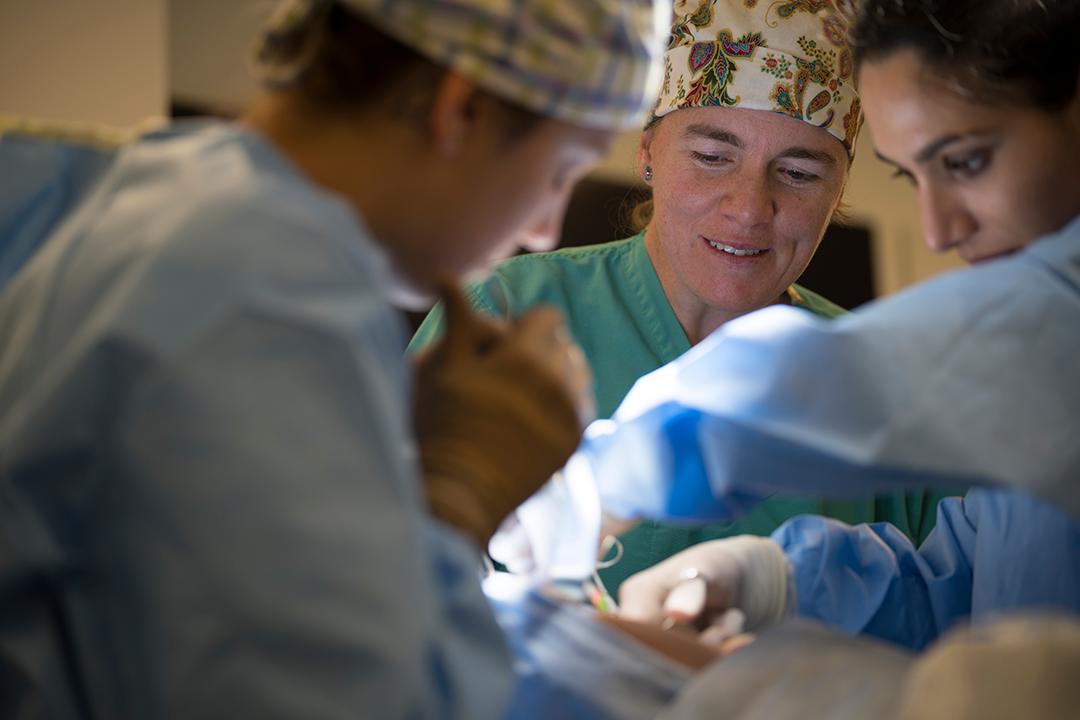 Since joining the team in 2014, Dr. Galina Hayes has applied her unique combination of knowledge to push CUHA's excellence in both patient care and clinical research.
Double-boarded in surgery and emergency and critical care, Hayes has done everything in soft tissue surgery — on almost every kind of patient one can imagine: Creating a new titanium skull for a dachshund with brain cancer; open heart surgery on a Labrador retriever; and removing an intestinal obstruction that threatened the life of a lioness.
Of all the work she gets to do, "my personal favorite — the work that warms the cockles of my heart — is vascular and cardiac surgery," says Hayes with a giant grin. "It doesn't matter which vasculature it belongs to — I just love figuring out how to make all those different veins and arteries work together again and behave."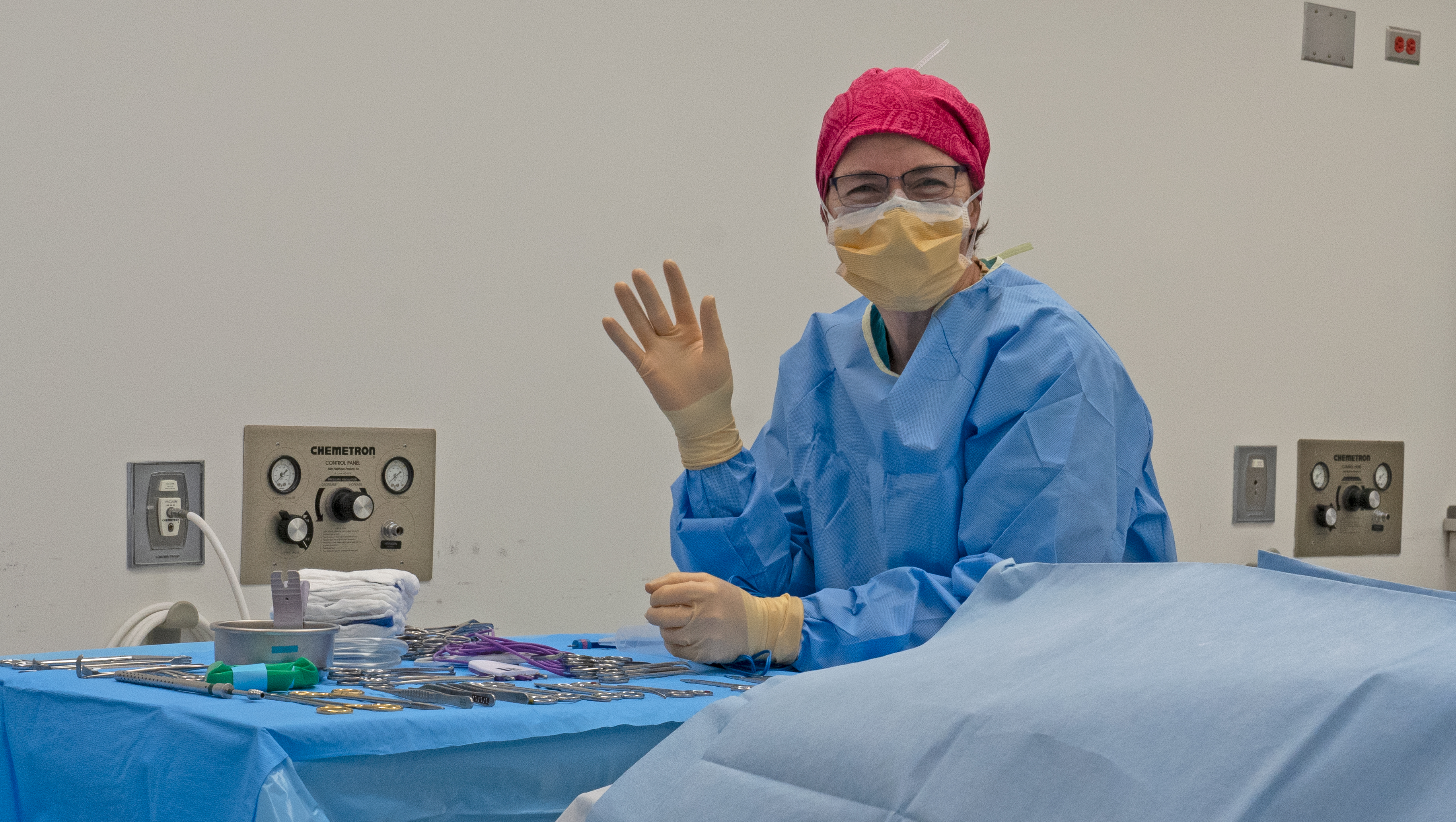 Vascular surgery is vital in many types of procedures, including reconstructive surgeries where certain parts of the body may be used to patch or repair other areas that had to be removed. The technique is also key for tumor removals, in which cancerous tissue is removed and vasculature must be replaced and repaired to keep the remaining area healthy.
Hayes did specialized training at Columbia University Vagelos College of Physicians and Surgeons to learn microvascular surgical techniques from human medical clinicians. The method, which stitches together miniscule veins to reconstruct blood flow in damaged or incised areas, requires operating microscopes that are only a couple millimeters in diameter. "I wanted to learn how to incorporate these skills into veterinary medicine," says Hayes. "It's already pretty routine in human medicine."
Intricate organ systems is clearly a passion for Hayes — recently she published a paper in the Journal of Veterinary Surgery detailing a new technique for mapping the intricate and interconnected lymphatic system in dogs. Lymphatic drainage patterns vary from dog to dog, and mapping which lymph nodes drain a specific area can be helpful in better understanding how to optimize surgical cancer treatment. 
Sophisticated skills and technical know-how aren't the only thing that Hayes focuses on. "My Ph.D. is in epidemiology," says Hayes, "so my epidemiologist's brain runs alongside my surgeon's brain. When I get carried away with how cool some surgical technique is, the epidemiologist in me says, 'Well, is that translatable to the broader population? And did the patient really get better because of what I did?' "
Forging future veterinarians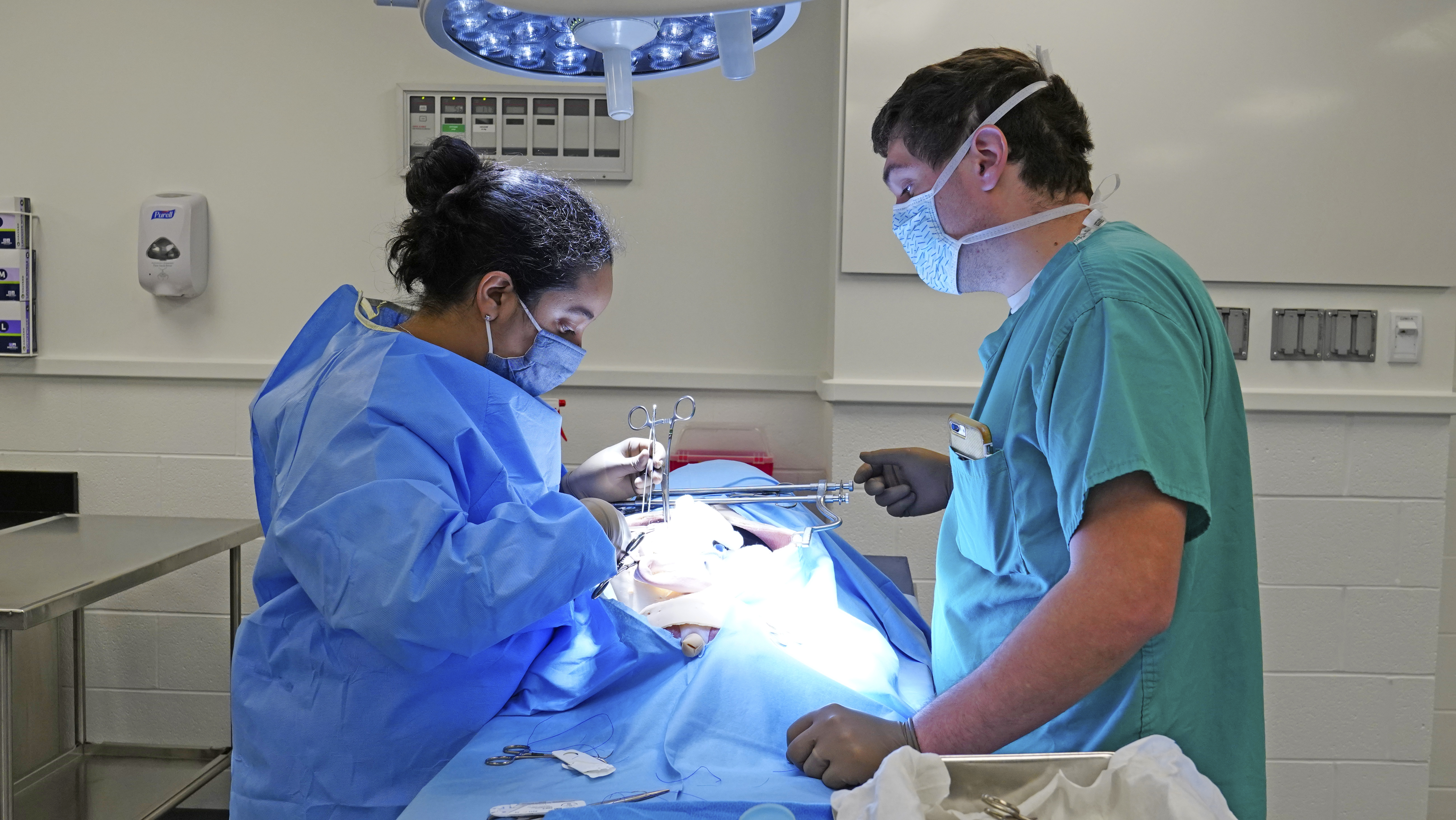 As a part of a veterinary college, the small animal surgeons aren't just providing care and driving discovery for patients — they're training the next generation of veterinarians.
"The interactions with students was one of my favorite aspects of the job," says Flanders, who often used photos from his surgeries to better teach students in class. "I loved to teach with photos and videos, showing them how things went step-by-step."
Flanders and his colleagues also coach students through the hands-on aspects of surgery. "They go through many weeks of training on how to drape, how to suture — it's a big, big deal," says Flanders. The training culminates in their first spay or neuter on a shelter cat. "That first day of surgery when they're the surgeons is a huge moment for their learning career — they know it's a living animal, not a cadaver or a model," says Flanders. "To be present for that, to lend a helping hand — that never got old."
This abiding love of teaching continues with the next generation of faculty. "The reason why I do this job is to teach," says Sumner. "Students keep me current — they always ask questions that make me really think about certain problems. I then have to be able to explain it in a way that makes sense — that adds to my own understanding. Plus, nothing gives me more joy than seeing that 'light bulb moment' of someone finally getting it!"
Buote also enjoys working with these veterinarians-in-training. "The students are super excited to be on the clinic floor and I really enjoy interacting with them," she says. "I always hope for an exciting case so that they leave the week energized. I never know which student might turn into my next colleague!"
CUHA serves as a secondary and tertiary referral hospital, thus many surgeries are done by faculty and house officers. To have students gain experience, Hayes knew they needed hands-on practice. "It truly is a manual skill," she says. "Ultimately, you do need to practice with your hands." This necessity drove Hayes to investigate innovative ways for students to get more surgical practice — resulting in the college investing in the SynDaver canine models. Starting in 2018, the soft tissue surgery section uses these high-fidelity surgical simulators to give students on the surgery rotation tactile experience in performing several surgical procedures.
In good hands
With the recent retirement of Flanders and Harvey, they leave the soft tissue surgery with a firm foundation of excellence and collaboration. "The collegial atmosphere has been fundamental to the service's success at CUHA," says Flanders. "The overall feeling there is upbeat — it makes it a pleasure to work at Cornell."
"I'm pretty much grateful to everyone I've known," Harvey says. "From my internship to my retirement, I can't begin to name all of the mentors I've had. And that includes the students. I learned a lot from them, too."
The surgeons that carry on the service's legacy rely on that same collaborative atmosphere to support and sustain their work. "People here are excited about new ideas," says Hayes. "That excitement drives a generosity to collaborate. I love that I can walk down the hallway and have six discussions with people who are leaders in their field and know that they will all want to help. That's how we effect intelligent change."
Sumner agrees. "The ability to collaborate between the sections in the department of clinical sciences in addition to being able to tap into preexisting relationships with other departments on campus is also really helpful," she says. "Anything you need you just have to ask — someone will have the answer or know someone who does. The resources available are only limited by your imagination."
As they continue to learn from and inspire one another, this team of surgeons will doubtless continue the CVM's mission of discovery, education and care. •