News and Media
Baker Institute in the News: 
The Need to Vaccinate: The journey to herd immunity Spectrum News NY 1, February 8, 2021, "The virus may be evolving and evading our immune responses to the vaccines and to the drugs that are available. But that so far has not been the case," says Laura Goodman, assistant research professor at the Baker Institute for Animal Health. Goodman's comments on different virus strains also appear on WHCU Radio. 
Cornell Professor Explains How Viruses Mutate As COVID-19 Variants Spread, WENY News, February 1, 2021, "Laura Goodman, an assistant research professor at Cornell University, says viral mutations aren't a new concept and changes in Coronavirus weren't unexpected. Goodman says the way people are tested for COVID-19 is the only reason scientists discovered the U.K. strain of the virus."
Rogue antibodies could be driving severe COVID-19, Nature, January 19,2021, "This is not to say that mimicry by pathogens is not a real thing," says Brian Wasik, research associate at the Baker Institute for Animal Health. "But most instances of such mimicry have been defined by testing how the pathogens' proteins actually react to antibodies in the lab."
Public health surveillance of infectious diseases: beyond point mutations, The Lancet The COVID-19 pandemic has once again brought the concept of viral mutations into the spotlight. The latest impetus is severe acute respiratory syndrome coronavirus 2 (SARS-CoV-2) N501Y, associated with an increase in case numbers in parts of the UK1 and bringing concerning images of packed platforms at London train stations. This comes on the heels of the Y453F variant, which gained tremendous media attention as it was proposed to evade the long-awaited vaccine; accompanied in this case by disturbing images of mink being hurriedly culled and purportedly rising from their graves.
LI Company plans to begin tests on COVID-19 vaccine for cats, Newsday, September 25, 2020 by Ken Schachter. Cats "are almost always being infected by humans" rather than other cats, said Dr. Colin Parrish, a professor of virology at Cornell University's College of Veterinary Medicine. "Most are not going to come in contact with cats outside the house. They're not going to frat parties or bars," states Dr. Colin Parrish.
Re-routing research, 'Scopes Magazine 2020 Issue 1, Cornell College of Veterinary Medicine, by Lauren Cahoon Roberts. "With the BSL-3 capabilities, researchers such as Dr. Luis Schang, professor of chemical virology at the Baker Institute for Animal Health are able to screen for potential therapeutics."
First Documented Coronavirus Reinfection Reported in Hong Kong, The New York Times, August 24,2020 by Apoorva Mandavilli. ""The majority of patients likely have a cocktail of immune responses that activate on second exposure," said Brian Wasik, research associate at the Baker Institite for Animal Health at the College of Veterinary Medicine. "This Hong Kong patient also seems to have been asymptomatic on second infection, perhaps due to some immune response."
How Viruses Evolve, Knowable Magazine, July 16, 2020 by Bob Holmes, with reprints in Smithsonian Magazine, July 17, 2020, and Discover Magazine, July 22, 2020. "With the new coronavirus," Parrish says, "we're sort of in that 1918 period where the virus is spreading fast in a naive population. But that will change as more people either catch Covid-19 or are vaccinated (if and when that becomes possible) and develop some level of immunity. There's no question that once the population is largely immune, the virus will die down," Parrish says.
Did a Mutation Turbocharge the Coronavirus? Not Likely, Scientists Say, The New York Times, May 6, 2020 by Carl Zimmer, "They got a bit over their skis on title, conclusions," wrote Brian Wasik, an evolutionary biologist at Cornell University. "They deserve a strong and good-faith peer review."
Beware Overblown Claims of Dangerous Coronavirus Strains, The Atlantic, May 6, 2020 by Ed Yong,  "We have evidence for one strain," says Brian Wasik at Cornell University.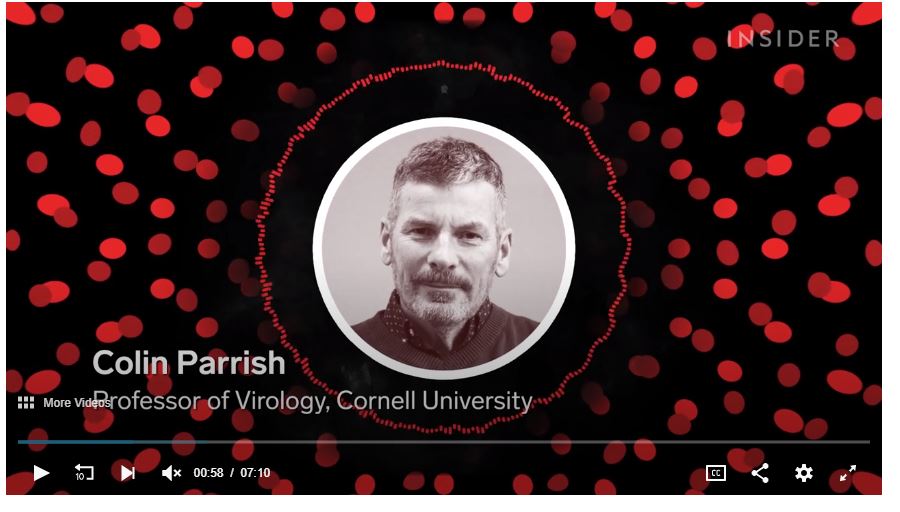 Why some viruses jump from animals to people, and some don't, Business Insider, April 27, 2020 – Dr. Colin Parrish discusses animal to human virus transference, why some viruses jump from non-human animals to people and other don't, modes of transmission and prevention, and what needs to happen for a virus to go from animal to pandemic.
Coronaviruses often start in animals - Here's how those diseases can jump to humans, Discover Magazine, April 2, 2020
Cornell experts discuss state of pandemic, Cornell Chronicle, March 31,2020. 
How Safe Is Take-Out In A COVID-19 World?, WSKG, "The consensus at the moment is that you are unlikely to be infected – even if it has coronavirus on it," said Colin Parish, Professor of Virology at Cornell University.
CVM COVID-19 working group gears up, Cornell Chronicle, March 19, 2020
Video: Luis Schang, professor of chemical virology at the Baker Institute for Animal Health, is one of many researchers at Cornell University working on an antiviral solution to the COVID-19 pandemic.
Research Interrupted: CVM lab groups find their way together, Cornell Chronicle, March 19, 2020.