Re-routing research
By Lauren Cahoon Roberts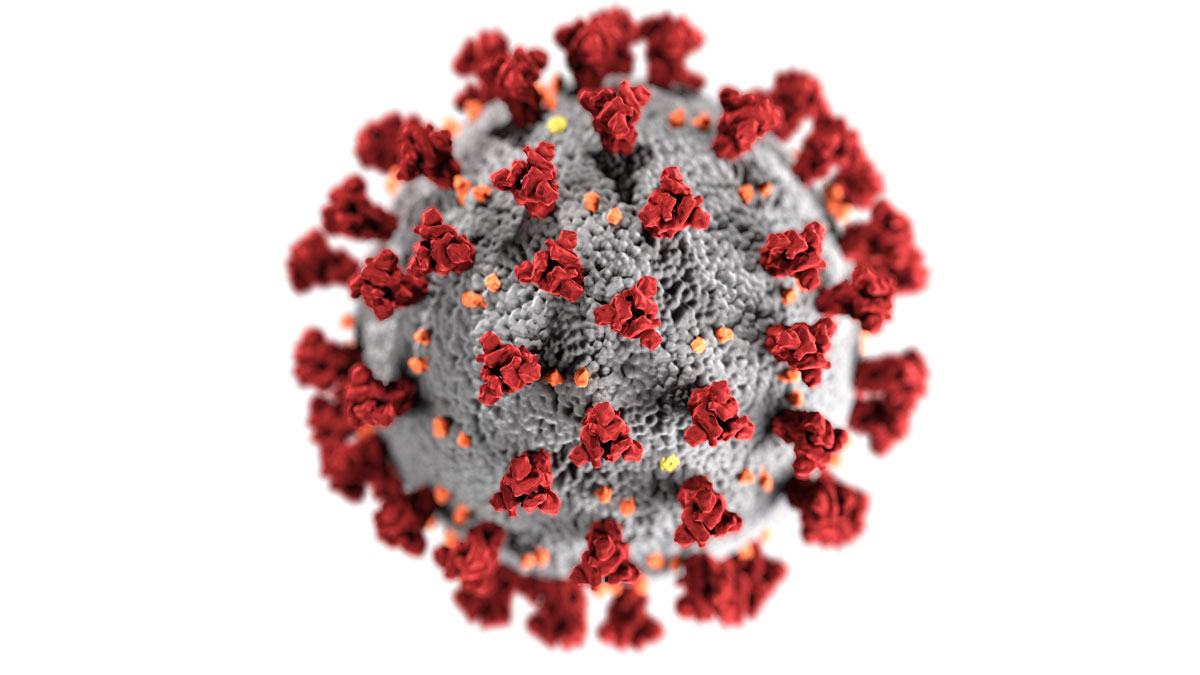 As the effects of the COVID-19 pandemic stifled the country in early 2020, scientific and public health research was both frozen and fast-tracked at Cornell, depending on the focus area.
At the College of Veterinary Medicine (CVM), most research programs came to a complete halt. Some were allowed a skeleton crew to maintain carefully bred genetic lines of animal models. A handful went into overdrive to attempt to defeat the coronavirus. No matter what lab they worked in, all members of the college's research community felt the impact of the pandemic.
Impacts on researchers
"Everything has been very different," says Dr. Robert Weiss, associate dean for research and graduate education. "Our research community has been supporting each other through this by keeping in touch, both in groups and individually. That has been one of the biggest challenges — the loss of interactions between team members," said Weiss. "That's such a big part of science — that bouncing ideas off of each other and brainstorming. It's just harder to do when you're physically separated from each other."
Weiss notes that, for faculty scientists, much of what they do can often translate well to working from home, such as the extensive writing, reading and data analysis that running a research group requires. For other members of the lab, however, staying at home was more difficult. "It was a complete change for many of our graduate students and other members of the research team who do the majority of their work in the lab," says Weiss.
Graduate students particularly felt the effect of time away from the lab. "When I talked to other graduate students, they all said, 'I'm not being as productive as I want to be,'" says third-year biomedical and biological sciences (BBS) graduate student Jonathan Villanueva. "For those people who worked primarily at the bench, obviously you're not going in to work at the bench. Even for people who do computational work, there were some limitations — you don't have the ability to access certain facilities for new data sets."
Villanueva says that staying at home came with some silver linings. "Students who were preparing for their A exams got more time to prepare, so I'm very excited for faculty to see what those presentations look like because I think you're going to have some pretty well-rehearsed, well-practiced, very qualified graduate students going into those A exams," he says, referring to the oral exam required for all Ph.D. candidates to proceed to the dissertation phase of the program.
"That has been one of the biggest challenges — the loss of interactions between team members. That's such a big part of science — that bouncing ideas off of each other and brainstorming. It's just harder to do when you're physically separated from each other."
Dr. Robert Weiss, Associate Dean for Research and Graduate Education, Professor of Molecular Genetics
For those toward the end of their graduate training, the shutdown was "a mixed bag." Villanueva notes that some students were able to finish writing publications and successfully defend their thesis during the shutdown. Other students who needed to complete experiments to graduate did see delays.
Additionally, first-year students in the middle of their lab rotations now have concerns that they may not get placed with their preferred lab due to lack of time with the principle investigator.
"Students are worrying. There may be delays in their academic program," Weiss says. "It's an unusually stressful situation. This is adding to the normal stresses of being a graduate student and getting a degree. Now there's the added concerns around safety and sickness for themselves and loved ones." On top of this, Villanueva notes that students with families have found it difficult to juggle the responsibilities of home along with the expectations from being a graduate student.
To combat these stresses, CVM faculty advisors and lab heads did their best to keep their groups cohesive and in contact over Zoom. Leaders at the college, Cornell and beyond also tried to help graduate students as much as possible. "There was an understanding both from our administration and also from funding agencies that we have to be flexible," said Weiss. "This is unprecedented, and we all know we have to help each other get through it."
While the impacts are real, many graduate students have tried to find ways to connect and support each other. "I'm very impressed with my program in the sense of seeing all the online happy hours and the Zoom gaming parties," says Villanueva. "It creates those social interactions between students and lets us talk shared experiences. I think it really highlights the quality of our BBS program, and makes me very proud to be a part of it."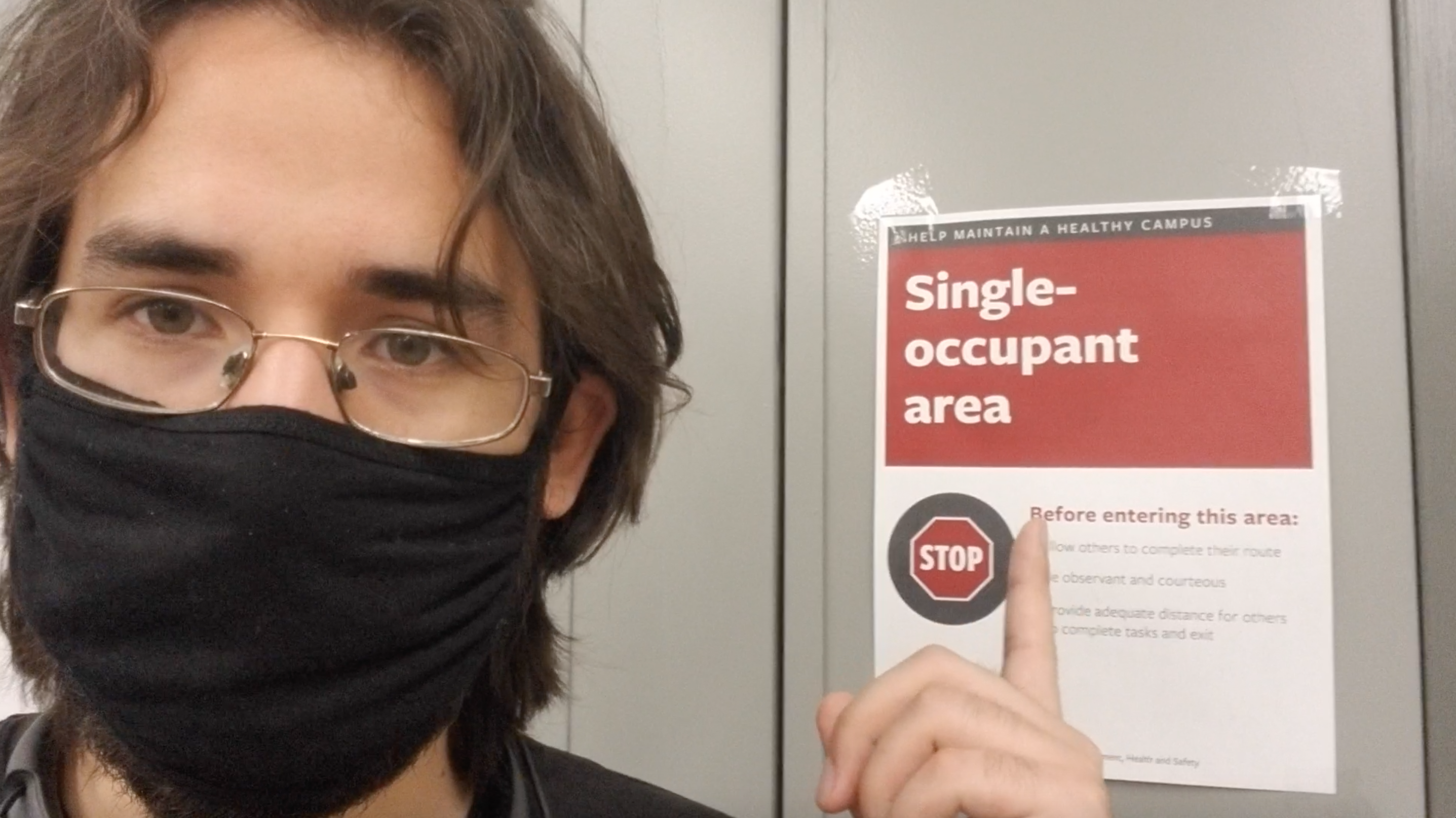 COVID-19 research
While many labs stood silent during the shutdown, a key handful were busier than ever. These belonged to Cornell's COVID-19 working group, designated by the university to continue vital research on the virus due to their relevant equipment or expertise for an all-hands-on-deck approach to fight SARS-CoV-2 — the technical name for the virus that causes COVID-19. As experts in animal disease and biology, the scientists at CVM were well-positioned to decode the many mysteries around COVID-19. After all, the virus is believed to have originated from wildlife species, and in addition to infecting humans, cats, minks and (rarely) dogs are also susceptible.
With expertise in virology, diagnostics, drug screening, managing highly pathogenic organisms and beyond, CVM's group has been working diligently to solve the problem from many different angles.
"The veterinary college is a logical leader for the COVID-19 research efforts," says Weiss. "The zoonotic nature of the virus makes this very much a veterinarian's battle ground."
Deciphering the virus
A central figure in the COVID-19 working group is CVM's own professor of virology, Dr. Gary Whittaker, who, since 2003, has been studying the proteins, structures and the epidemiology of coronaviruses, including the virus that causes severe acute respiratory syndrome (SARS) and the viruses that cause Middle East respiratory syndrome (MERS) and feline infectious peritonitis.
When COVID-19 hit, he jumped into action, focusing his research on the spike protein coronaviruses use to bind with a host cell's receptors and fuse with its membrane. Coronaviruses mutate often, especially at the infection site, forming variants and allowing adaptation to new hosts and tissues more quickly than most other pathogenic viruses.
He has already published several papers from this research, including a study in the Journal of Molecular Biology that identifies a structural loop in the SARS-CoV-2 spike protein, the area of the virus that facilitates entry into a cell, and a sequence of four amino acids in this loop that is different from other known human coronaviruses in this viral lineage. Another study appearing in Cell Press provides additional insight to this spike protein and its unique amino acid sequence.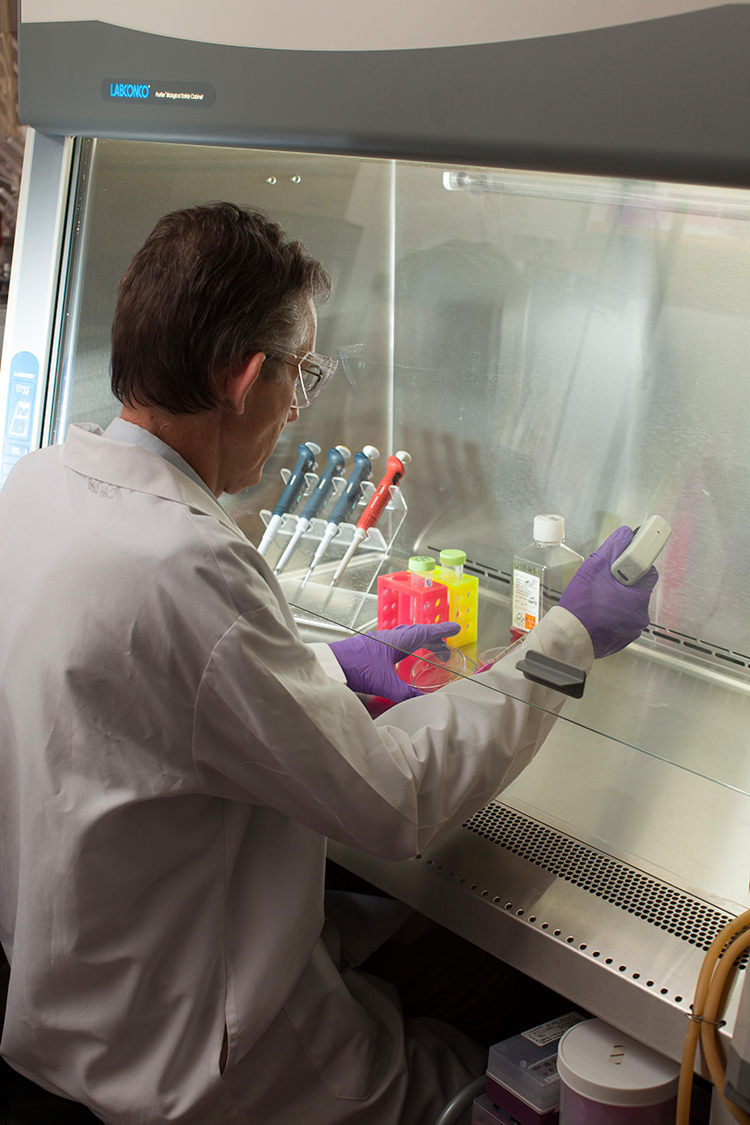 Whittaker's analysis of the lineage of SARS-CoV-2 showed it shares properties of the closely related SARS-CoV-1, which first appeared in humans in 2003 and is lethal but not highly contagious, and HCoV-HKU1, a highly transmissible but relatively benign human coronavirus. SARS-CoV-2 is both highly transmissible and lethal.
"It's got this strange combination of both properties," Whittaker says, noting his group is focused on further study of this structural loop and the sequence of four amino acids. "The prediction is that the loop is very important to transmissibility or stability, or both."
Another paper in the Journal of Feline Medicine and Surgery Open Reports details evidence that feline coronavirus is part of the spectrum of feline infectious peritonitis, a deadly cat disease. Whittaker and his colleagues also published a review in Veterinary Microbiology detailing which animals are likely to contract SARS-CoV-2.
Whittaker says that investigations into feline coronaviruses could provide further clues into SARS-CoV-2 and coronaviruses in general. "We are keeping an open mind to see if similar things may happen in cats that are already now happening in humans," he says.
At the Baker Institute for Animal Health, Colin Parrish, Ph.D. '84, professor of virology, is putting his decades of virology knowledge to work to also decode the structure of the COVID-19 spike protein, while investigating the structure of antibodies that may recognize this spike protein and be protective against infection. Additionally, Parrish is working with epidemiological modelers who are collaborating on computer and epidemiological studies aimed at predicting the current and future spread of the virus outbreak in the United States and elsewhere.
Better testing
When a global pandemic isn't sweeping the planet, Dr. Bettina Wagner, professor and chair of the Department of Population Medicine and Diagnostic Sciences, would be studying equine immunology while creating tests and vaccines for animal diseases like Lyme and equine herpesvirus type 1, having invented several testing assays for important veterinary diseases. Instead, Wagner has turned her science toward the pandemic, applying her diagnostic platforms to COVID-19.
"This serological assay will hopefully be able to tell us if someone's been exposed to COVID-19 and if they have immunity," says Wagner.
"I'm a person that has not worked much with coronavirus before, but when the COVID-19 pandemic happened, I ended up thinking, 'Why not try applying our platform that we have used for other assays for this disease and maybe help to figure out what's going on there and maybe provide a diagnostic assay,'" says Wagner. While several diagnostic tests currently exist on the market, there is still huge demand for more to be developed.
Wagner's COVID-19 multiplex assay uses a plastic bead platform, in which color-coded beads are impregnated with fluorescent dye. The beads are the surface for the assay, with each differently colored bead being paired with a different specific antigen from COVID-19, such as coronavirus spike protein and others. All these different beads are then combined in one well and simultaneously incubated with human serum. "It allows us to simultaneously detect antibody responses to multiple different antigens of the virus in a single step, so it's a very powerful assay," she says. So far, Wagner has validated her human COVID-19 assay that is based on two different antigens of the virus.
In June, Wagner's assay was used to measure samples from over 320 Cornell volunteers, and showed a seroprevalence of less than one percent in this population at the time. "This suggested that many of the volunteers who experienced some of the COVID-19 like symptoms in February or March either were infected with another respiratory pathogen or that antibodies against SARS-CoV-2 can be short-lasting in less severely affected people," says Wagner.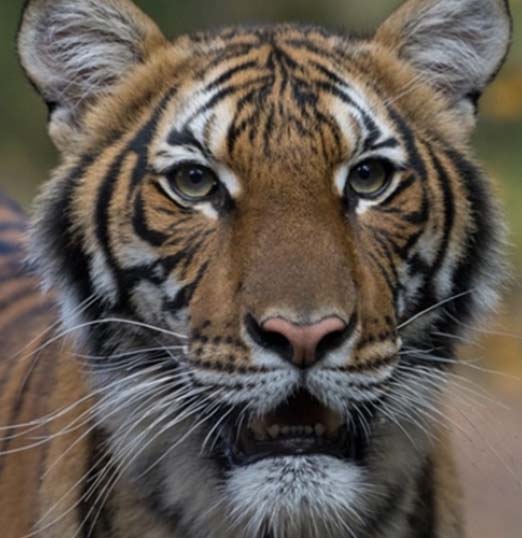 With the test now validated in humans, Wagner would like to see if it could also be used for animals, including cats, with uses not just for diagnosis but also for research. "It's a very powerful tool to learn more about infection with the virus, the host immune response, the pathogenesis of the disease and the immune environment," says Wagner.
Dr. Diego Diel, associate professor of virology and director of virology at the Animal Health Diagnostic Center (AHDC), was also well-positioned to jump into COVID-19 work. Along with colleagues at the AHDC, he was part of the team to diagnose the first animal to contract COVID-19 in the United States — a tiger at the Bronx Zoo.
"For many years I have been working on the viral-host interaction, especially focusing on animal viruses," says Diel. He studied a swine-specific coronavirus that was introduced in the United States in 2013, causing mortality of over 10 million piglets and huge economic losses. This now informs his efforts in COVID-19, which involve optimizing a human COVID-19 test for use in animals, while also developing tools for rapid detection and sequencing of the virus in humans.
"We now focus on the development of novel diagnostic assays and reagents with potential immunotherapeutic applications against SARS-CoV-2. The lab will leverage platforms developed for other animal coronaviruses to help in the fight against COVID-19," he says.
Diel is also working on diagnostic capabilities at the AHDC should animal testing be needed in the future.
Screening for solutions
Studying such a highly contagious and potentially dangerous virus as SARS-CoV-2 requires serious precaution and highly specialized facilities and equipment. Fortunately, college scientists Drs. Brian VanderVen and David Russell, both faculty in the Department of Microbiology and Immunology, had the required expertise and equipment to allow on-site studies of the virus. Typically, both scientists work with highly pathogenic organisms like tuberculosis bacteria, which must be done in very secure biosafety-level-3 (BSL-3) labs — facilities that are required to study COVID-19.
"The expertise of the people with BSL-3 experience has been really critical," says Weiss. "Russell and VanderVen have been very generous, offering both their space and help with training to use it." Along with their help, Paul Jennette '87, director of biocontainment operations who has extensive experience in managing BSL-3 facilities, has ensured that all new research is conducted safely and securely.
"Russell and VanderVen shifted all their attention to coronavirus, doing high-throughput drug screening that before was used for finding new tuberculosis drugs — now it's used to screen for coronavirus therapeutics," says Weiss. "It's been really heartening to see how people from different scientific fields are coming and working together to solve this problem."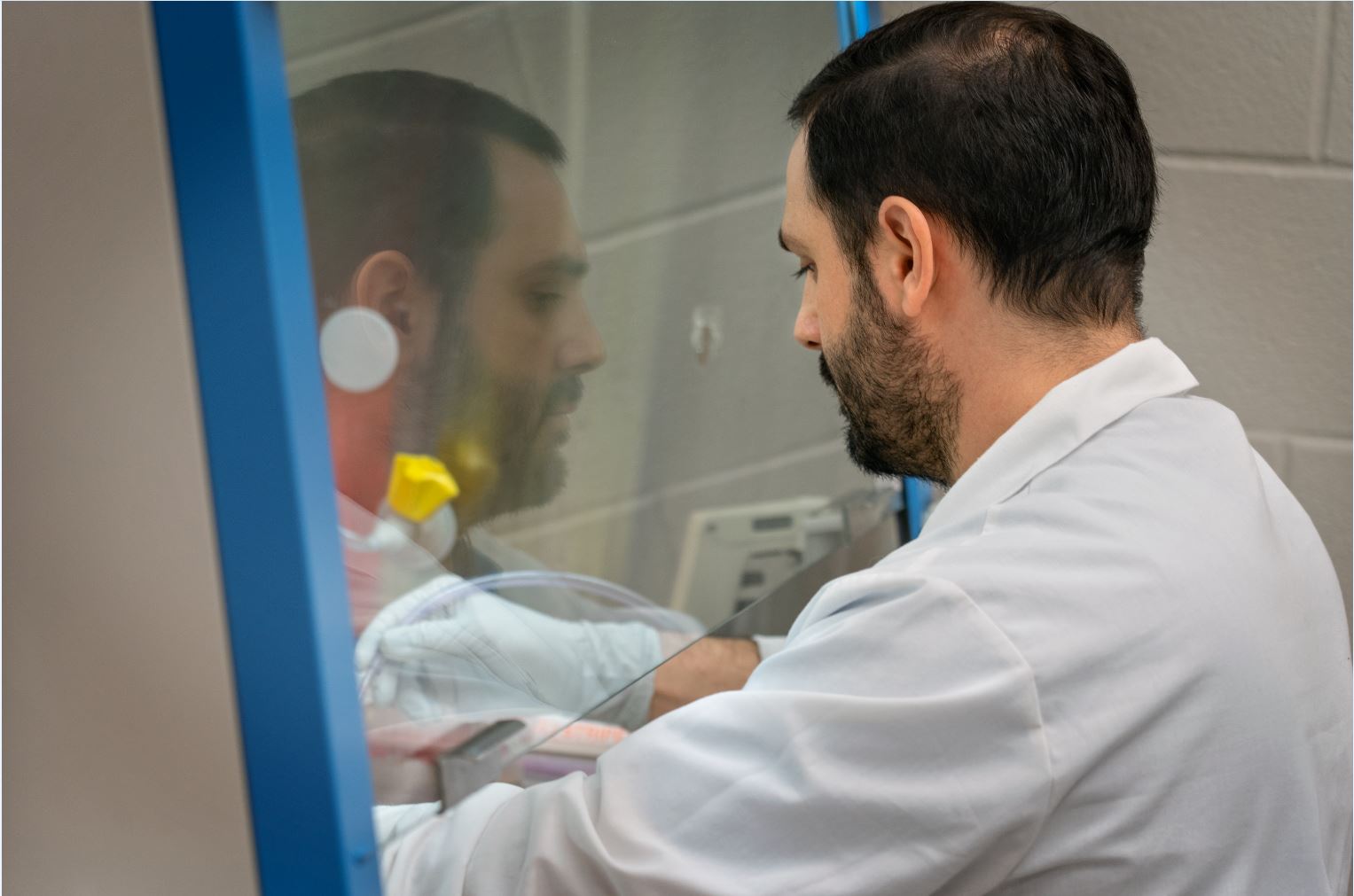 With the BSL-3 capabilities, researchers such as Dr. Luis Schang, professor of chemical virology at the Baker Institute for Animal Health are able to screen for potential therapeutics. For more than two decades, Schang has identified and characterized small molecules with broad spectrum antiviral properties. When COVID-19 struck, Schang was poised to direct these efforts at the deadly virus, and did just that.
With the expertise of team members Dr. Rodrigo Dos Santos, who has ample experience with emerging viruses and is trained to work in BSL3 and BSL4 biocontainment, and Dr. Consuelo Correa-Sierra, an M.D./Ph.D. with ample experience in human virology, who is now also trained in BSL3 biocontainment, the group began screening for compounds against COVID-19.
"We're interested in small molecules that inhibit many different viruses to test them against COVID-19," says Schang.
The lab received a grant with collaborators at other universities to test existing and new compounds against COVID-19, some of which were previously shown active against related coronaviruses and are well tolerated in mice. Schang and collaborators first test these antiviral molecules against another coronavirus that produces some seasonal colds. Molecules that have activity against this virus are then tested against COVID-19 in the BSL3 biocontainment lab at the college.
"The identification of molecules active and inactive against this virus provides valuable information in the search for novel antivirals," Schang says. "It may also lead to the identification of a chemical scaffold for antiviral development."
Thus far, the team has found several active antiviral molecules and are progressing in the analyses of their activities.
Targeted investigations
In addition to broad screenings for potential COVID-19 therapies, CVM scientists are also doing targeted studies to test out the most promising drugs.
Dr. Richard Cerione, Goldwin Smith Professor of Pharmacology and Chemical Biology, specializes in molecular signaling that controls cell growth and development, and typically focuses on how these signals can be leveraged to fight cancer. With the advent of COVID-19, Cerione's team applied their research to see if any of their cancer-fighting enzyme inhibitors might also block COVID-19.
"These enzymes are necessary for the altered metabolism of cancer cells, which the tumor cells critically need much, much more than normal cells," Cerione says. "We have been developing inhibitors that block these enzymes as anti-cancer drugs. It turns out viruses need the same enzymes for their infection, replication and transmission."
Cerione and his lab in the Department of Molecular Medicine at CVM are examining the effectiveness of their current drug candidates, while in parallel, undertaking studies at the Cornell High Energy Synchrotron Source to conduct X-ray crystallography at room temperature, a new method that they hope will reveal structural differences in the enzyme complexes with drugs of different potencies, in a way that has not been possible using standard cryogenic X-ray crystallographic imaging.
"We need better structural pictures for our enzyme-drug complexes so as to design more potent drug candidates in anticipation of the next wave of viral infections," Cerione says. "We are betting that, at room temperature, we will be able to obtain crystal structures that much better distinguish between our drug samples and will help us, and others, do better rational drug design in the future."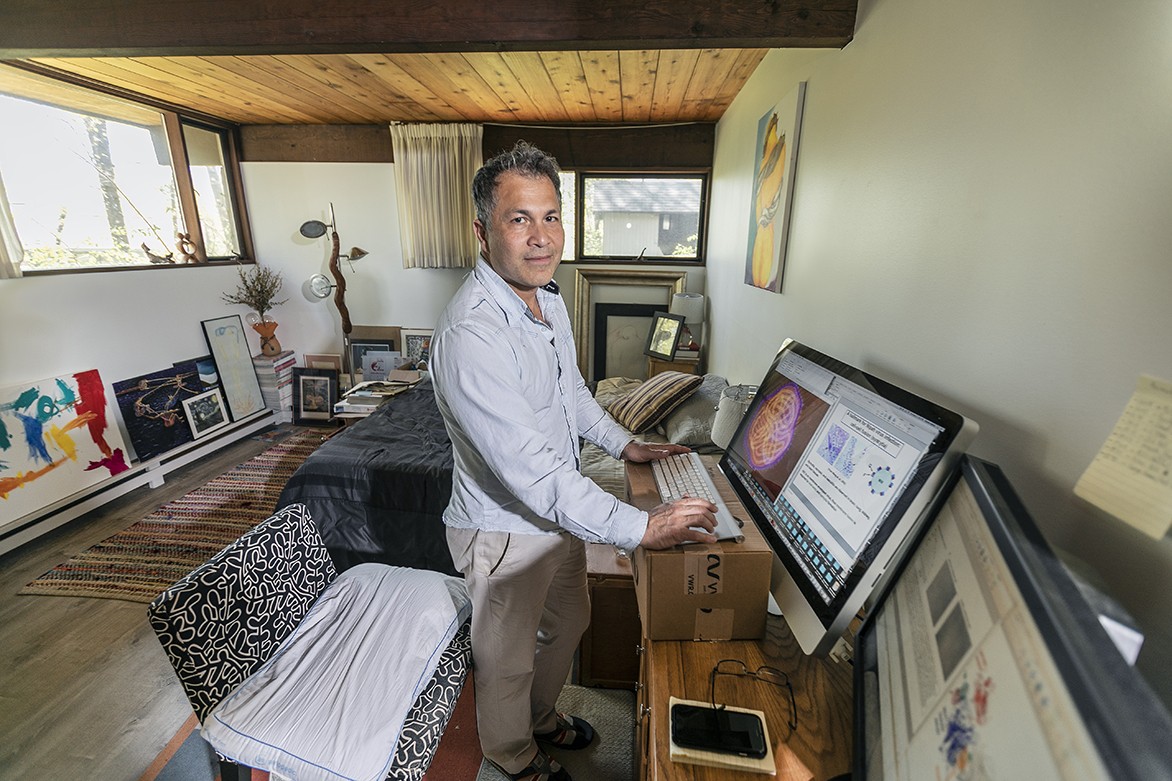 Dr. Hector Aguilar-Carreno, associate professor of microbiology and immunology and expert in enveloped viruses like coronaviruses, is hoping to optimize the use of a molecule that would serve to make an effective vaccine against COVID-19.
His team recently discovered an antiviral known as XM-01, which has shown to inhibit infection of all enveloped viruses they have tested, while ensuring the viral proteins remain intact — a crucial aspect in ensuring robust antibody responses. As an added benefit, XM-01 also boosts the immune response in the host.
"Our laboratory recently developed a novel, rapid and safe method to fully inactivate enveloped viruses [like coronavirus] while ensuring multiple viral antigens stay intact," says Aguilar-Carreno. "This enables us to generate neutralizing antibodies that increase protection upon vaccination. We will use this compound to develop a COVID-19 vaccine."
The team is also creating coronavirus-like particles that express multiple SARS-CoV2 proteins but lack the genetic material to actually be infectious. This too may serve as a potential vaccine, as it may mount an immune response in the host that is protective against the real virus. They next plan to see if these vaccines are protective in animals.
Over at the AHDC, the Diel lab is also working on specific therapeutics. In collaboration with Wagner's lab as well as with Dr. Theodore Clark, professor of parasitology and immunology, Diel is exploring the development of neutralizing antibodies which would be able to block infection of the virus. Harnessing his understanding of animal virology, Diel plans to examine how COVID-19 behaves in cats and ferrets — the two species known to be susceptible to the disease in ways similar to humans — and use them as animal models for vaccine trials and therapeutic screenings.
Public health pursuits
For many faculty in the Master of Public Health (M.P.H.) Program, academic efforts shifted from broad public health research and outreach to a laser focus on COVID-19 and how Cornell, Ithaca and wider regions should prevent and manage the disease and its impacts.
Using public health communication theory, the group quickly developed a variety of communication materials, including posters and social media graphics, to distribute across the campus, the county and nationally. "We focused on using plain language and engaging images that shared the best information possible around prevention and risk reduction," says Gen Meredith, associate director of the M.P.H. program.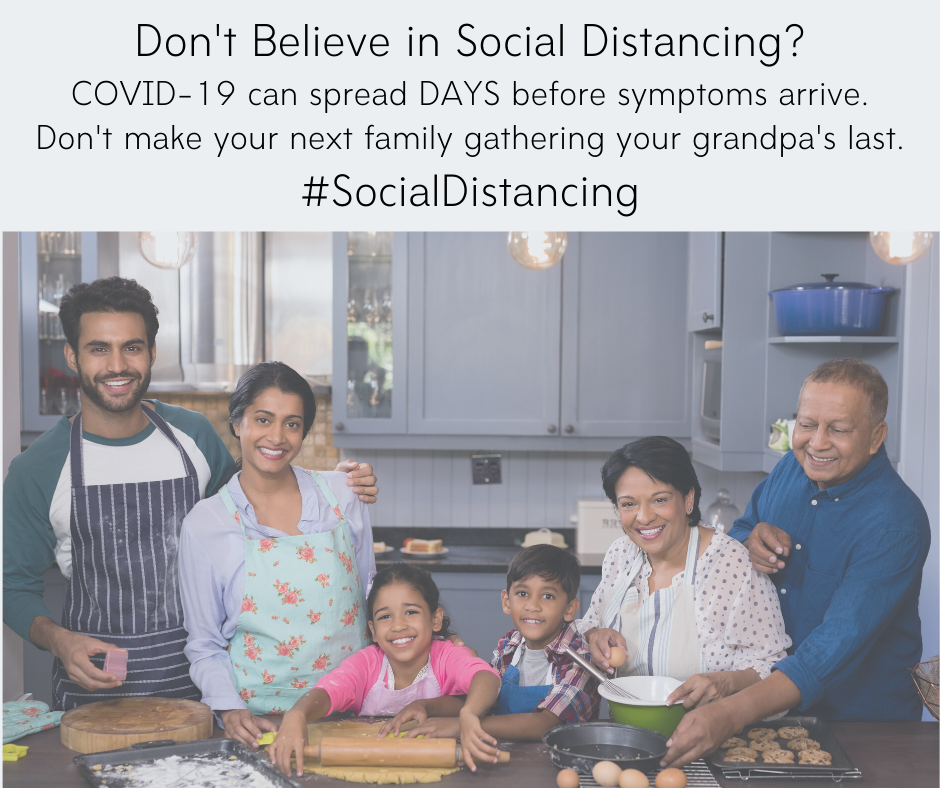 Kevin Cummings, D.V.M. '96, Ph.D. '10, associate professor in the M.P.H. program and expert in infectious disease epidemiology, has been involved in public health efforts at both the college and university levels. Before the pandemic, his research primarily focused on zoonotic gastrointestinal diseases and antimicrobial resistance. "I'm now dedicating much of my efforts to COVID-19 surveillance and research planning in addition to my other work," he says. With input from other M.P.H. faculty members, Cummings developed a document of suggested best practices for broad-based data collection and integration to ensure a safe and healthy campus environment. This includes SARS-CoV-2 surveillance for asymptomatic shedding, daily clinical sign and risk monitoring, behavioral surveillance to assess compliance with guidelines related to COVID-19 and a case-control study to investigate risk factors for SARS-CoV-2 infection.
The case-control study will compare people on campus who are confirmed positive for SARS-CoV-2 with a demographically similar control group that is negative for SARS-CoV-2 to better understand the factors that are driving transmission on campus.
Lara Parrilla '99, lecturer and community and academic partnership manager with the program, was primed to jump into local public health efforts around the pandemic. Given her role in connecting students and faculty with public health and population health projects, primarily in Upstate New York, Parrilla has spent the past several months facilitating research partnerships between faculty from CVM and Cayuga Health System's laboratory services to develop improved assays to detect and identify SARS-CoV-2 and assess human immune responses to infection directly in clinical samples.
Other faculty, staff and students jumped into community work by helping other organizations support COVID-19 testing access, post-COVID-19 testing self-quarantine, and food access and food security throughout the community, including helping school children have access to the school food program despite the shutdown.
Additionally, as Cornell University reopens campus, Parrilla and her M.P.H. colleagues are helping to design and implement public health surveillance systems as part of the university's reactivation plans, which will also provide M.P.H. students with additional applied learning experiences. "The public health surveillance efforts that are underway will inform further planning, implementation and evaluation of public health interventions on campus and within Tompkins County and surrounding regions," says Parrilla. 
Dr. Isaac Weisfuse, adjunct professor in the program, former New York City deputy health commissioner and expert in public health emergency preparedness and infectious disease epidemiology, has advised and served on both university and broader committees focused on re-opening campuses. He is also a consultant to the New York Office of the World Health Organization and has done many press interviews on COVID-19. "The outbreak has put more of an emphasis on pandemic preparedness and response," says Weisfuse. "I suspect that with the reopening I will be busy helping Cornell monitor case rates both in the Cornell community and surrounding Tompkins County."
Weisfuse is also charged with supporting a data dashboard for the university that would regularly pull county data to inform an early warning system for the campus and inform any precautionary actions.
Research reactivation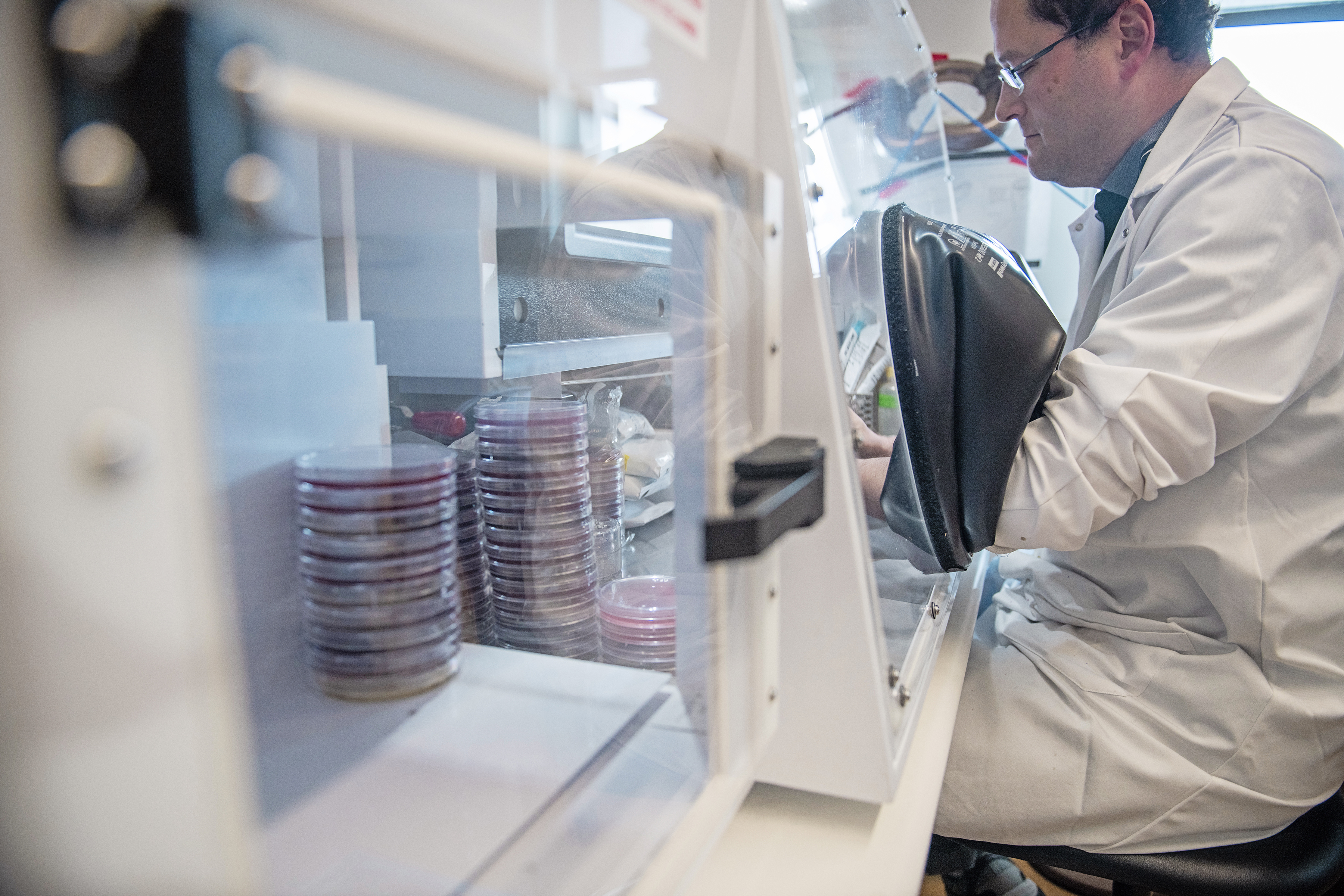 For three months, the COVID-19 working group scientists worked while other colleagues stayed home, writing grants, checking in on Zoom and waiting for some word from Albany that their work could begin again.
On June 12, the word came. Governor Andrew Cuomo announced that the Southern Tier and Finger Lakes regions of New York could move into Phase 3 of reopening — sparking Cornell's staged approach to reactivating certain approved research on campus. However, the university noted that all Cornellians should work remotely unless approved to return by their dean, department chair or supervisor.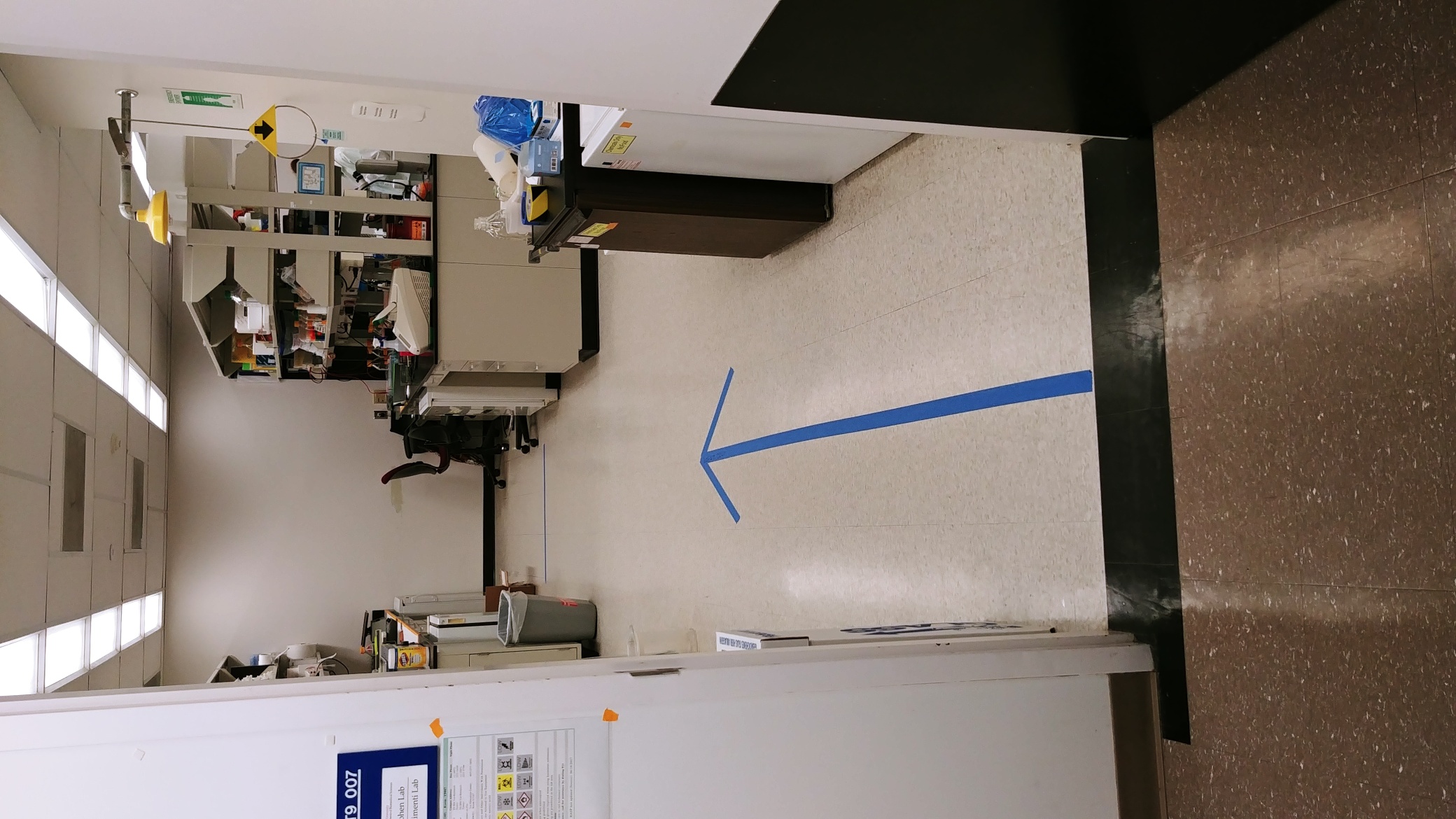 CVM enacted a research reactivation sub-committee comprising faculty, graduate students and staff from across different research departments at the college. The group was tasked with determining a process for approving labs to get back up and running. This involved each research group adhering to and planning for the allowed maximum number of people in a research space, how to schedule the use of shared tools and to follow health guidelines.
Before labs were allowed to reactivate, CVM facilities staff had to ensure that all research spaces and laboratories are cleared for reopening and lab PIs, with the help of Jennette, had to ensure that all their members have sufficient protective equipment.
Not only did individual labs have to devise their own plan, entire floors that comprise multiple labs also had to develop a plan for how personnel will work and share the research space.
Dr. Craig Altier, professor in the Department of Population Medicine and Diagnostic Sciences, sits on the reactivation committee and had valuable insight, as his department within the AHDC never shut down during the pandemic.
"The diagnostic lab never closed because we were an essential business and had a great deal of work to do," says Altier.
"The most important lesson I learned in this was, we have to engage our staff early in this process," he adds. "People are worried about their health, about the health of their loved ones and about the health of the colleagues they work with. So we need to ask them early in the process, 'What makes you feel comfortable, and what makes you feel safe in our lab?' And we got great feedback that was really the genesis of any plan that we now have, and it ended up giving us a better plan."
The AHDC's plan involved several methods, including reducing "hotspots" where people might congregate — this involved doling out common lab equipment to individual benches rather than keeping equipment in a single place. They also changed traffic flow, turning some hallways into one-way routes, and also gave maximum occupancy limits to all rooms in the building.
"They're all kind of common-sense things that will have to be adapted to individual labs, but they seemed to have worked for us," says Altier. He also emphasized the importance of personal responsibility and monitoring their own signs and symptoms and to not come into work if they don't feel well.
"The most important lesson I learned in this was, we have to engage our staff early in this process. People are worried about their health, about the health of their loved ones and about the health of the colleagues they work with."
Dr. Craig Altier, professor in the Department of Population Medicine and Diagnostic Sciences
Beyond ensuring lab spaces are safe, CVM researchers are working on safeguarding all college spaces. Meredith and Lorin D. Warnick, D.V.M., Ph.D. '94, the Austin O. Hooey Dean of Veterinary Medicine, have devised and piloted the college's travel policy. "It's been really exciting to pull together the best available evidence we have to create policy and guidance that aims to keep our college community, and their personal communities, healthy," says Meredith.
As the research labs and scientists at the college prepare to return to work, everyone will have a new normal to adjust to. But that new normal will hopefully lead to the continuation of key discoveries in foundational and clinical science. As Jennette puts it, "Working together we can keep everyone safe and still enable the amazing discovery and other very, very good things that happen on a daily basis here at the vet college." •