Pancreatic Beta Cell Signaling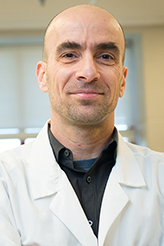 Regulation of pancreatic beta cell signaling and function by lipids in health and disease
Voltage-gated calcium channels (VGCC) regulate exocytosis in cells ranging from pancreatic beta cells to sperm and neurons. Although the precise molecular mechanism is still unclear, membrane lipids including sterols and the ganglioside GM1 are known to influence a variety of normal functions in these cells such as interaction of the sperm and egg, secretion of insulin, and neurotransmission; conversely, they can also contribute significantly to infertility, diabetes and peripheral neuropathy.
Using sperm as a model and a combination of molecular-biology, pharmacology, genetics, and advanced imaging techniques, we showed that removal of membrane sterols spurs a functional interaction between GM1 and CaV2.3, an R-type VGCC. This results in transient influx of calcium that promotes exocytosis in response to a subsequent calcium wave. Mechanistically, we showed that this interaction relies on both the pore forming alpha1E and auxiliary alpha2beta subunits of CaV2.3, and both the lipid and sugar components of GM1.
Moving forward, we have found that sterols and GM1 regulate the activity of CaV2.3, modulating the function of human and murine pancreatic beta cells and whole islets of Langerhans. We are now investigating the precise molecular mechanisms through which these lipids regulate CaV2.3 and how these novel signaling pathways adjust beta cell/islet function in health and disease.