Tribute Listings
Whatever the circumstance ...
the deep and special bond we share with our feline companion makes the pain of death just as deep. When a beloved pet dies, it can be difficult for owners to find solace and meaning. A photo tribute can help provide some consolation and hope for a better future for animal health to those in need of comfort.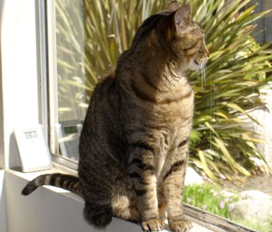 This was Cleopatra, a sweet, strong, amazing cat. She had a rough start in life, but after I adopted her, I gave her the best 18 years I possibly could. She fought cancer and chronic renal failure for 5 inspiring, wonderful years. I miss her every second. I will remember her.
- James H.
Bandit was a wonderful creature - a playful, affectionate, and lovable cat.  Although he was with us for a short time, he left an indelible imprint.  We miss him dearly, but are thankful that he was a part of our lives. 
- The Stewarts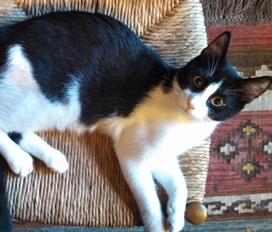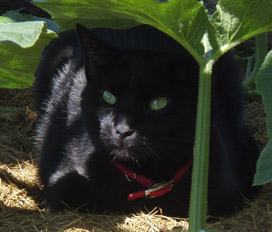 In memory of my sweet little girl Bella. She was my wonderful Christmas gift in 2013, adopted from a local shelter. She unfortunately passed away on December 15, 2014 of feline infectious peritonitis. I'm glad that our family had the chance to love her for the short time she was here. I'm praying that the College of Veterinary Medicine at Cornell University will find a cure for FIPV so nobody else has to go through the heart break of losing a cat or kitten to this horrible disease.
- Becky B.
Sonny was the most loving cat.  He waited for me everyday at the door and always wanted to snuggle.  Although he was only with me 6 years, they were a wonderful 6 years.  Sonny lost his battle with cancer early this year.  His bonded sister and I miss him everyday.  
- Melissa V.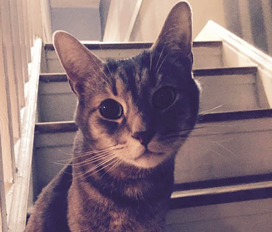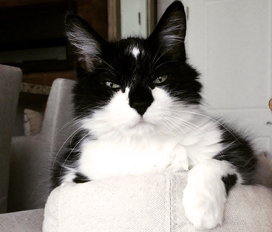 We were lucky to have Browser for 14 years.  He brought us so much joy, and laughter. He was the sweetest cat I've ever known, who loved to purr and hug. He loved to lounge in the sunshine. We will forever miss his cute face and him "talking" to us.  
- Randi & Ross Holland
In memory of our beloved Peeper. She was our sweet, loving companion for over 20 years. We miss her and will remember her always. 
- Nadine and David Kuijt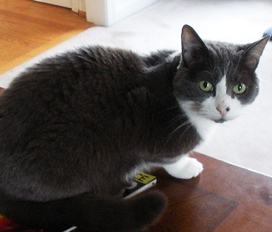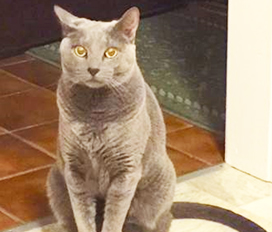 Sasha (male Russian Blue), amazed us when you came into our lives as a sick, abused feral kitten when we adopted you, but you let us work with you, and you became a proud pet therapy cat.  You were smart enough to teach yourself and imitate so many things, and you always sat like a prince.  You were do devoted to us, and saved our lives so many times.  You will be missed and loved forever.
- Karen and Mark D.
Soxy's first days were horrible.   She was thrown away like trash by someone who had no heart.  My son rescued her, fed her, loved her and brought her back to good health.  She spent the next 17 years with me and I shall miss her for as long as I live.  She was my companion and buddy.  She cuddled with me at night.  She stayed by me when I didn't feel well.  She was just the best pet ever
      - Cathy M.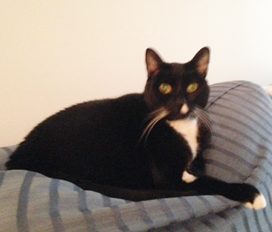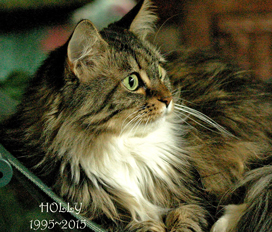 Holly, formally known as Lawhilcoon's Holly Go Lightly, was with me for twenty years and three months. She was small for a Maine Coon. I've never experienced such love from a cat in my entire life. Sorely missed, she can never be replaced.
- John & Muriel Stahl
Gato was our shared best friend growing up. He brought joy to our lives for 20 years and we'll forever treasure our memories with him. Gato was sneaky, handsome, playful, and a natural cuddler who loved both the adventure of the outdoors and the warmth of our family who loved him dearly.
- Alyssa and Robyn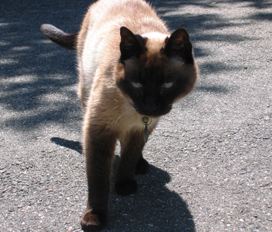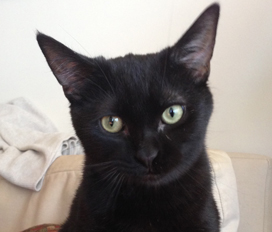 My sister and I fostered Leo, his 8 siblings and their mom since the kittens were 3 weeks old. My sister adopted 2 from the litter and I, 1.  We lost 1 of the kittens to FIP, and Leo has recently been diagnosed with it.  Please find a cure for this devastating disease that has taken so many.
- Melissa Karaviotou
My dear Cheeser was a sweet and mellow soul. For over 15 years, he was my best furry friend…through good times and bad, he was always there for me. I miss his big eyes and soft cuddles every day. <3 
- Amy Fridhi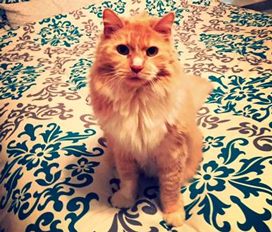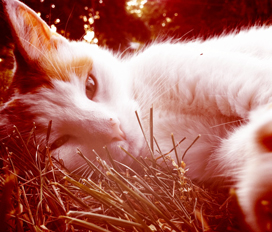 Miss T. I still can't believe she's gone. She battled CRF for years but it was heart failure that finally got her. Everyone tells me the same thing: that she's not suffering anymore; you did all you could; etc. And I know all of that. But I just miss her so much…
- Luke Wenschhof
Jax was only 2 ½ years old when we lost him from HCM, a horrible disease that I hope Cornell can fight and research. Jax was deeply loved and we cherished every minute with him. We will always love you, big boy!
- Joanne Greene-Blose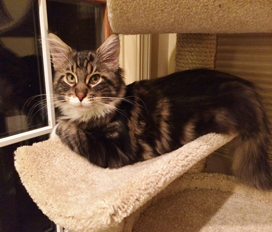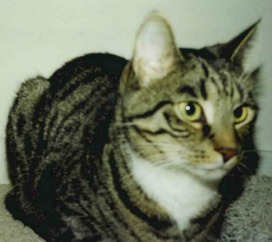 July 2000 - February 2016 "Tim, best black tabby ever!"
- Geraldine Scofield
July 2000 - January 2016 " Ted, best orange tabby ever!"
- Geraldine Scofield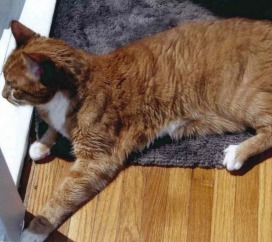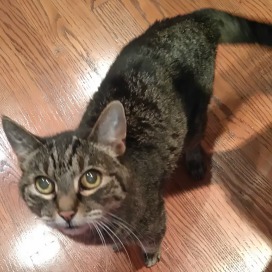 Martini was born in California and raised in New York. She passed away on March 24, 2016. She lived for 22 years. When Martini ran around the big yard in California, she was like a tiger in Africa. When she caught a bird and showed it to our baby in New York, she was like a mother. Thank you, Martini!!
- Romi Munakata
This is our sweet boy Joshua and his brother Elijah (Joshua is the one on the right). We lost Joshy to CRF yesterday and are already missing him terribly. He had a really rough start in life but was the sweetest little cat. We love you Joshy and will miss you forever...
Jen Fowler and Luke Wenschhof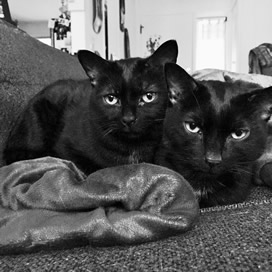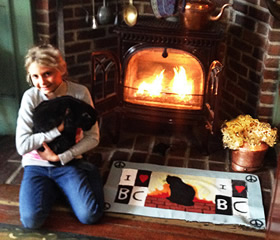 Honoring Tess, the Cat Whisperer, 9 year old granddaughter who painted Birthday Cat in a loving portrait, capturing her memory forever. Adopted by us after being abandoned as a tiny kitten, BC spent 22 happy and adventurous years in our beautiful old Maine home. Forever loved and missed ♥
- Linda and Rick Becker
It's hard to say who rescued whom. I adopted a dirty, skinny little cat in NYC – and my world changed forever. We came to share a life of purrs and naps and toys and games and snacks and endless demands for attention, and I learned love. I miss you Skippy.
- Diane T.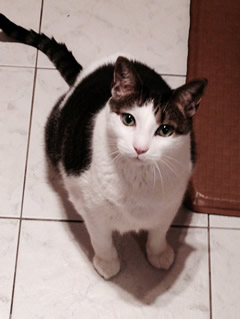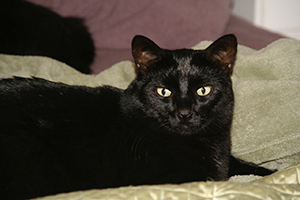 In memory of Wolfie, sweetest boy, dearest friend, best buddy, and most handsome brother.
- Nancy Kruh
Our beloved great and wonderful Joe who passed away on May 8, 2016, who loved all and was loved by all.  A "healing cat" he was, now he is healed himself. He loved climbing ladders and lofty heights, now he has reached his loftiest height and climbed the ladder to heaven. Forever in our hearts, his servants on Earth.
- Steve and Ron M.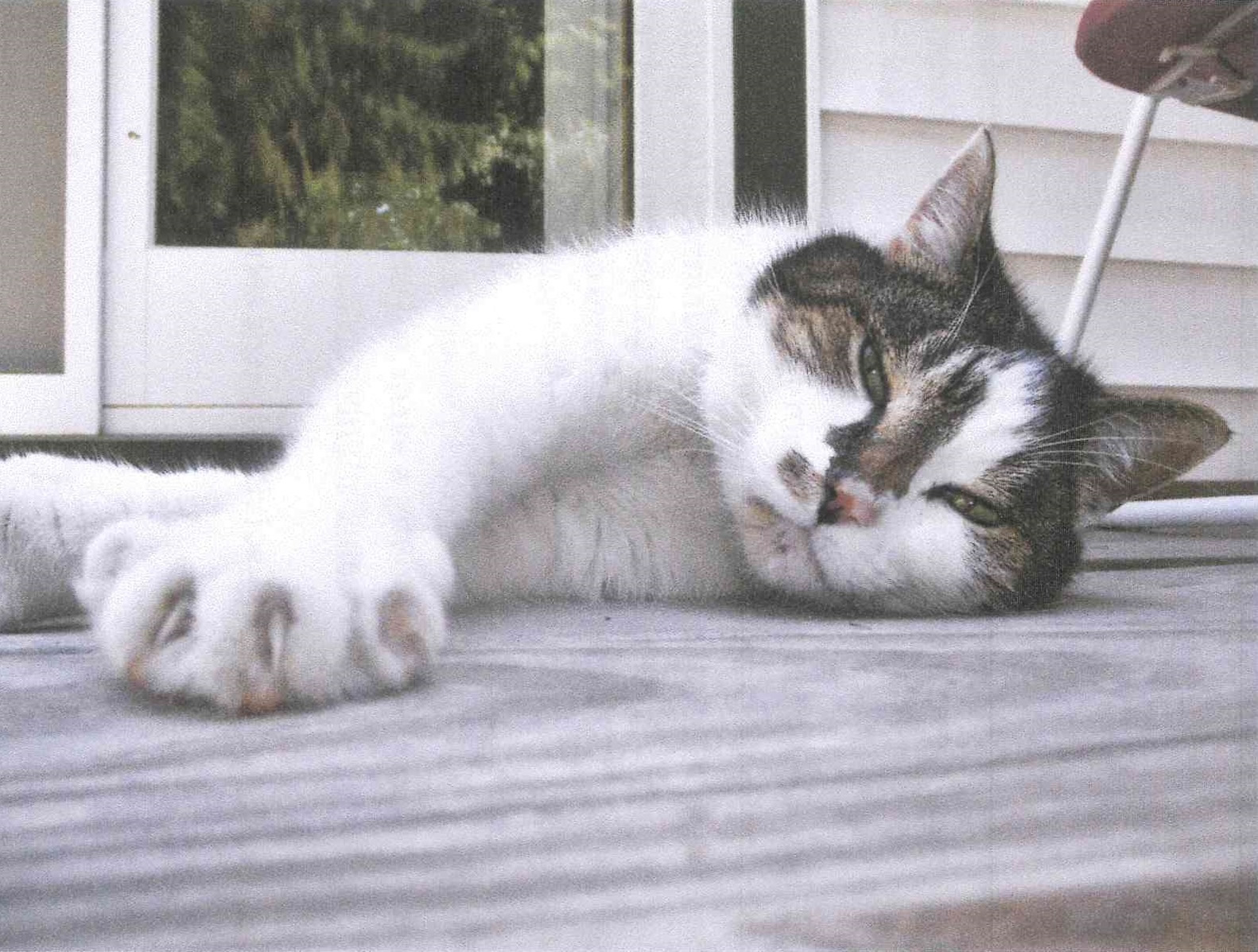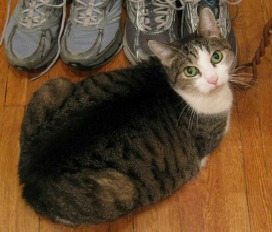 Cecily loved shoes and slippers, Emory boards, burrowing in the duvet, grooming me, and sleeping on the couch.  She was my loving companion, tried and trusted friend, and greatest joy for more than 17 years. I am so grateful to have had her in my life and miss her every day. 
- Charlotte Savidge
During his five years on this earth Ace made a lasting impression on everyone that came into his company.  His vibrant energy, classis beauty and message of love will live among the universe and in our hearts forever.
- Marianne R.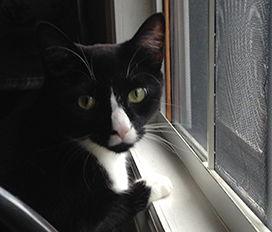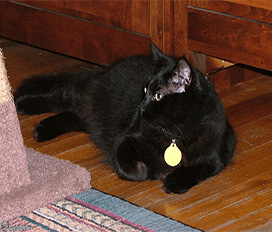 Rigel was a special cat. He would go with me to get the paper. A highlight of his day was the morning treat hunt. We lost him to lymphoma in the spring of 2017 just before his 14th birthday. He was deeply loved and will be eternally missed.
- Craig and Karin Ward
Vyvyan was a street cat that, after inviting himself into our friend's garden apartment in Bed-Stuy fifteen years ago, came to live with us in upstate New York. We were together for so long and through so many changes in our lives…we never imagined what life would be like without him. We miss you Vyvs and will love you forever.
- Jen Fowler and Luke Wenschhof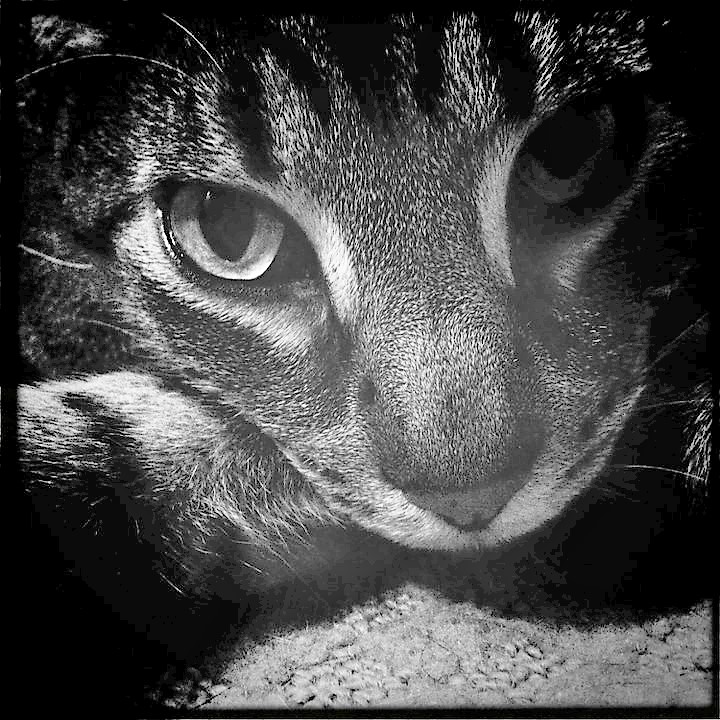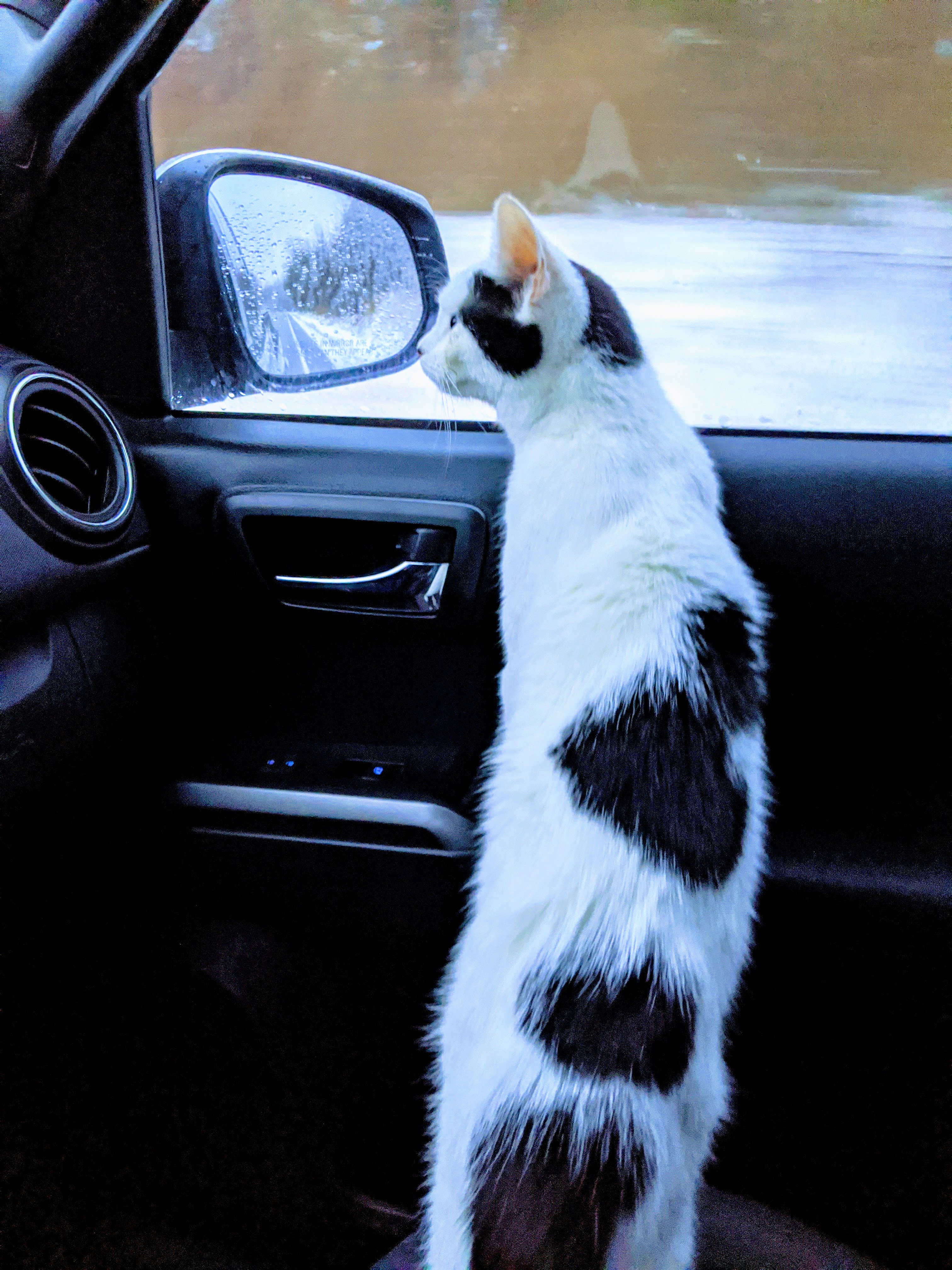 I found Pris in the middle of nowhere, sitting in the middle of the road on a cold, dark night. She struggled with her health from the start and we were only together for 3 1/2 months, but her energy and personality left a lifelong impression. You were a gift Pris. We love you and will miss you forever.

-Luke Wenschhof and Jen Fowler