2016 - 2017 Funded Research Projects
The Cornell Feline Health Center Research Grant Program provides vital financial support to Cornell researchers investigating issues that affect feline health. Projects currently funded by the Cornell Feline Health Center range from studies of feline infectious peritonitis (FIP) to finding the genetic causes of certain inherited diseases.
Scientific research has made feline medicine what it is today, and it's making a healthier, happier tomorrow possible for cats around the world. If you believe in the positive power of our work to make a difference, please consider making a donation to the Cornell Feline Health Center today.
---
Using the immune system to attack cancer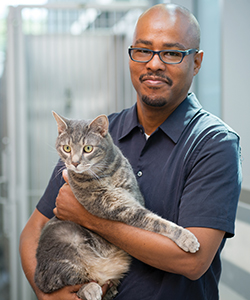 Dr. Avery August is exploring the possibility of modifying the activity of a protein called Tec kinase in the immune cells of cats in an effort to increase their ability to target and destroy a variety of feline cancers.
Grant title: Targeting tec Kinase to enhance anti-tumor activity of feline CD8+ cells.
Investigators: Avery August, Ph.D.
---
Searching for the causes of a common tumor

In this study, Dr. Angela McCleary-Wheeler will investigate the role of a series of intracellular proteins, part of a metabolic pathway called the Hedgehog pathway, in feline oral squamous cell carcinoma, the most common oral tumor in cats.
Grant title: The role of hedgehog signaling in feline oral squamous cell carcinoma.
Investigators: Angela L. McCleary-Wheeler, DVM, Ph.D., DACVIM, with co-investigator Jeanine Peters-Kennedy, DVM, DACVP            
---
Mapping the feline brain

This study is focused on using this advanced imaging technique to learn about normal feline brain structures, information that can be used to diagnose structural abnormalities in the brains of cats with a variety of diseases.
Grant title: Advanced magnetic resonance imaging in the normal feline brain.
Investigator: Philippa J. Johnson, BVSc, MSc, CertVDI, with co-principle investigator Sofia Cerda-Gonzalez, DVM
---
Seeking ways to diagnose and treat sepsis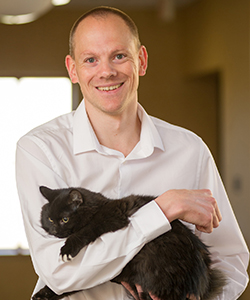 The goal of this study is to identify markers of sepsis, a life-threatening syndrome characterized by generalized inflammation secondary to serious infections in cats. It is hoped that identification of these markers will improve our ability to diagnose and treat this devastating condition in cats.
Grant title: Analyzing feline sepsis: why are cats not small dogs?
Investigators: Robert Goggs, BVSc, Ph.D. with co-investigators Marjorie Brooks,DVM, Dan Fletcher, DVM, Ph.D., Bruce Kornreich, DVM, Ph.D., and Jo-Annie Letendre, DVM
---
Exploring a possible genetic risk for diabetes

This research team is using advanced molecular biological techniques to investigate the role of genetics in the development of a variety of feline blood cells and in the risk for the development of diabetes mellitus, a common endocrine disease in cats.
Grant title: Discovery of loci affecting blood phenotypes and diabetes risk in the domestic cats.
Investigators: Adam Boyko, Ph.D. with co-investigator Tracy Stokol, BVSc, Ph.D.