Current & Former Fellows
Dr. Daniel Sakai (2016 - present)
Faculty Mentor - Dr. Manuel Martin-Flores
Research project: Measurement of laryngeal abduction during supramaximal stimulation with carbon dioxide in dogs with reversible induced laryngeal paralysis.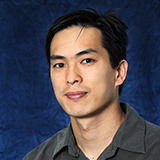 I graduated from the University of Sao Paulo in 2006 and completed a residency in veterinary anesthesia at the Sao Paulo State University in 2009. After a couple of years in private practice in Brazil, I matched with Cornell's anesthesia residency program. Upon completion of the residency program, I accepted an instructor position at Cornell University. Recently, I passed the American College of Veterinary Anesthesia and Analgesia boards becoming a diplomate of this college.
I decided to take a step further and applied for the Cornell Clinical Fellow program.  This training is an excellent opportunity to prepare me for a research career. Dr. Martin-Flores and I are developing several interrelated studies that aim to diagnose early stage of canine laryngeal paralysis. This disease has a high prevalence in large-breed dogs and it can present severe symptoms, like as cyanosis, hyperthermia, and even death. Unfortunately, it is just possible to diagnose the disease when irreversible muscle atrophy occurs. Our aim is to allow a prompt diagnosis before the severe symptoms occurs. This diagnostic tool will be useful for the development of new therapies that prevents the irreversible muscle injury.
---
Former Cornell Clinical Fellows
Fellow
Years in Program
Faculty Mentor
Title of Research Project
Current Position
Dr. Jimmy Tran
2015-2017
Dr. Kristy Richards
Evaluation of the tumor microenvironment in canine non-Hodgkin lymphoma and the Programmed cell death 1 (PD-1) immune checkpoint pathway
Dr. Matthias Wieland
2015-2017
Dr. Daryl Nydam & Dr. Charles Guard
Influence of Machine Milking Induced Teat Tissue Changes on Intramammary Infection in Dairy Cows
Extension Associate, Population Medicine and Diagnostic Sciences, Cornell University
Dr. Joy Tomlinson
2014-2016
Dr. Jon Cheetham
The effect of macrophage activation phenotype on the regeneration of peripheral nerves
Research Associate, Van de Walle Lab, Cornell University
Dr. April Blong
2014-2016
Dr. Robert Weiss
Hus1 deficiency and its effects on p53 levels and insulin resistance in mice
Assistant Professor, Iowa State University
Dr. Luciano Caixeta
2011-2013
Dr. Daryl Nydam
Define the roll of FGF-21, a hormone-like protein, produce in the liver that take action of lipid mobilization, mechanism very important on the attempt to regulate the metabolism on the peri-parturient period
PhD Candidate, Animal Science, Cornell University
Dr. Nedra Holmes
2012-2013
Dr. Robert Weiss
Determine the requirement for Sirt5 during malignant transformation in vivo using a mouse model of cancer
Staff Veterinarian at Dove Lewis Emergency Animal Hospital
Dr. Jodie Gerdin
2012-2013
Dr. John Parker
Investigations into the mechanisms of feline calicivirus infection of epithelial cells
Adjunct Professor, University of Florida
Veterinary Forensic Pathology
Dr. Erin Daugherity
2010-2012
Dr. Robert Weiss
Analyzing the roles of hepatic lipid accumulation and sex steroids in hepatocarcinogenesis using liver-specific p53 conditional knockout mice
Clinical Veterinarian, Cornell University Animal Hospital, with continued work in the Weiss Lab.
Dr. Sarah Pownder
2010-2012
Dr. Lisa Fortier
Quantitative MRI for evaluation of meniscal repair in the sheep
Hospital for Special Surgery in New York, NY. Research Division, Instructor on the Research Track in the MRI Laboratory. Also works part-time at Cornell University Veterinary Specialists in Stamford, CT as staff radiologist.
Dr. Sarah Helmond
2009-2011
Dr. Margory Brooks
Do inflammatory mediators include platelets and monocytes to become procoagulant?
Practice, Colorado
Dr. Alexandra Burton
2008-2010
Dr. Daryl Nydam
Molecular epidemiology of the zoonotic transmission of cryptospordium species from foals, calves, and crias
University of Georgia, PhD Degree Program
Dr. Kelly Hume
2008-2010
Dr. Robert Weiss
In vivo investigation of DNA damage responses in mice when Hus 1 expression is reduced
Cornell University, Assistant Professor, Section of Oncology, Department of Clinical Sciences
Dr. Sophy Jesty
2008-2010
Dr. Michael Kotlikoff
To determine the effects of ranolazine on fibrillatory parameters (rotor number, dominant frequency) of AF in intact equine atrial tissue using optical mapping
University of Tennessee, Associate Professor,  Department of Small Animal Clinical Sciences
Share this: