Essential skills and abilities
Cornell College of Veterinary Medicine - DVM Degree
Introduction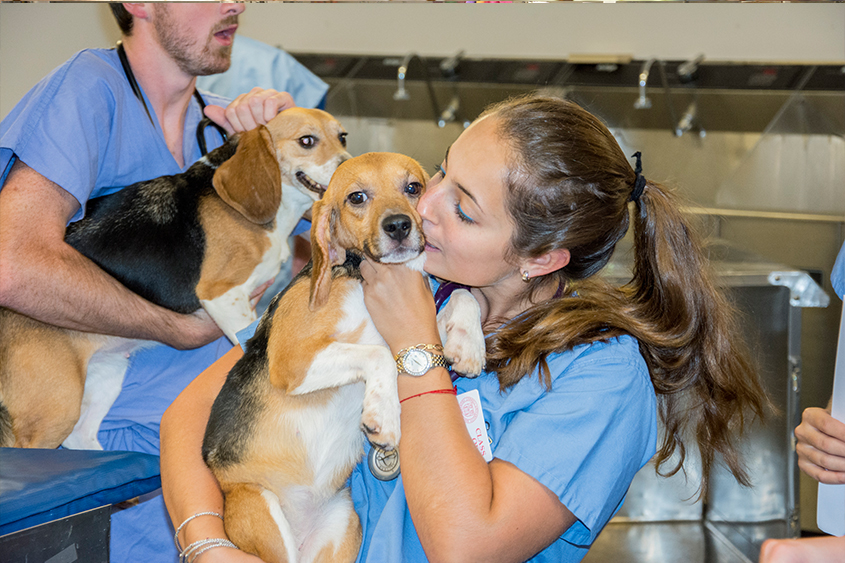 The Doctor of Veterinary Medicine degree (or DVM) signifies that the holder is a veterinarian prepared for entry into the practice of veterinary medicine with or without further postgraduate study. All Cornell veterinary students must acquire broad scientific knowledge and technical skills necessary for them to function independently in a wide array of clinical, research, and other situations. Candidates for the DVM degree must demonstrate the requisite skills and abilities to satisfy both the overall and course-specific requirements of the curriculum. Moreover, students must be able to function safely and effectively in multiple environments such as classrooms, laboratories, examinations, large and small animal clinics, and a variety of animal environments.  Exposure to chemicals (e.g., medications, disinfectants, anesthetics, tissue fixatives) and pathogens are unavoidable during veterinary school and beyond.
Veterinarians are governed by a code of ethics and professional behavior that forms a social contract between the profession and society. The DVM degree is conferred only after the student has achieved satisfactory mastery of the necessary scientific and clinical knowledge as well as technical skills, while also demonstrating the professionalism, attitudes, and behaviors that are consistent with the professional degree of veterinarian. Throughout the curriculum, students must demonstrate a high level of compassion for all animals and people, excellent interpersonal and communication skills, the highest moral and ethical standards, and a motivation to serve, and they are expected to interact effectively with people of all ethnic, social, cultural, and religious backgrounds.

Essential Requirements
The following information will familiarize applicants and students with the abilities, skills, and attitudes expected to meet the requirements of the curriculum and the profession. The avowed intention of an individual student to practice only a narrow part of clinical medicine, or to pursue a non-clinical career, does not alter the requirement that all veterinary students take and achieve competence in the curriculum required by faculty.
The College of Veterinary Medicine at Cornell University has an ethical responsibility for the safety of patients and clients with whom students and veterinarians interact and interrelate. Patient and client safety and well-being are therefore essential factors in establishing requirements involving the physical, cognitive, and emotional abilities of candidates for admission, promotion, and graduation. Candidates for the DVM degree must be able to elicit and receive a variety of inputs from their environment, including tactile, visual, and auditory stimuli, then process these inputs based on their knowledge and experience, and finally make appropriate responses that include both verbal communications and a variety of physical actions.  A candidate for the DVM degree must demonstrate abilities and skills in five areas: observation, communication, motor, intellectual (conceptual, integrative and quantitative), behavioral, and social.