Transfer Students
Cornell will consider transfer applications for the DVM program on an individual basis, if an opening exists in the second-year class. 
Transfer Applications are now being accepted for the Fall of 2023 (DVM Class of 2026).  The Deadline for the Fall entrance is June 1st and Spring entrance is October 1st.
Requirements
Completion of at least two full semesters of the curriculum at another AVMA-accredited college
A letter from their dean or associate dean certifying that the student is in good academic standing, has not been on academic probation, and has not been subject to any disciplinary action or dismissal for any reason.
Proof of meeting all the pre-veterinary requirements for first-year entry at Cornell University's College of Veterinary Medicine, including undergraduate prerequisite coursework, and required animal and veterinary experience.
Official transcripts from all undergraduate (and graduate if applicable) colleges attended
Transcripts sent from their College of Veterinary Medicine along with course syllabi
Demonstrate excellent academic performance throughout their enrollment in the veterinary college from which they are transferring
Explanation of any interruptions in academic progress during their veterinary education, or gaps of time greater than 6 months prior to the desired date of admission.
3 Letters of Evaluation (with at least 1 of the 3 from a veterinarian and 1 academic).
Review and Placement Process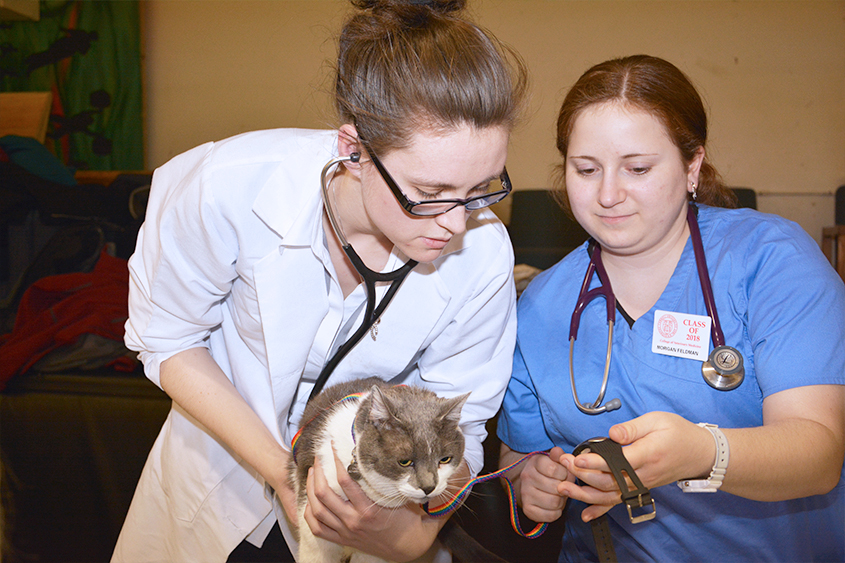 Curricula and courses do not align perfectly across veterinary colleges. It is important that the curricula of the two schools are sufficiently similar to allow students to enter without deficiencies in their academic background. Thus, the Admissions Committee uses the Cornell DVM syllabus as a guide to assess an applicant's academic preparation and to determine the best point of entry.
The two points of entry for a transfer student are Fall semester of second year (application deadline June 1st) and Spring semester of second year (October 1st). The prerequisite courses for these entry points are listed below:
Prerequisite Courses for entry into Semester Three (beginning of Year 2)
Additional Prerequisite Courses for entry into Semester Four (mid-way through Year 2)

Gross, Histologic and Developmental Anatomy

Immunology

Physiology, including Cell Biology

Microbiology

Neuroanatomy

Parasitology

Physical Examination/Foundations of Clinical Skills

Bacteriology

Molecular Genetics

Epidemiology

Ethics and Communication Skills (or the equivalent)

General Pharmacology