Farrier Program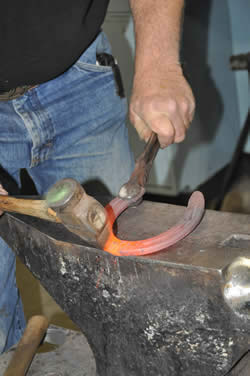 The College of Veterinary Medicine is proud to offer two options in the Farrier Program: the General Farrier Short Program and the Advanced Farrier Program. Three program sessions are offered each year, typically starting the first week of January, the last week of April and the last week of August (dates may vary based on scheduling logistics). Upcoming session dates are:
Spring 2024 - January 2, 2024, through April 19, 2024 (session is full)
Summer 2024 - April 29, 2024, through August 16, 2024
Fall 2024 - August 26, 2024, through December 13, 2024
The program is housed in the Equine Hospital of the Cornell University Hospital for Animals. Participants will experience daily interaction with veterinarians and the resident Farrier Program working on in-patient lameness cases. Horses are also referred directly to the Farrier Shop from outside veterinarians for the application of special shoes. Both programs are taught by Cornell's resident Head Farrier, Steve Kraus. The program also provides an excellent instructor-student ratio of 1:4, allowing for close individual instruction.
Back in the days when everyone needed a horse, Cornell's first Farrier Program, Henry Asmus, was a high-ranking member of the faculty. The State of New York built an entire building for his program, which was started in 1913 and soon recognized as a premier training course. The building still stands on Garden Avenue, the leftmost of the three brick buildings lined up to the right of Barton Hall, and is now occupied by the School of Industrial and Labor Relations.