Equine Seminar Series
Cornell's Equine Hospital, the New York State 4-H Horse Program and Cornell Cooperative Extension are proud to host the Equine Seminar Series. Held on the second Tuesday of every month, equine experts will present on important equine health and management topics. The seminars are free to attend and open to the public. The location is 146 Morrison Hall on Cornell's campus unless noted otherwise. We hope you will join us and other equine enthusiasts for this exciting learning opportunity!
Contact: Sarah Bassman srb238@cornell.edu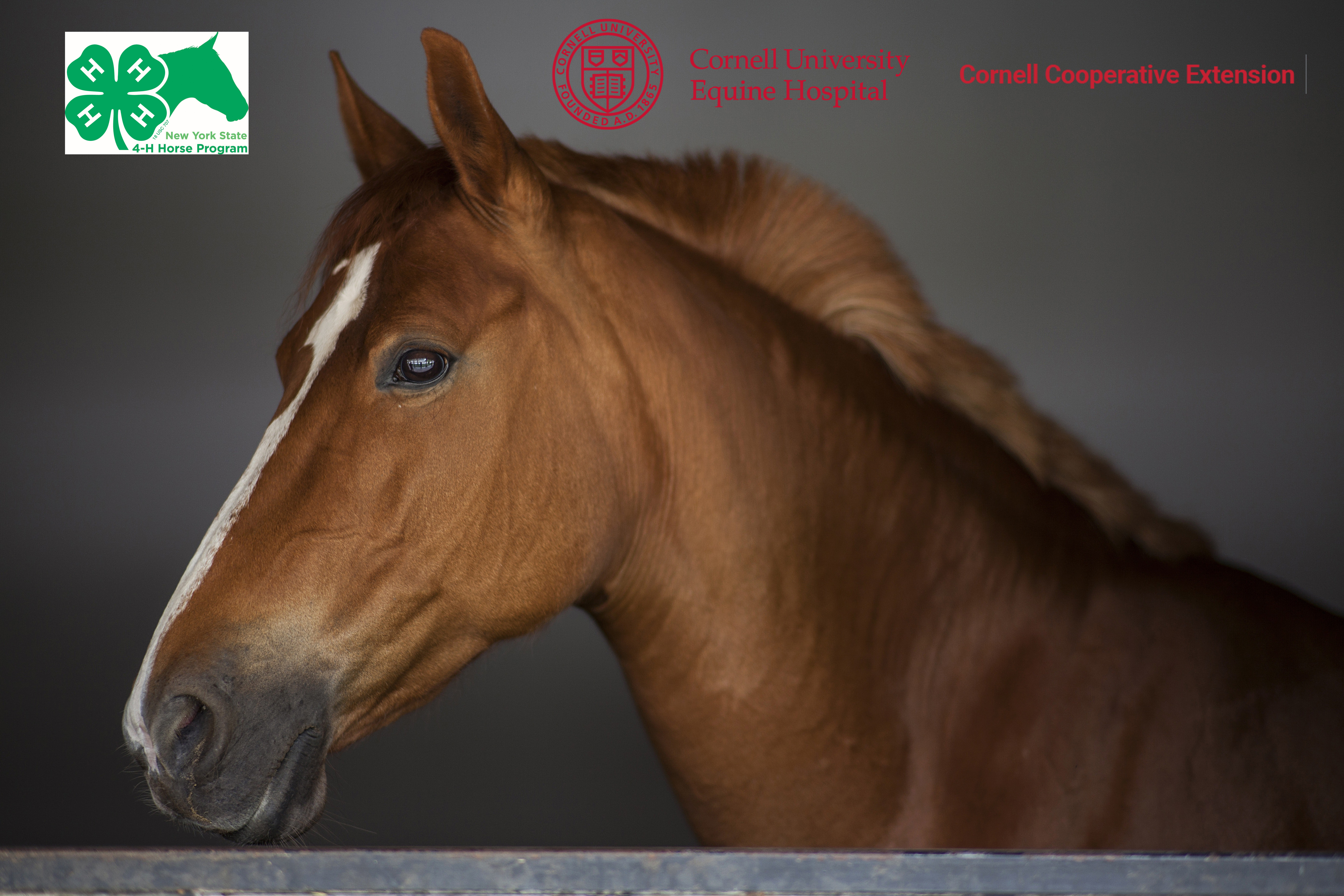 Equine Seminars
Equine Hospital Interactive Tour


RESCHEDULED TO February 19, 2019 7:00 pm


Registration is closed. The event is full. 
The hospital welcomes guests for an in-depth tour. Stations include the Intensive Care Unit, Dentistry, Radiology, Lameness, Endoscopy, and more!!!
*Location:
Cornell University Equine Hospital
930 Campus Rd.
Ithaca NY 14853
---
It's that time of year again: 3-way, 4-way, which way to go with vaccines for my horse
March 12, 2019 7:00 pm
---
Equine parasites- the myths and the facts
April 9, 2019 7:00 pm
Presented by Dr. Linda Mittel of the Department of Population Medicine and Diagnostic Sciences
---
Equine behavior 101: What do our horses whisper to us?
May 14, 2019 7:00 pm
Presented by Drs. Katherine Houpt and Kate Anderson of the Behavior Service at Cornell
---
Equine first aid: How to be prepared
June 11, 2019
Presented by Dr. Rolfe Radcliffe, Large Animal Surgery and Emergency Critical Care Specialist
---
Breeding your mare - things to consider
July 9, 2019
Presented by Dr. Mariana Diel de Amorim, Reproductive Medicine Specialist
---
Equine cognition: How do horses experience the world?
August 13, 2019
Presented by Dr. Lindsay Goodale, Lecturer in Equine Biology, Department of Animal Science and Cornell Coopertive Extension, Horse Extension Specialist
---
Equine Dermatology
September 10, 2019
Presented by Dr. Julia Miller, Dermatology Resident
---
TBD
October 8, 2019
---
Lameness
November 12, 2019
Presented by Dr. Lisa Fortier, Professor of Equine Surgery
---
Colic
December 10, 2019
Presented by Dr. Allison Miller, Biomedical Sciences Lecturer
Share this: