Equine Seminar Series
Cornell's Equine Hospital, the New York State 4-H Horse Program and Cornell Cooperative Extension are proud to host the Equine Seminar Series. Monthly talks presented equine experts on important equine health and management topics. The seminars are free to attend and open to the public. We hope you will join us and other equine enthusiasts for this exciting learning opportunity!
Due to the COVID-19 restrictions, the seminar series will be held ONLINE only until further notice.
When you sign up for our mailing list, you'll receive every seminar invite and in addition, a bonus email containing the seminar recording and extra resources hand picked by our experts.
Contact: Sarah Bassman srb238@cornell.edu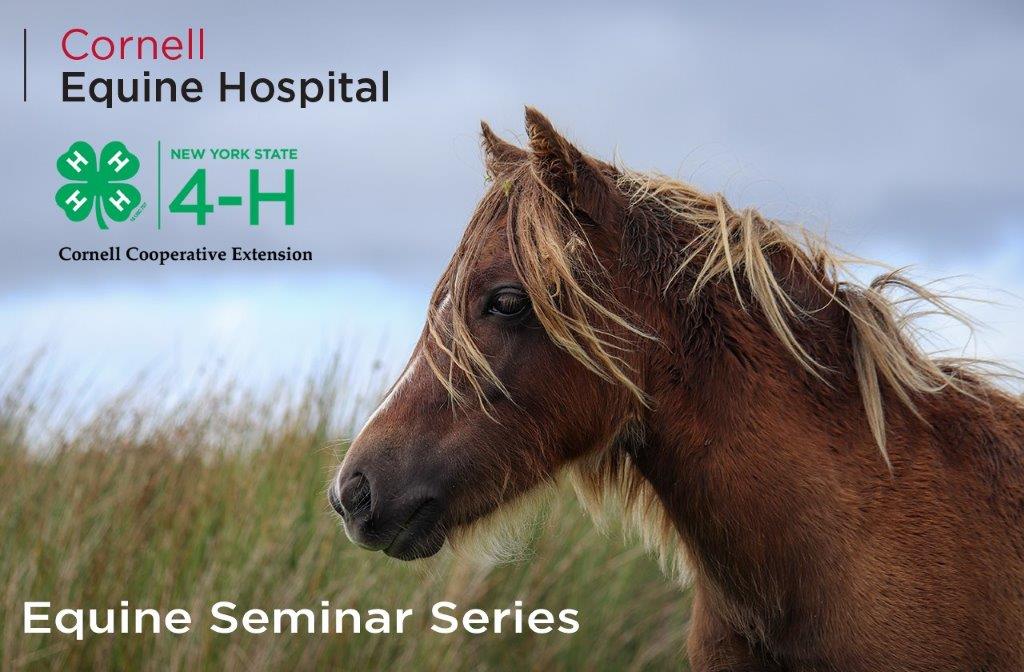 Equine Seminar Series Spring 2021
Welcome to a new season of Cornell's Equine Seminar Series! Our audience has steadily been growing as the news spread about the quality of our content. In the fall we had equine enthusiasts from all over the world tuning in! Thank you for your support!
What's new? To accommodate a larger audience registration is required.
The perks?
Submit questions and feed back in advance.
Use the social media links on the registration page to invite others to join.
You will receive a follow-up communication with additional resources provided by the speaker and seminar recording.
Zoom Tips
Please be sure to download or update the Zoom app before the meeting begins.
---
May 18, 2021 @ 6 P.M.
Equine wellness: An ounce of prevention is worth a pound of cure
Presented by Toby Pinn-Woodcock, DVM, Equine Internal Medicine Specialist and Extension Associate with the Department of Population Medicine and Diagnostic Sciences
Dr. Toby Pinn-Woodcock is a Diagnostic Intelligence Officer on the Veterinary Support Services team at the Cornell Animal Health Diagnostic Center (AHDC) and is a member of the Large Animal Internal Medicine Service in the Cornell Equine and Nemo Farm Animal Hospital (ENFAH). Dr. Pinn-Woodcock received her DVM degree from the University of Wisconsin, School of Veterinary Medicine in 2008, after which she completed an equine internship in Vermont and then residency in large animal internal medicine at Cornell University, College of Veterinary Medicine (CVM). Following her residency, Dr. Pinn-Woodcock spent 4 years in strictly equine ambulatory and referral practice, after which she spent 2 years treating all creatures great and small in a mixed practice located in the Finger Lakes region of New York. She returned to Cornell in 2018 in her current role at AHDC and CVM. Her areas of interest and research include large animal infectious disease and equine endocrinology.

---
June 15, 2021 @ 6 P.M.
5 Tips for Keeping Your Horse Sound
Presented by Michelle Delco, DVM, PhD, Dipl. ACVS, Assistant Research Professor, Department of Clinical Sciences, Equine Surgery Specialist