Cornell Vet CARES Community Cat Spay/Neuter Clinic 2023
**The program was established in late 2018 when retired Cornell professor Dr. Hollis Erb provided Maddie's® Shelter Medicine Program (MSMP) at Cornell with funding to serve cats. 2023 clinic dates will open in March, thanks to funding through the Cornell Feline Health Center. 
Cornell Vet CARES Community Cat Clinics are only open to clients with a Cornell Net ID (Cornell employees and students) and provided for intact community cats -- which includes primarily outdoor, free-roaming and feral cats -- as a means of reducing cat overpopulation.
*Definition of Intact=un-spayed and un-neutered
Clinics are limited to 25 cats per clinic. All cats must come in carriers or traps that are labeled with both pet and client information. Registration will open about a week prior to each clinic date. 
Please Note: Clinic spaces fill up fast! Usually in under 1 hour, so we recommend monitoring our Facebook page (@CUMSMP) for alerts/notifications, as we will post the registration link, as soon as it goes live. We understand the need for these services is high and plan to offer clinics more often, when funding and staffing allow.  
*Click here to read more about services and opportunities provided through the Cornell Vet CARES Community Cat Spay/Neuter Clinic: Cornell Maddie's Shelter Medicine Program helps local cats and community through spay/neuter clinics
---
Who: Healthy/Intact Community Cats, 2 months and older -- which includes primarily outdoor, free-roaming and feral cats of Cornell employees and students. NOTE: Cornell Net ID required to register cats for these clinics.
What: Free spay/neuter and vaccinations for INTACT outdoor/free-roaming and feral cats. Exams and surgeries will be performed by Cornell veterinarians and veterinary students under direct supervision.
Where: The Small Animal Community Practice building on the corner of Caldwell Road and Campus Road.
When: Drop off between 7:45 and 8:15am, pick up about 3:30pm. 
Why: To help prevent unwanted litters of kittens, and because we like you.
How to sign up: Clients with Net ID can register on this webpage. The registration link appears by clinic date when registration opens for that clinic.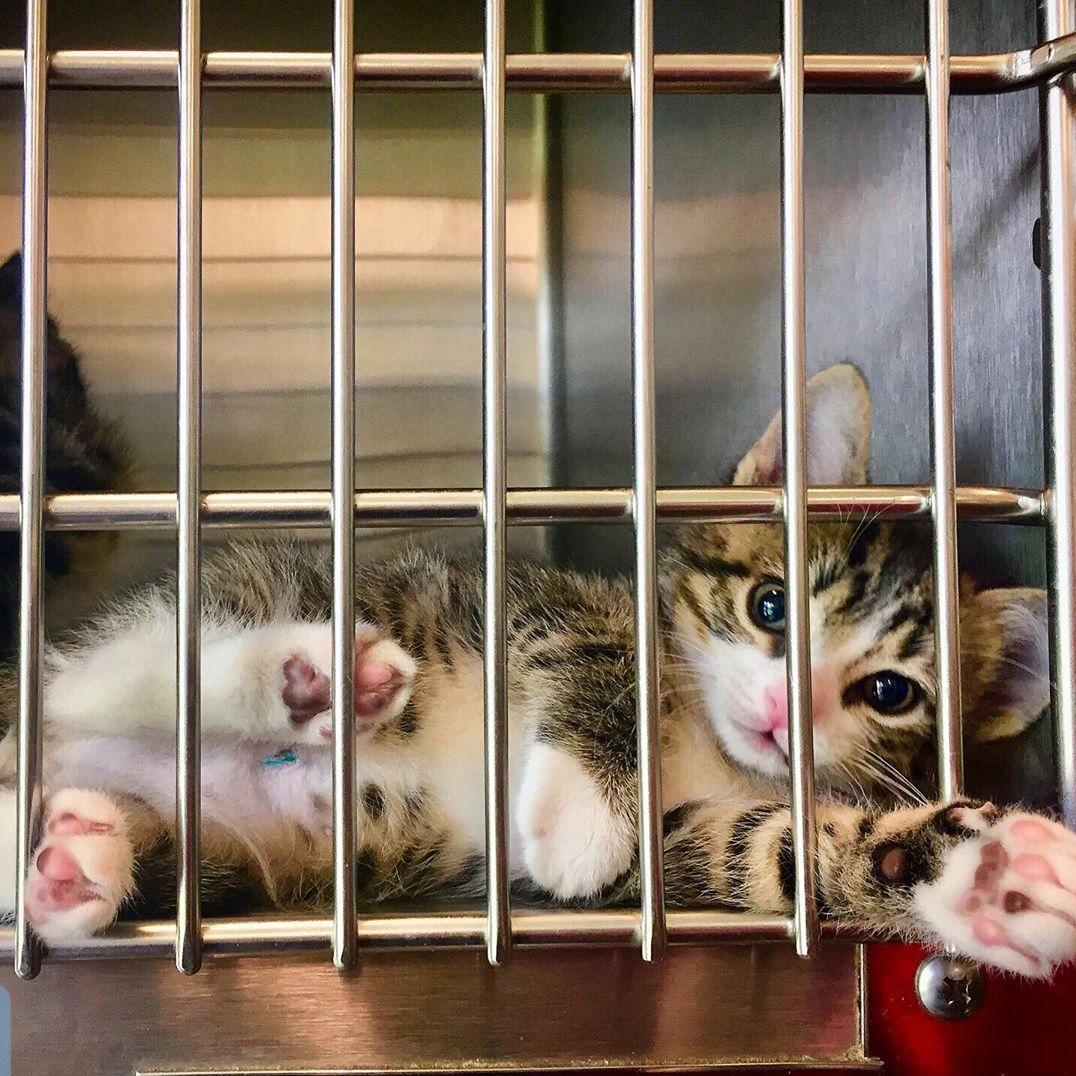 ---
Registration Opens about 8:00-8:15am (time may vary) in the morning and will be posted via our Facebook Page @CUMSMP, as soon as the link goes live.

Clinic Date
2023
Registration Link
Feb. 16 (Thursday)
Mar. 3
This clinic is complete. 
Mar. 27
Apr. 7

This clinic is complete. 

May 1
May 12
This clinic is complete. 
May 22
Jun. 2
This clinic is complete. 
July 5
Jul. 14

This clinic is complete. 

July 24
Aug. 4

This clinic is complete. 

Aug. 21
Sep. 1
This clinic is complete. 
Sept. 25
Oct. 6
Registration is FULL.
Oct. 23
Nov. 3
Link will appear when registration opens.
Cat Clinic FAQS for clients
We have recently updated our clinic protocols to comply with social distancing guidelines and minimize the spread of the COVID-19 virus. 
*Click on a question you would like answered from the list below.
I suspect I may be ill with the virus. Should I still keep my pet's appointment?
If you suspect you may be sick with COVID-19, you should stay at home, minimizing contact with other people, until you are well. Please wait to bring your cat in. 
What can I do to prepare for my appointment?
Along with the initial registration form, in order to bring your cat(s) in for care, you will need to fill out and submit an online survey: (1) Cat Intake Form; Links and more detailed instructions will be sent to you after you register and your appointment is confirmed. 
For cats, please bring a single old towel, newspaper, puppy pee pad or other absorbent bedding in each carrier or cage. 
What should I do when I arrive at the clinic?
Drop-off will take place in the Small Animal Community Practice building vestibule between 7:45am and 8:15am. You will be assigned a drop off time. Please form a line with appropriate 6 foot distance between you and other clients for intake. Clients should perform drop off one at a time. Clearly label each carrier/trap with the name of the cat in it. 
Should I wear a mask to the clinic?
If you would like to wear a mask, please do so. Otherwise, it is not required at this time. 
My pet seems unwell. Should I reschedule his/her surgery appointment?
We only perform surgeries on pets who are in good health. If your pet seems like he/she is unwell, not eating or drinking normally, sneezing or unusually tired, it's a good idea to reschedule as there are risks associated with surgery.
Are you able to test my pet?
We do not test for FeLV and FIV, so contact your community vet for this service, if desired. We also do not test for COVID, Feline Coronavirus, or Panleukopenia.
Confirmation and instructions will be sent to your Cornell email after you register.  Limit 4 cats per household!  All cats from a single registrant to present to the clinic at the same time.
If you are unable to bring your cat(s) to your scheduled clinic date, please make every effort to let us know well in advance so that we may offer your spot(s) to someone else when possible. 
Questions?: If you have questions about these clinics, please email sheltermedicine@cornell.edu