Anesthesia and Pain Medicine
Canine, Feline, Exotics/Wildlife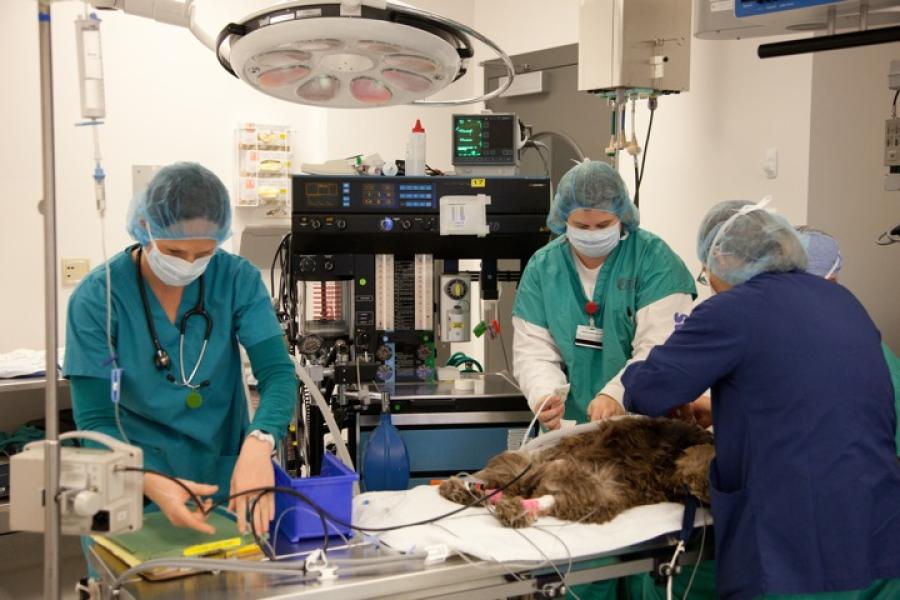 Our team of anesthesiologists, residents, and technicians provide sedation, general anesthesia, regional anesthesia and acute pain management to more than 2,000 patients requiring surgical or diagnostic procedures each year. We also provide chronic pain management services; this includes interventional pain management, such as epidural injections, peripheral nerve blocks, and joint injections. We work closely with the Sections of Orthopedics, Neurology, Sports Medicine and Rehabilitation, and Oncology to provide an interdisciplinary approach to pain management.
Advanced Techniques
Sedation and general anesthesia for high-risk patients
General anesthesia for minimally-invasive surgery
Ultrasound-guided and nerve stimulation-guided locoregional anesthesia
Procedural sedation
Advanced monitoring including blood pressure, cardiac output and blood gases
Epidural anesthesia
Blood component therapy
Management of difficult airways
Mechanical ventilation
Request a Consultation
Call 607.253.3060 to request a consultation with a board-certified anesthesiologist.
Types of Anesthesia
There are two main types of anesthesia:
General anesthesia
Anesthesia is a drug-induced state of unconsciousness that enables veterinarians to perform surgery, or other therapeutic and diagnostic procedures, that would otherwise not be possible on awake animal patients. General anesthesia is produced by injecting drugs into your pet's blood stream or by your pet breathing an anesthetic gas. Our board-certified anesthesiologists develop an individualized plan for the care of each patient.
As with any medical procedure, there are inherent risks involved in anesthesia including, but not limited to, low blood pressure, respiratory depression, adverse reactions anesthetic drugs, equipment malfunction, complications related to infection, allergic reactions or even failure of the anesthetic technique itself. 
Locoregional anesthesia may include:
Peripheral nerve blocks which involve making numb only that part of the body to be operated on, for example a leg. The nerves that give feeling to the area being operated on are "blocked" by the local anesthetic so that pain cannot be felt. Frequently used local anesthetic drugs include bupivacaine and lidocaine. 

Potential complications may include failure of the anesthetic technique; hemorrhage; adverse reactions to the drugs being administered including drug toxicity, allergic reactions; infection; complications involving the nervous system which, although rare, may result in temporary or permanent paralysis. 
 
Epidural is another type of regional analgesic/anesthetic technique that involves injecting a local anesthetic drug or an analgesic drug such as morphine, around the spinal cord. A needle is placed between the vertebrae into a space called the epidural space. Medication is then placed into this space. 

Potential complications may include failure of the anesthetic technique; drug-induced low blood pressure (hypotension); adverse reactions to the drugs being administered including drug toxicity, allergic reactions; infection; hemorrhage; inability to urinate; neurological complications involving the spinal cord or central nervous system which, although rare, may result in temporary or permanent paralysis; urinary retention; pruritus (itchiness); slow re-growth of hair over the injection site.

Both types of anesthesia are frequently used in combination so as to take advantage of their positive attributes while limiting their undesirable side effects, and increasing the safety of anesthesia while optimizing pain relief.
Procedural sedation
Also known as twilight sleep or conscious sedation; procedural sedation is often combined with a locoregional block to sedate an animal for surgery or a diagnostic procedure. Because the animal is not completely unconscious, this form of anesthesia has reduced effects in the cardiovascular and gastrointestinal systems and shortened recovery time. 

We primarily use procedural sedation for certain diagnostic procedures such as computerized tomography (CT) or orthopedic knee surgery (although patients undergoing other procedures are considered on a case-by-case basis). 
Pain prevention and treatment
We offer acute pre- and post-operative pain management using a wide range of pharmaceutical products and locoregional blocks. Our service works with all patients undergoing procedures to reduce anxiety and provide perioperative comfort.
What to Expect During Anesthesia
If your pet is going to be anesthetized, you can help by carefully following any instructions given by your veterinarian and hospital staff before brining your pet to the hospital. The day of the procedure, you will be asked about any known allergies to medications, serious illness, or previous problems with anesthesia. Before anesthesia, the anesthetist will review your pet's record and provide a thorough physical examination to detect any conditions that may need to be optimized before anesthesia is considered.
Anesthesia will be supervised and overseen by a veterinary anesthesiologist. During the procedure, the anesthesia team, which includes residents and technician anesthetists, will use equipment to monitor the animal's heartbeat, blood pressure, oxygen levels and other vital signs. When the procedure is finished, your pet will be moved to a recovery room for monitoring. Medications will continue to be administered to assist in recovery. 
Your pet many have several areas that have been clipped of hair to allow us to place catheters, attach monitoring devices, carry out epidural injections and nerve blocks. There may also be small patches of dried adhesive used to fix the catheters in place. The hair will grow back slowly and the adhesive will rub off.
Residency Program
Prerequisites other than being a Graduate of a College of Veterinary Medicine
New York State licensure is optional; active licensure in at least one state is highly recommended; GRE scores if interested in the graduate program.
Requirements for Application
Standard VIRMP Application Packet

VIRMP Application
Veterinary School Official Transcript
Personal Statement
Curriculum Vitae
3 - 4 Standardized Letters of Reference

Additional Requirements from the Program
Has completed one year of general practice of veterinary medicine or equivalent experience (e.g. a rotating internship). Please contact the Program Director, Dr. Jordyn Boesch (jmb264@cornell.edu) for any questions regarding the equivalency of your experience.

It is not required that you visit in order to apply. In-person interviews are available upon request for any candidate who wishes to visit. We encourage candidates to schedule a zoom interview with the faculty if you are unable to visit in person. Remote interviews will be conducted from November 1, 2022 - February 15, 2023 from 8a - 5p EST by appointment only. Please contact Billy Chorley (bjc274@cornell.edu) to arrange a call and provide your CV.
Additional information for graduates of universities outside of the United States and Canada
Applicants with credentials from both foreign and American colleges of veterinary medicine are welcome to apply. Preference is generally given to applicants from AVMA accredited veterinary colleges.

All clinical positions open are open to US citizens, US permanent residents, Canadian citizens or foreign nationals with valid employment authorization documents.

*Canadian citizens will be sponsored for a TN visa for NAFTA professionals. Canadian applicants from Quebec must provide English Language proficiency documentation as well as certified translations of transcripts and veterinary degree as stated below.

**Foreign nationals that need sponsorship will be sponsored for H1B status if Cornell can meet Department of Labor requirements. Sponsorship and approval cannot be guaranteed**

Official and certified translations of all DVM transcripts and degree are required. If the courses and degree are not from a U.S. institution, it is required that they are evaluated by an outside agency for U.S. equivalency that meet immigration standards.

Any additional documents requested should be identified with the position you applied to and your application number and sent directly to our Program Coordinator as follows:

Cornell University Hospital for Animals
Attn: Amanda Hakes, Program Coordinator
930 Campus Road, CVM Box 37
Ithaca, NY 14853-6401

Any questions regarding our eligibility requirements should be directed to Ms. Pilar Thompson (pav37@cornell.edu).
Visa Sponsorship
If you will require visa sponsoring or are unsure about your work status, please review the Information for Foreign Applicants page and contact this program prior to applying. Please be aware that some programs listed in the VIRMP accept applications ONLY from citizens of the United States (or Canada if a Canadian program) or from applicants who possess permanent residency status at the time of application.
Do residents have access to the following equipment/technology, either on-site or outsourced?
 Arthroscopy
 Basic clinical laboratory equipment
 Blood Gas Analysis
 Blood Pressure Monitoring
 Bone Plating Equipment
 CT Scan
 Diagnostic Laboratory
 Digital Radiography
 Echocardiography
 Electrocardiography
 Endoscopy
 Laparoscopy
 MRI
 Nuclear Medicine
 Physical Therapy Equipment
 Ultrasound
Additional Information about Program
The Cornell University Hospital for Animals (CUHA), College of Veterinary Medicine, Cornell University, invites applications for a three-year residency in veterinary anesthesiology and pain medicine. The Anesthesiology and Pain Medicine Service at CUHA is composed of 6 board-certified faculty members, 1 board-certified clinical fellow, 5 anesthesiology residents, and 13 licensed veterinary technicians, including several who are credentialed as a Veterinary Technician Specialist (VTS, Anesthesia and Analgesia). The program is also approved by the European College of Veterinary Anesthesia and Analgesia (ECVAA). Our service provides the highest quality of patient care to both large (approximately 1,000 patients annually; a variety of equine, ruminant, porcine, and camelid patients) and small (approximately 4,000 patients annually) animals, as well as some exotic pets, native wildlife, and zoo animals. The objectives of the residency program are 1) to provide the resident with the advanced training in all aspects of veterinary anesthesia and analgesia necessary to offer a high level of specialized service to the public and profession, 2) to provide experience in clinical and laboratory teaching, and 3) to provide experience in research, including the publication of a peer-reviewed manuscript describing research results. While meeting residency requirements of the American College of Veterinary Anesthesia and Analgesia (ACVAA) and qualifying to sit for the ACVAA Certifying Examination is the responsibility of the individual resident, the faculty provide every resident with the support needed to achieve these goals through close interaction during clinical responsibilities, didactic teaching, and mentoring of research activities.

Clinical program: The clinical program comprises ~80% of the residency, with ~2-3 of every 5 weeks spent in the Companion Animal Hospital (CAH) and ~1-2 of every 5 weeks spent in the Equine and Nemo Farm Animal Hospital (ENFAH). Once every 5 weeks, residents spend a day with the Exotic Animal Medicine Service anesthetizing pet small mammals, birds, and herptiles. The third-year resident may accompany faculty on occasional trips to local zoos for anesthesia of various large zoo species, and several externships also permit the resident to gain experience with zoo animals (below). Residents have primary case responsibility under faculty supervision, typically anesthetizing 1-2 cases each day. Satisfactory progression will result in increased clinical responsibility including emergency duty (after-hours and weekends) that will be shared with other residents. The faculty provides emergency support. At the end of the third year, residents spend four weeks as chief of service with faculty back-up. Residents will be exposed to a large, complex and diverse caseload and usually meet ACVAA case log requirements before the half-way point of the residency. Our section has a robust locoregional and pain medicine program, offering advanced peripheral nerve blocks, epidural injection and catheterization, and peripheral nerve catheterization, as well as a number of investigational modalities, such as continuous and pulsed radiofrequency and cryoneurolysis. All small animal anesthesia machines are refurbished human machines equipped with ventilators, and two Tafonius large animal ventilators are among the machines available in the ENFAH. The section utilizes an electronic anesthesia record.

Teaching: Residents participate heavily in clinical instruction of veterinary medical students, especially during after-hours emergencies. They also instruct third-year students during 'Surgical Exercises', a laboratory in which students anesthetize and spay shelter cats.

Research: Each resident will complete at least one basic or clinical research project in anesthesia, analgesia, critical care, or similar discipline. Prior to completing the residency program, each resident will submit at least one first-author manuscript for publication in a refereed journal. They will be involved in all aspects of the project, from study conception to statistical analysis to manuscript preparation. Residents and their faculty mentors can apply biannually for a Resident Research Grant to support the project (up to $10,000). Generally the resident's first project is conducted in an area of interest to the faculty so that adequate mentoring can be provided. Residents are encouraged to present the results of the investigation at a national or international meeting, and faculty support the preparation and presentation of an abstract. There are opportunities for financial support for travel.

Development: Approximately 20% of the residency is allocated for 'development' ('off-clinics'). Such activities may include studying, preparing for didactic activities (below), research, attending conferences, and rotations through other services or institutions. Residents are required to rotate through the Cardiology, Diagnostic Imaging, and Emergency and Critical Care Services at CUHA. Strong relationships with other institutions provide unique externship opportunities for our residents during development weeks. A unique residency exchange program exists between the CUHA and the Weill Cornell Medical Center in Manhattan. Our residents must complete a 1-week rotation in human anesthesiology during their third year, including a presentation on some aspect of veterinary anesthesia, and resident physicians from Weill Cornell are selected each year for the veterinary anesthesiology rotation at CUHA, which is approved by the American Board of Anesthesiology. These 'sister residencies' provide unique experiences and exchange of ideas for all involved. Residents must complete a 1- or 2-week rotation at the Bronx Zoo during their third year. Contingent upon ongoing funding, residents also accompany faculty on a 1-week trip to the Belize Zoo in Central America to anesthetize captive native Belizean wildlife. Participation in other programs during development weeks is possible based on the resident's needs and goals.

Didactic program: The didactic program is highly structured. On Mondays, either journal club (2/month), morbidity and mortality rounds (1/month), or section meeting (1/month) is held. On Wednesday mornings, residents attend VETCS 7100: Advanced Veterinary Anesthesiology, a formal course designed to serve as preparation for the ACVAA Certifying Examination. The course consists of a 3-year cycle, each of the 6 semesters covering a different topic (2 semesters of anatomy and physiology, 1 each of pharmacology, equipment, monitoring, and clinical anesthesia). Residents and faculty (including Diplomates in other specialties as well as faculty in other departments) give presentations during this course. A wet laboratory is held at the end of each semester during which skills such as pulmonary artery catheterization, cardiac output measurement, endoscopic intubation, and one-lung ventilation are practiced. Residents also attend a laboratory on fish anesthesia. Each semester concludes with an online mock multiple-choice examination on material covered that semester. Mock essay questions are also provided to prepare residents for the Certifying Examination. Other various rounds and conferences are frequently held at the College of Veterinary Medicine, including monthly pain medicine rounds, weekly hospital-wide Grand Rounds, and the New York State Veterinary Medical Conference, among many others. At the beginning of the second and third years of residency, residents attend Locoregional Boot Camp at Cornell University; after completion in the second year, residents begin placing advanced peripheral nerve blocks under faculty supervision.

Continuation in the program is based on an acceptable level of performance. One-on-one meetings with the residency program director are conducted quarterly, and formal evaluations are conducted biannually. All residents meet as a group with the residency director once monthly. Excellent communication skills, work ethic, and collegiality are essential. Our section prides itself on teamwork, positive interactions with our sections, and support of physical and mental health. As such, no resident spends more than 24 consecutive hours on call. The opportunity exists for graduate studies following completion of the residency program and is dependent upon acceptance by the Graduate School of Cornell University and the availability of funding for stipend and research.

Any program questions can be directed to the residency program director, Dr. Jordyn Boesch (jmb264@cornell.edu).

A "Certificate of Residency" will be issued following successful completion of the residency program.

Cornell University is an affirmative action/equal opportunity employer/educator.
Related Info