Anesthesia and Pain Medicine Service
Equine, Agricultural Animal, Camelid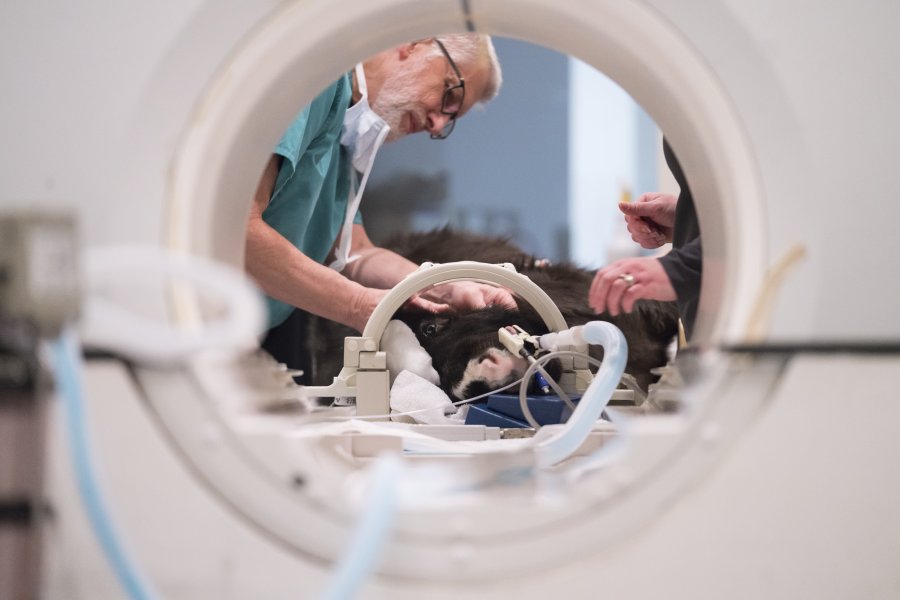 The members of Anesthesiology Service in the Equine and Nemo Farm Animal Hospital (ENFAH) of Cornell University Hospital for Animals are dedicated to anesthetic care. Our team of anesthesiologists, residents and technicians provides sedation, general anesthesia, regional anesthesia and acute pain management to more than 1000 patients requiring surgical or diagnostic procedures each year. 
As veterinary medicine advances, increasingly complex procedures are available for diagnosing and treating serious medical or surgical conditions. Our team provides advanced anesthetic techniques - including advanced monitoring. We treat many high risk patients, and we provide anesthesia for emergency procedures after-hours and during holidays.
Advanced Techniques
Sedation and general anesthesia for high-risk patients
General anesthesia for laparoscopic surgery
Mechanical ventilation
Advanced monitoring including blood pressure and blood gases
Procedural sedation (standing surgery)
Ultrasound-guided and nerve stimulation-guided locoregional anesthesia
Epidural anesthesia
Management of difficult airways
Types of Anesthesia
There are two main types of anesthesia:
General anesthesia
Anesthesia is a drug-induced state of unconsciousness that enables clinicians to perform surgery, or other therapeutic and diagnostic procedures, that would otherwise not be possible on awake patients. General anesthesia is produced by injecting drugs into your horse's blood stream or by breathing an anesthetic gas. Our board-certified anesthesiologists develop an individualized plan for the care of each patient.
As with any procedure, there are inherent risks involved in general anesthesia including, but not limited to, cardiopulmonary complications or trauma during recovery. 
 
Locoregional anesthesia may include:
Peripheral nerve blocks which involve making numb only that part of the body to be operated on, as it is the case in dental extractions. The nerves that give feeling to the area being operated on are "blocked" by the local anesthetic so that that area cannot be felt. Frequently used local anesthetic drugs include bupivacaine and lidocaine. 

Potential complications may include failure of the anesthetic technique; hematoma formation; adverse reactions to the drugs being administered including drug toxicity, allergic reactions or infections. 
Epidural is another type of regional analgesic/anesthetic technique that involves injecting a local anesthetic drug or an analgesic drug such as morphine, into the vertebral canal. A needle is placed between the vertebrae into a space called the epidural space. Medication is then placed into this space. 

Potential complications may include failure of the anesthetic technique; adverse reactions to the drugs being administered including pruritus (itchiness), drug toxicity, allergic reactions; infection; hemorrhage; neurological complications involving the spinal cord or central nervous system which, although rare, may result in temporary or permanent paralysis;.

Both types of anesthesia are frequently used in combination so as to take advantage of their positive attributes while limiting their undesirable side effects, and increasing the safety of anesthesia.
Procedural sedation
Procedural sedation is often combined with a locoregional or epidural block for a surgical procedure. Because the horse is standing, this form of anesthesia has reduced effects in the incidence of possible complications related to recovery. 

We primarily use procedural sedation for certain procedures such as sinusotomies or certain ocular or dental procedures (although patients undergoing other procedures are considered on a case-by-case basis). 
 
Pain prevention and treatment
We offer acute pre- and post-operative pain management using a wide range of pharmaceutical products and locoregional blocks. Our service works with all patients undergoing procedures to help provide perioperative comfort.
What to Expect During Anesthesia
If your horse is going to be anesthetized, you can help by carefully following any instructions given by your veterinarian and hospital staff before bringing your horse to the hospital. The day of the procedure, you will be asked about any serious illness, or previous problems with anesthesia that may affect the procedure. Before anesthesia, the anesthetist will review your horse's record and provide a thorough physical examination to detect any conditions that may need to be optimized before anesthesia is considered.
Anesthesia will be supervised and overseen by a veterinary anesthesiologist. During the procedure, the anesthesia team, will use equipment to monitor the horse's heartbeat, blood pressure, oxygen levels and other vital signs. When the procedure is finished, your horse will be moved to a recovery room where will be closely observed and assisted if needed until complete recovery. 
Residency Program
The American College of Veterinary Anesthesia and Analgesia (ACVAA) accredits Cornell's residency program in Veterinary Anesthesiology. This 3-year program generally enrolls new candidates each July and provides specialty training in veterinary anesthesiology and perioperative pain management as clinical disciplines. Successful completion of the program qualifies candidates to take the ACVAA board-certification examination, and prepares candidates for academic or specialty practice.  
Potential Applicants
Applications are managed through the Veterinary Internship and Residency Matching Program (VIRMP) unless otherwise specified. Applicants must have a D.V.M. (or equivalent veterinary degree) and has completed a rotating internship or equivalent (i.e. one year of general veterinary medicine practice).  Please contact the Program Director, Dr. Martin-Flores (mm459@cornell.edu) for any questions regarding the equivalency of your experience or program questions.

Applicants must be proficient in English (both written & spoken). Foreign applicants are eligible and encouraged to apply. For successful international candidates, the College provides assistance with obtaining a visa.

The application includes a Curriculum Vitae, letter of intent, transcript(s), and three letters of recommendation. An interview is preferred although not required. Phone or video conference interviews can be arranged.  Applicants may visit the facilities to learn more about the program and to meet the faculty and staff.  Visitation dates are limited and must be scheduled in advance through Rosemary Adessa. 
 
Description of the veterinary anesthesia residency program at Cornell University
he Anesthesiology Residency at the College of Veterinary Medicine, Cornell University, is an established three-year program of advanced training in veterinary anesthesiology and preoperative pain management as clinical disciplines. The Anesthesiology service is composed of 4 board certified anesthesiologists, 4 anesthesiology residents and technicians trained in the discipline. Residents work closely with the respective service chiefs in providing the highest quality of patient care to both large (approximately 1300 patients annually) and small animal patients (approximately 2000 patients annually). Satisfactory progression will result in increased clinical responsibility including emergency duty that will be shared with other residents. The Anesthesiology faculty provides emergency backup support. The program includes large animal, small animal and exotic/zoo animal anesthesiology and preoperative care. The program objectives are to provide the resident with advanced training in all aspects of veterinary anesthesia and analgesia, fulfill the residency requirements of the American College of Veterinary Anesthesia and Analgesia and the European College of Veterinary Anaesthesia and Analgesia, provide experience in clinical and laboratory teaching, provide training allowing a high level of specialized service to the public and profession, and provide experience in research, including the completion of at least one manuscript describing research results. The program is an approved training center for the European College of Veterinary Anaesthesia and Analgesia. 

Approximately 25% of the time is allocated for development activities (off-clinics), which may include research activities, rotations through other services, or attendance at conferences, for example. Residents are expected to attend rounds, seminars and conferences that pertain to their area of interest. The Anesthesiology service holds weekly section rounds, which include journal club, and offers weekly lectures on various topics relevant to our discipline. Participation in other educational programs will be dictated by the resident's needs and goals. Participation of residents in scholarly activities such as continuing education is encouraged, but participation of residents in such activities is subject to approval and dependent upon the availability of funding. While meeting specialty board requirements is the responsibility of the individual resident, the section supports individual efforts through didactic teaching, close interaction during clinical responsibilities and mentoring of research activities. 

Throughout the residency, but particularly during the second year and third year, residents have the opportunity to participate in other services of the Cornell University Hospital for Animals. These elective rotations are designed to aid in preparing for board certification. The duration and amount of support for these rotations are determined on an individual basis. Residents also participate in clinical instruction of veterinary medicine students. Excellent client and peer communication skills and the ability to work collaboratively as part of a clinical team are essential. 

Each resident will complete at least one research project in anesthesia and/or analgesia. Prior to completing the residency program each resident will submit at least one first-authored manuscript for publication in a refereed journal. This manuscript may describe the results of either a clinical or basic science research investigation. The manuscript will be prepared to meet requirements for board eligibility. The Anesthesiology section encourages its residents to present the results of the investigation at a national or international meeting. There are opportunities for financial support for this purpose. 

Continuation in the program is based on an acceptable level of performance. A "Certificate of Residency" will be issued following successful completion of all requirements of the program. The opportunity exists for graduate studies following completion of the residency program, and is dependent upon acceptance by the Graduate School of Cornell University and the availability of funding for stipend and research. 

Applicants must hold a Doctorate in Veterinary Medicine or its equivalent, and have at least one year in general practice or a rotating internship.  We encourage candidates for the residency to visit our section or schedule a phone interview with the faculty. Application is usually through the annual VIRMP.
Applicants from both foreign and American colleges of veterinary medicine are welcome to apply. Preference is generally given to applicants from American Veterinary Medical Association (AVMA) accredited colleges.  Cornell University is an affirmative action/equal opportunity employer/educator.  
Related Info