Emergency and Critical Care
Canine, Feline, Exotics/Wildlife
The Emergency and Critical Care Service at the Cornell University Hospital for Animals provides evaluation, medical care and surgical treatment to severely injured or ill companion animals, as well as ongoing care for critically ill or injured animals 24 hours a day, 365 days a year.
Board-certified veterinary emergency and critical care specialists direct our companion animal emergency services. Our dedicated team includes highly skilled residents, interns, veterinary technicians and staff, working together to deliver the highest possible standard of compassionate veterinary care to ill or injured animals. We work closely with local veterinarians from across the region to make sure your pet gets the best care possible before, during and after hospitalization.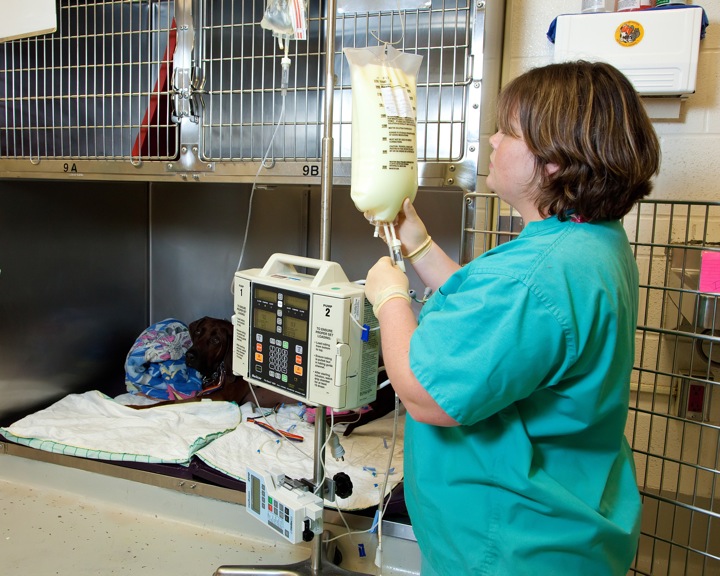 The Emergency Service offers the most advanced medical and surgical treatments to stabilize your pet and diagnose its condition, and we collaborate with an extensive team of in-house veterinary specialists in anesthesiology, cardiology, radiology, internal medicine, surgery, neurology, exotics, nutrition and dentistry to ensure your animal receives the most comprehensive care available.
The Critical Care Service excels in managing patients recovering from major surgery, illness or trauma as well as those patients requiring positive pressure ventilation or other specialized care. These patients are hospitalized in a well-equipped intensive care unit, and their care is augmented by our ability to consult with a variety of on-site clinicians.
Advanced Techniques
Oxygen support
Multimodal analgesia
Component and whole blood transfusion
Enteral and parenteral nutrition
Intensive monitoring (central venous pressure, arterial pressure, electrocardiogram, oximetry, capnography, and cardiac output)
Vasopressor and positive inotropic support
Custom composition intravenous fluids
Mechanical ventilation
Extracorporeal blood purification (dialysis for kidney failure, etc.)
Emergency Critical Care Emergent Conditions
Examples of emergent conditions, if your pet is experiencing a life-threatening emergency, please proceed immediately to the nearest emergency clinic.
Unconsciousness or unresponsiveness
Difficulty breathing
Collapse
Blue, purple, or pale gums
Trauma (vehicular trauma, falls, wounds, etc.)
Excessive bleeding
Loss of balance
Lethargy or weakness
Difficulty urinating
Unintended ingestion of a medication or toxic substance
Seizure activity or active tremoring
Non-weight bearing lameness
Difficulty walking
Hives or facial swelling
Difficulty giving birth
Pain
Severe or protracted vomiting
Non-productive retching
Severe diarrhea with blood (red or black and tarry)
Bloated, distended or painful abdomen
What to Expect During Your Emergency Visit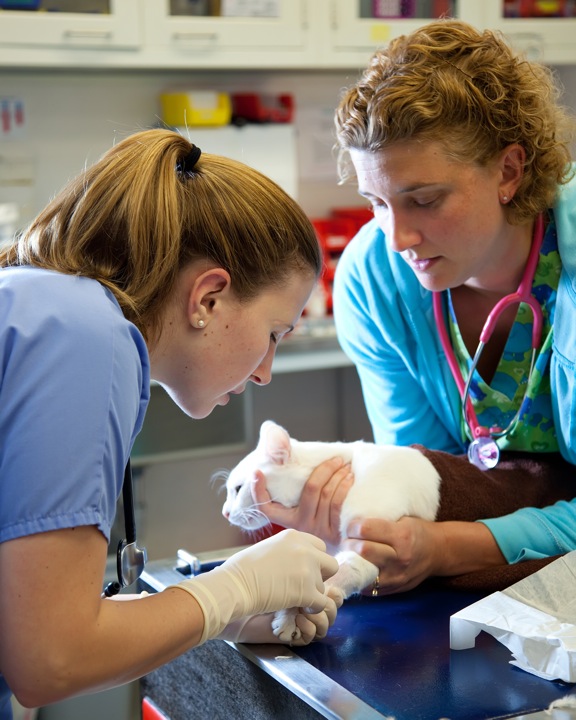 Your emergency visit to the Cornell University Hospital for Animals begins when you pull up to front of the Companion Animal Hospital. Please park your vehicle in the patient parking in front of the hospital and check-in at the reception desk.

After you register, a veterinary student or LVT will perform a triage. During the triage you will be briefly interviewed about your pet's condition. To further evaluate your pet's stability, the student or LVT may also obtain baseline vital parameters. After this brief assessment the student or LVT may ask you to wait with your pet in the waiting room, or they may ask your permission to take your pet to the emergency treatment area where they will be further evaluated by one of our emergency clinicians. If stabilization is recommended, they will also ask your permission to perform basic diagnostic tests and institute the therapy deemed necessary to stabilize your pet. If your pet is taken to the emergency room you must wait in reception area. Space restrictions and the intense activity that may involve your pet as well as other patients being cared for in the emergency room preclude your ability to stay with your pet. Please remain in the reception area, so emergency personnel can find you when needed.

In turn, you will be escorted to an exam room where a veterinary student will obtain a full clinical history. If your pet is waiting with you, the student will also perform a complete physical exam. Subsequently, the student will leave to discuss your pet's history and physical exam findings with the emergency clinician that is caring for your pet. Afterwards the emergency clinician will enter the exam room, review the history, clarifying any questions, and perform their own physical exam. After this complete assessment the emergency clinician will discuss their findings, thought processes and recommendations with you. 

Throughout the emergency visit, please understand that there may be delays. The reasons for the delays may not be obvious to you, but always are related to how many critically ill and emergency animals our patient care team is treating at the time. We will do our best to keep you informed about your animal's status, what our patient caseload is, and what you might expect in terms of the length of time you may need to wait. Please be assured that your doctor's priority is the care of your animal and the other emergency and critically ill patients in the hospital. 

If your animal's condition requires the opinion of a specialist and the specialist is not on-site at the time of your emergency visit, you may have to wait for the specialist on-call to come to the hospital, or your animal may have to stay overnight for a consultation the following day.
If your animal needs to be admitted to the hospital as an inpatient, your animal will be transferred to a specialty service within 24 to 48 hours and will be cared for by a different veterinarian. Every case is thoroughly reviewed upon transfer to ensure excellent patient care and an outstanding educational experience for our students.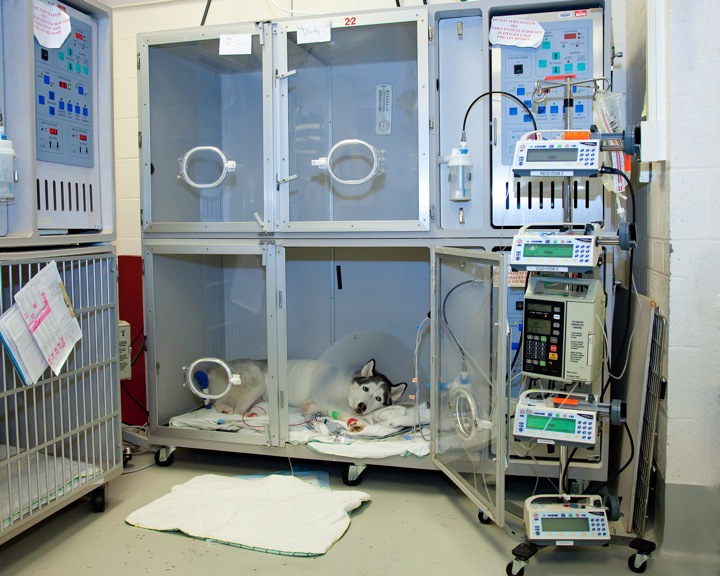 If you would like to visit your pet during their hospitalization, this can be arranged with the doctor caring for your pet. For safety reasons, all visitors must be accompanied when in the clinical areas of the hospital. Please remain in the public areas of the hospital unless escorted by your doctor, student or LVT.

If your veterinarian arranged for your pet to visit our Emergency Service, or if you provide us with the contact information for your veterinarian, the Cornell University Hospital for Animals doctors will do their best to keep your veterinarian informed of your animal's progress and our diagnosis. Discharge statements outlining diagnosis and treatment are faxed to your veterinarian unless you instruct us not to do this.
Extracorporeal Blood Purification Therapies, Including Dialysis for Kidney Failure
The Critical Care and Extracorporeal Blood Purification Team are pleased to be able to offer dialysis treatment for dogs and cats in kidney failure and blood purification for other indications.
The kidneys are part of the body's system for filtering impurities out of the blood and eliminating them in the urine. If your pet is experiencing problems with kidney function, this can result in a wide variety of serious health concerns. Our dialysis unit can serve as a temporary kidney of sorts, giving time for the organ to heal, filtering out impurities from the blood and reducing the length of your pet's hospital stay.
Extracorporeal blood purification is used in several cases, including
kidney failure – treated with hemodialysis
toxin ingestion – blood purification before organ damage occurs

carprofen/Rimadyl, ibuprofen, anti-inflammatory drugs, baclofen, antifreeze, and many other toxins/medications

immune system dysregulation – treated with therapeutic plasma exchange

immune-mediated hemolytic anemia (IMHA), myasthenia gravis, others
If your pet is experiencing kidney issues, has ingested a toxin from the list above or has an immune-mediated condition, please see the sidebar for our contact information, triage instructions and a map to the Cornell University Hospital for Animals.
Related Info
American College of Veterinary Emergency and Critical Care
A specialty organization that promotes the practice of veterinary emergency and critical care medicine, fosters training programs and encourages research in this important field.

Academy of Veterinary Emergency & Critical Care Technicians
Academy of Veterinary Emergency & Critical Care Technicians (AVECCT) is the first organization to be recognized by the National Association of Veterinary Technicians in America as a veterinary technician specialty. Veterinary Technicians who successfully meet the credential requirements and pass the AVECCT examination are designated as Veterinary Technician Specialists (VTS).
ASPCA Poison Control
Your best resource for any animal poison-related emergency, 24 hours a day, 365 days a year. If you think that your pet may have ingested a potentially poisonous substance, call (888) 426-4435. A $65 consultation fee may be applied to your credit card.