Internal Medicine
Agricultural Animal
The Internal Medicine Service at the Cornell University Hospital for Animals diagnoses and provides treatment for farm animals with a wide spectrum of life-threatening health conditions. Our staff includes four board-certified veterinarians who have pioneered many of the approaches used for diagnoses and treatment of diverse medical disorders used in veterinary clinics across the country. Our faculty specializes in a wide range of health conditions including metabolic, infectious, endocrine, hematologic, gastrointestinal, liver, renal and respiratory disorders. 

The Internal Medicine Service offers advanced diagnostic techniques including a wide range of minimally-invasive procedures including ultrasound, cerebrospinal fluid analysis, endoscopy, and gastrostopy. We work in a collaborative environment that brings together the talent of a diverse group of veterinary specialty services including Anesthesiology, Oncology, Soft Tissue Surgery, Cardiology, Neurology, Imaging, and Clinical Nutrition to provide comprehensive veterinary care for your animal.
Advanced Techniques
management of down cow's with a hoist and Aquacow
management of high-risk pregnancies
neonatal intensive care
investigation of herd-outbreaks with consultation through the Animal Health Diagnostic Laboratory
blood transfusion therapy
What to Expect During Your Appointment
Your scheduled visit to the Internal Medicine Service at the Cornell University Hospital for Animals begins when you pull up to the circular driveway in front of the equine hospital. Please park your vehicle in the driveway, come into the reception area and check in at the front desk. After a small amount of paperwork, our licensed veterinary technician will help you unload and walk your animal to its assigned stall. 

Often times, you may leave your vehicle and trailer right in the driveway but, if the lot is full, the receptionist will provide you with a parking pass and directions to nearby longer-term parking where overnight parking for trucks and trailers is also available.

After your vehicle is parked, a veterinary resident and students will ask you questions about your animal's past medical, surgical, travel and vaccination history and current health. They will work together to conduct an examination of your animal. Students observe and participate in this examination, which is invaluable to their education and development. We appreciate your patience and understanding in allowing these future veterinarians to interact with you and your animal.

After the initial examination, a senior veterinarian will join the resident and student to perform a second examination. Next, our veterinarians will discuss their preliminary findings, diagnostic and treatment options, and costs. Together, you will develop plan for further diagnosis and treatment of your animal. 

In most cases, you will be asked to leave your animal in the care of the student after this initial examination so that we may begin appropriate diagnostic testing or receive consultations from other veterinary specialists. 

Given our busy schedule and collaboration with other services in the care of your animal, you will most likely be asked to return in the afternoon to discuss our findings and recommendations. In general, an evaluation of your animal takes the better part of a day, so please plan accordingly.

In many cases, therapy will be in the form of medication that you can administer at home. In some cases, your animal may require hospitalization for supportive care or diagnostics. In the event that your animal requires an elective interventional procedure, the rationale, logistics, and risks associated with the procedure will be discussed at this time, and the procedure can often be scheduled either at the time of discharge or within 24 hours of discharge.

Before leaving the hospital, you will receive discharge instructions that outline the findings and recommendations for management of your animal's case. Your referring veterinarian will also receive a copy of this report via fax or e-mail within 24 hours of your animal leaving the hospital. We will strive to make sure that we have answered any and all questions that you may have prior to your departure.
Success Stories
Faith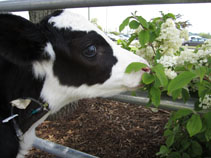 "Faith" came to Cornell as a representative of a herd-problem. She appeared healthy on arrival and then developed a life-threatening abomasal rupture. With the calf on site, we could get her to surgery immediately and over-sew the abomasal defect with surgery and then provide intensive care for a few days. The medicine service worked closely with the Animal Health Diagnostic Center and the farmer to make recommendations which will help prevent recurrence of the problem in other calves.
Related Info